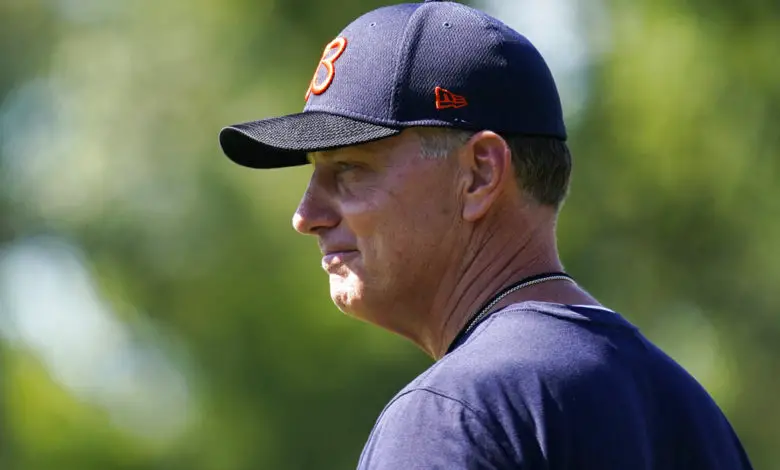 One Analyst Actually Likes The Bears
For awhile, I thought I was the only writer with a positive attitude toward the upcoming season. I mean, the Bears are getting decimated everywhere. The laziest take I saw comes from ex-NFL cornerback Domonique Foxworth, who said Justin Fields should "demand a damn trade." However, there is one analyst who actually likes the Bears. I'll get to that in a minute, but first, let me address the comments by Foxworth.
"Justin Fields should demand a damn trade. The Chicago Bears don't have enough good players. Their cap is messed up. They didn't draft and sign all that well. Hold out and force a trade."
– Former NFL cornerback Domonique Foxworth

(Via The Domonique Foxworth Show)

— Daniel Greenberg (@ChiSportUpdates) September 8, 2022
Fields is in his second year and can't hold out. He has no leverage to do so. He has seven career touchdowns on his resume. Besides, Fields has said a number of times that he loves Chicago.
Additionally, the Bears have over $100 million in cap space next year. Foxworth works for ESPN, the most popular sports network on earth. Are you telling me he has no idea what Ryan Poles has done since he was hired eight months ago? Does ESPN properly vet their studio celebrities?
Give Poles credit. He put together a semi-competitive team after inheriting a steaming pile of dung in the form of $62 million in dead cap from Ryan Pace. He is all in on Fields, too. Perhaps the Bears will be better than below average.
Rewrite the script. pic.twitter.com/W78IBmPI3Z

— Chicago Bears (@ChicagoBears) September 8, 2022
A couple of weeks ago I predicted the Bears will finish this season with a 10-7 record, just short of missing the playoffs. I based my projection on Chicago's weak schedule. They should be able to beat the Texans, Commanders, Jets, Giants, and Falcons. I like them in both games against the Lions, and I believe they will beat the Cowboys. That's eight wins. The Patriots are beatable, too. Throw in an Opening Week upset over the 49ers and that's 10 wins.
Adam Rank of NFL.com is a Bears fan, and he also believes that the NFL media is vastly underrating Chicago.
"Let's start with a certain former offensive coordinator calling this Bears offense the worst he's seen since the 0-16 Lions in 2008. Of course, I'm talking about Mike Martz, who, during his tenure with Chicago, infamously decided FUTURE HALL OF FAMER Greg Olsen wasn't good enough for him, so you'll forgive me if I don't really give a [naughty word] about his opinion. The only thing I would be less interested in are parking suggestions from Cade McNown. This is a dated, obscure reference, I know. But the real ones get it, and that's who I'm speaking to right now."
He has a point. Martz hasn't had a lot of success in his career, though he did orchestrate the Rams' offense during their 'Greatest Show on Turf' years as an assistant to Dick Vermeil. The two bet the house on Kurt Warner and won Super Bowl XXXIV. Martz also served as Chicago's offensive coordinator during the 2010 and '11 seasons. Ask Jay Cutler what he thinks of Martz.
Rank turned his attention to his work colleagues next, going after Dan Hanzus and Adam Schein. Hanzus ranked the Bears as the league's worst team in his Week 1 Power Rankings, and Schein wrote that the Bears will be picking first in next year's draft. Rank also expressed more-than-mild disappointment at those who believe Fields is a bust, or that the team didn't surround the second-year quarterback with enough weapons to succeed.
In last year's opener at SoFi Stadium with Andy Dalton and the Bears, Allen Robinson had 6 catches for 35 yards.

In this year's opener at SoFi Stadium with Matthew Stafford and the Rams, Allen Robinson had 1 catch for 12 yards.

Who saw that coming?

— Brendan Sugrue (@BrendanSugrue) September 9, 2022
"Sure, the Bears could have tried to throw $90 million at a receiver like Christian Kirk," Rand wrote. "But that would have likely hampered their ability to spend on free agents in the future — it's not a prudent way of doing business.
"Vets like Byron Pringle and Equanimeous St. Brown (and, eventually, N'Keal Harry) might not move the needle much in terms of star power, but between those additions, rookie Velus Jones Jr. (as soon as he's healthy) and the ascendant Darnell Mooney, the Bears' receiver room is, top to bottom, better than the Falcons' — and, yes, even better than the Packers' (you know this is true)."
Like Rank, I'm not sure why so many analysts have decided the Bears are the worst football team since the 1976 Buccaneers. Chicago won six games under Matt Nagy last year. This year, the team has upgraded its secondary, offensive line, and receivers group. Fields is a year older and proficient in his new offense. The coaches say he has improved his footwork, his pocket and field awareness, and understands his reads better. If any other team made similar improvements, their projected win total would increase. Therefore, accusations of anti-bias seem legitimate.
Most analysts believe Matt Eberflus was a poor head coaching choice. The prevailing thought is that Poles should have gone after somebody more offensive-minded. Of course, that completely ignores the fact that Eberflus hired Luke Getsy. The Packers scored 450 points last season. Sure, having Aaron Rodgers helps. But Getsy was a factor, too, and Rodgers praised Getsy for making him a better quarterback. Of course, Rank had an opinion or two about Eberflus.
"Oh, but wait, I forgot — the Bears hired an ex-defensive coordinator as head coach! History has shown that defensive-minded coaches DEFINITELY can't help young quarterbacks. Think of Bill Belichick and Tony Dungy, who ruined the careers of Tom Brady and Peyton Manning — that is, if you can even remember those guys played in the NFL. And look at the disaster Brandon Staley was last season for Justin Herbert.
"In all seriousness, doesn't fielding a good defense sort of help a young quarterback? I mean, forcing a three-and-out and getting the ball at midfield seems more advantageous than giving up long drives and limiting your offense's time with the ball. But what do I know?"
Rank makes a lot of good points. The rest of the article is deliciously aggressive in its defense of the Bears. It's a terrific change of pace from the scores of articles that project Chicago to be the worst team this year. I still stand by my 10-7 projection, and after reading Rank, perhaps I could be swayed to add another victory to the ledger. Maybe, just maybe, the Bears will beat the Vikings in the final game of the season and sneak into the playoffs.