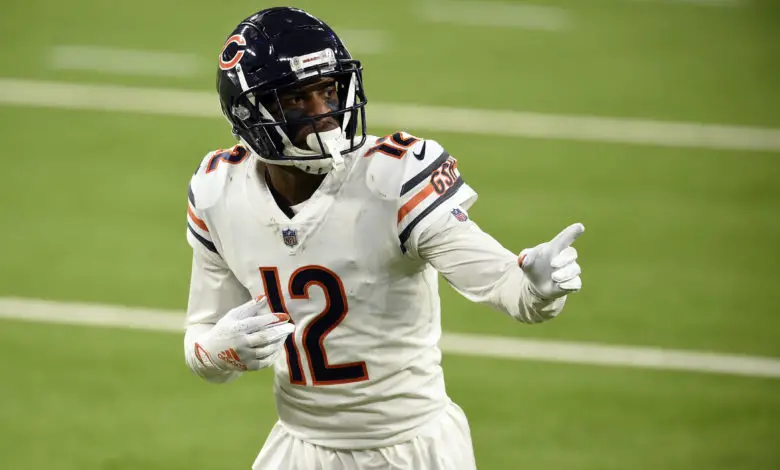 Allen Robinson Still in Concussion Protocol Following Hit Monday Night
The last thing the Bears can afford as they attempt to make tweaks to resuscitate the offense is to lose one of their best players. Already dealing with a patchwork offensive line following James Daniels' season-ending injury and forced to rework both the running and return games without Tarik Cohen, they may now be without top weapon Allen Robinson.
Matt Nagy said during his Wednesday media availability that the receiver was still in the concussion protocol following a big hit to the helmet Monday night in Los Angeles. Having him out Sunday afternoon as the Saints visit Soldier Field would severely limit an offense that already lacks dimension, but health and safety obviously come first.
Bears HC Matt Nagy says Allen Robinson is (still) in concussion protocol.

— Mark Grote (@markgrotesports) October 28, 2020
"You gotta be able to handle when things are a little tough," Nagy said. "I feel like I'm built for it. I feel like we're built for it."
Let's hope that's true, because the Bears might also be without center Cody Whitehair, who left Monday's game with a calf injury. Nagy did not have an update on Whitehair's status, saying only that he doesn't believe the issue is severe and that backup Sam Mustipher has to be ready just in case.
Speaking of backups and a moribund running game, the Bears could get some help in the form of Lamar Miller. The 29-year-old veteran running back was signed to the practice squad at the beginning of October after missing all of last season due to a torn ACL and could provide a little punch. With 4,905 yards on 1,126 yards (4.36 yds/att), Miller is more than capable of toting the rock a few times.
Hell, it can't be worse than pitching to Cordarrelle Patterson deep in the backfield over and over in vain. Nagy seemed to indicate that Miller isn't an option yet, though he said the former Dolphin is close after getting better and better each day. Gee, that sounds almost exactly like what the coach said about Cole Kmet after openly agreeing with the media that the rookie right end should be getting more snaps.
Take the rhetoric for what it's worth, the bottom line is that the Bears need to start getting better and better on offense. They need Robinson for that to happen, though maybe being without their top receiver will open things up for Kmet and fellow rookie Darnell Mooney. Hey, a boy can dream.