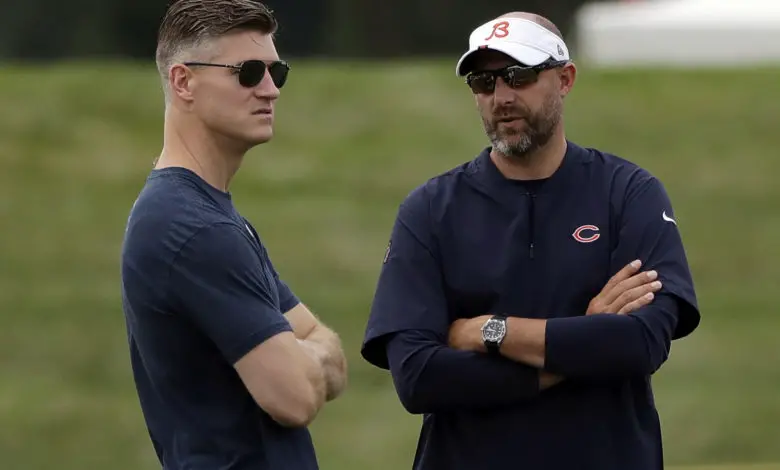 Matt Nagy Has Reportedly Lost His Team
After yesterday's almost unbelievable 16-13 loss to the Ravens at Soldier Field, it sounds like some Bears players have become disenfranchised. Chicago has now lost five straight games, and just like during last year's six-game losing streak, things are pretty bleak at Halas Hall as calls for change from the team's fans grow louder. In fact, head coach Matt Nagy has reportedly lost his team.
The first sign that a coach has lost the locker room is when players start calling each other out in public. Robert Quinn referenced Kindle Vildor after two miscues by the cornerback on Baltimore's final drive of the game cost Chicago a win.
"No need to be sensitive — call a spade a spade," Quinn said after yesterday's game. "When the play call is called, everybody has a 1/11th. Do your 1/11th. If you don't do your 1/11th, you're going to get called out. Don't be sensitive. Get yourself fixed and get it right. I'll just leave it at that."
Monster behavior. 😈 pic.twitter.com/sCg9ONpJhW

— Chicago Bears (@ChicagoBears) November 23, 2021
The truth is, Quinn could have been talking about any of his defensive teammates other than Roquan Smith. Smith led the team with 17 tackles, and Quinn had 3.5 of Chicago's five sacks. Though there were some shining moments, defensive lapses hurt the Bears when they most needed to stop the Ravens. That was particularly true in the final two minutes of the game when Baltimore marched 72 yards in a little over one minute to win the game. On that drive, Vildor was called for pass interference that cost the Bears 21 yards, and then he was immediately burned on a 21-yard pass reception that put the Ravens on Chicago's 30-yard line.
Baltimore scored a few plays later to take the lead. By the time the Bears got the ball back, they were down by three points with 22-seconds left. Fans immediately started chanting for Nagy to lose his job.
Mind you, the Ravens were without starting quarterback Lamar Jackson and his top wide receiver, Marquise Brown. Rookie Tyler Huntley, making his first career start, made the Bears look about as bad as possible on that final drive. For Nagy's sake, it might have been better had Jackson started. The Ravens would have won easily, and Nagy would have had the loss of injured players Khalil Mack, Akiem Hicks, Eddie Jackson, and Allen Robinson to serve as a safety net. Mack is out for the season with a foot injury, and Hicks and Robinson were gameday scratches.
In making his postgame comments, Quinn demanded accountability from his teammates because Nagy refuses to do so. The players are obviously upset and don't take well to losing consecutive games on 4th quarter defensive breakdowns. A head coach must always command the respect of his players, an area where Nagy seems consistently soft. Once you lose the locker room, you lose your ability to impose authority on the team.
NFL analyst Jordan Schultz goes even further, indicating that most Bears players want the team to fire Nagy. Danny Parkins and Matt Spiegel of The Score670 discussed the alleged mutiny with Schultz this afternoon.
"When it comes to the locker room, and I know it's not the end all-be all, I think last season he lost some [of the players] and from what I'm told now, it's really just [completely] gone," Schultz said. "When you don't have faith in your head coach, especially a team that has a lot of young players, I think it's very difficult."
Schultz went on to say that Nagy started losing his players when he named Andy Dalton the team's starter ahead of training camp because the locker room was already split on whether Justin Fields should start or not. A late collapse in a game against Detroit during last year's streak was also cited as a factor. The Bears will play the Lions on Thursday, and Dalton has already been named the starter so that Fields can nurse bruised ribs.
"My understanding is that the leadership element – or lack thereof – from Ryan Pace is [also] a big issue," Schultz added. "For Nagy, I think it's a combination, but schematically, for someone that's supposed to be an offensive coach, and someone who went through Mitch Trubisky as quickly as he did… I don't think that helped… I don't get the sense that he connects [any longer] with a lot of the players."
Nagy, who tries to sound so even-keeled it actually feels like disguised panic, didn't offer much more than what has become his signature post-loss response.
"[This sits with me] just like it sits with everybody else," the coach said. "You've got to finish. Can't happen."
The Bears have never fired a coach mid-season in the 101-year history of the franchise. Though it would be imprudent to cut ties with Nagy ahead of Chicago's Thanksgiving Day tilt with the Lions, a loss in that contest may leave Pace, Ted Phillips, and the McCaskeys no choice. If Pace is prohibited from making a midseason change, that probably doesn't bode well for his job security either.
The Bears are a mess, and if Nagy has indeed lost his players, it doesn't figure to get any better over the final seven games of the season.