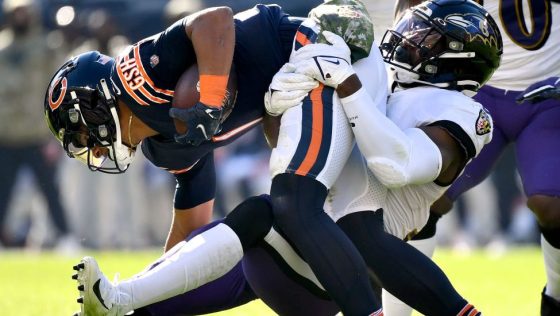 Chicago Bears Score and Recap (Week 11): Ravens 16, Bears 13 – Fields Injured as Bears Drop Dramatic Game to Ravens
For a brief moment on Sunday it looked like the Bears had kept their slim playoff hopes alive with a dramatic late touchdown. For a second consecutive week, Chicago's defense could not close out the victory and they dropped a heartbreaker to the Baltimore Ravens.
The Bears got a break before the game even began as star Ravens quarterback Lamar Jackson was a scratch with a non-Covid illness. Tyler Huntley took over and struggled in the first half. It was not much better for Justin Fields, as the rookie QB completed just four passes for 79 yards. Baltimore got a pair of Justin Tucker field goals to take a 6-0 lead at halftime.
Fields bad day turned worse as he suffered a rib injury on a scramble up the middle in the third quarter and would not return to the game. Andy Dalton came on and got immediate results, with a big assist from WR Darnell Mooney, who took a short pass 60 yards for the go ahead touchdown.
Chicago clung to that one-point advantage until late in the fourth quarter when the Ravens drove into range for another Tucker kick and went up 9-7. Dalton led the Bears on a drive reaching midfield at the two-minute warning. Facing a 4th and 11, the backup quarterback went deep on an all out blitz and hit Marquise Goodwin for a 49-yard go-ahead touchdown pass.
Yet again however, Chicago could not close out the win in the final minute of the game. Huntley completed two 20-yard passes and drove Baltimore to the goal line where Devonta Freeman scored the winning touchdown with 22 seconds left. (Box score)
Why the Bears Lost
The pass defense once again broke down in the final minute and cost their team the game. Also the Bears failed to take advantage of the Ravens secondary, even with Dalton coming in cold there was more to exploit there.
Key Moment
With a rookie quarterback making his first career start backed up with less than two minutes to go, the Bears seemed to be in good position to win. They were not able to achieve it and it's going to prove costly to any playoff chances.
Stats That Matter
Head Coach Matt Nagy did not have an update on Fields rib injury after the game. It was disappointing that he did not throw for more yards against a very bad Baltimore pass defense when he was in.
Mooney was excellent putting up 121 yards receiving and the long touchdown, he needs to be targeted even more going forward.
Robert Quinn had a monster game with 3.5 sacks and was in the backfield all day long.
Bottom Line
With the season basically over, the Bears can now fully focus on developing Justin Fields. Postgame Nagy would not commit to naming a starter going forward if both his quarterbacks are healthy. While Andy Dalton may be a better option some weeks he is a mile away from a long-term solution. Fields must start if healthy and if Chicago's head coach disagrees he can start his unemployment a month early.
Next Up
The Bears have a turkey day clash in Detroit with the Lions in Week 12. The Thanksgiving day game starts at 11:30am CT and airs on FOX.