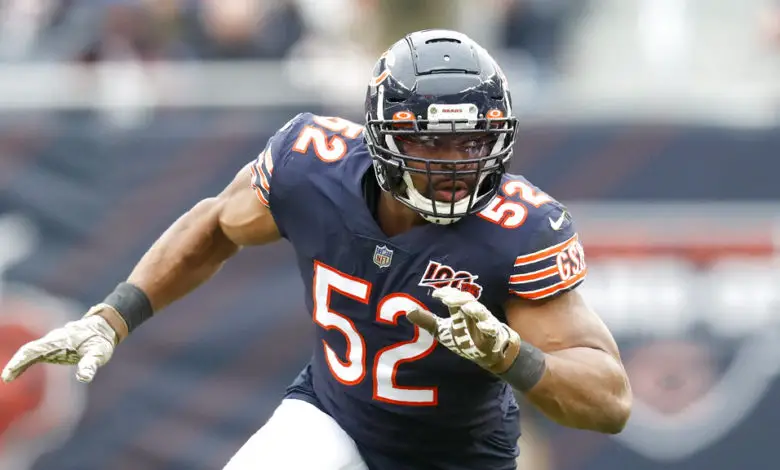 Mack Trade Signals Potential Path to Sustained Success
If you're a Khalil Mack fan and you made it past the headline, I salute you. The good stuff is just ahead. New GM Ryan Poles made his first big move on Thursday when he traded Mack to the Chargers for a second-round pick in this year's draft and a sixth-round next year. Though a lot of fans were against the move, the Mack trade signals a potential path to sustained success for the Bears.
The trade is not about 2022, and yes, the return feels underwhelming until you start to unpack the details. Poles gave himself an extra $6 million in cap space this year once the $24 million in dead money is figured in, and the pick this year is nice value in a draft that goes very deep, especially at wide receiver and offensive line, two areas of need. Mack's veteran presence will be missed, but don't think the defense is necessarily weaker because of the trade. Trevis Gipson was an admirable understudy when the star went down in 2021, and it's his turn to shine now.
With the Khalil Mack trade, the Chicago Bears are slated to have approx. $121M in cap space in 2023.

One-hundred-and-twenty-one million dollars.

— Laurie Horesh (@LaurieHoresh) March 10, 2022
Last season as a 3-4 OLB Trevis Gipson played in 16 games with 9 starts for the #Bears (49% of the defensive snaps) and he had 39 tackles, 7 tackles for loss, 7 sacks, 5 forced fumbles, 1 fumble recovery, and 2 passes defended. He's moving to 4-3 DE in the new defense.

— Lester A. Wiltfong Jr. (@wiltfongjr) March 11, 2022
The real benefit of the trade is that Los Angeles is taking on Mack's salary for the next three seasons, which means that Poles has an incredible $121 million in cap space going into 2023. Assuming Danny Trevathan, Jeremiah Attaochu, and Angelo Blackson are no longer with the team then, the front office will have 18 contracted players on the roster entering the 2023 season. That team will have Poles' signature all over it.
Yes, Mack is an imposing force who will terrorize quarterbacks for a couple more years, but the Bears finished seven games behind the Packers last season, and the six-time Pro Bowler isn't going to get them any closer to Green Bay this year, especially with Aaron Rodgers and Davante Adams teaming up together for at least one more season.  Mack, 31, is coming off a debilitating injury and is still owed $84.9 million dollars. The Chargers are taking the cap hit on $63.9 million of that.
That alone should make it a huge win even if the collateral return is milquetoast at best, but with an extra pick in the second round, Poles could trade down and pick up an extra pick this year. The six million in cap space isn't much more than chump change, but perhaps it will help Chicago keep James Daniels, or it may allow the front office to sign a veteran center like Ryan Jensen or Ben Jones. The point is, the Bears now have a wider range of offseason options.
It's also nice to see that Poles doesn't mind being aggressive. He knows head coach Matt Eberflus is installing a new defense and there will be growing pains. If the Bears were really ready to contend, keeping Mack might make more sense. Though the Bengals proved you can bounce back from a last-place finish to get to the Super Bowl this year, that is definitely more the exception than the rule.
The Chargers are a good fit because they feel they are a player or two away from unseating Cincinnati in 2022. Pairing Mack with Nick Bosa is going to create nightmares for offensive coordinators and will give Los Angels one of the scariest front sevens in the NFL. It's a big financial gamble by the Bolts, but then again, the Rams took a similar chance when they acquired Matthew Stafford, among others, last year and they won the Super Bowl.
KHALIL MACK GOING TO THE CHARGERS 🚨 (per @AdamSchefter, via @NFL)

— Overtime (@overtime) March 10, 2022
If you feel Poles didn't get enough and you're basing that on the Von Miller trade in November, don't forget the Broncos absorbed $9 million of the $9.7 million Miller was owed to get a second and third-rounder. Poles isn't sending any money to the Chargers, he offloaded an albatross of a contract, and still got two draft picks in return. That's not a bad deal and Poles doesn't deserve some of the shrapnel he's catching from the team's fanbase.
This is one of those trades that can be a win-win for both franchises, but, at the very least, the Chargers are assuming all the risk. If Mack gets hurt again, or ages poorly coming off the injury, Poles will look like a genius. But even if Mack goes on to win defensive player of the year, the Bears still might not lose. There was never going to be a championship in Chicago this year, and maybe not anytime in the near future with the weight of Mack's contract stifling Poles whenever he wanted to make a move.
Now the Bears are flush with cap space this year and beyond, added a couple of extra draft picks, and they're no worse than last year's 6-11 team because Mack missed most of the season anyway. The trade is unpopular because Mack was loved and revered by most Bears fans. sometimes, however, an executive has to be bold to take his team to the next level. The stars and scrubs approach that was the mindest of the last regime resulted in a 48-65 (.425) record over seven seasons.
Poles was hired because he brings fresh ideas to a team that has been lagging behind the rest of the NFL for a decade. Perhaps it's time the Bears had a GM who wants to create sustainable success. At his introductory press conference, Poles said he wanted to retake the NFC North and never give it back. Sometimes that means making unpopular decisions for the good of the organization. Nobody assumed he could get another team to take on the entirety of Mack's contract. For that alone, give the rookie GM his first win as a Bear.