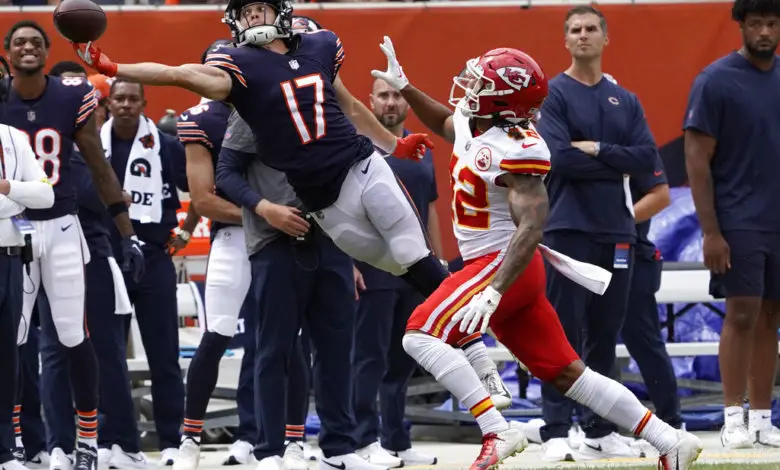 Camp Notes: Bears Get First Win, Brisker Can Flat-Out Hit, Sanborn Stands Out, Smith Situation Getting Bizarre
The Roquan Smith situation gets more bizarre by the day and needs a quick resolution. In the meantime, the Bears kicked off their preseason schedule with a 19-14 win over the Chiefs, and UDFA rookie linebacker Jack Sanborn was the star of the game. We'll cover those stories and so much more in today's edition of Camp Notes.
Head coach Matt Eberflus earned his first win in Saturday's game against Kansas City. The Chiefs jumped out to an early 14-0 lead but the Bears countered with 19 unanswered points in the second half. That's telling for a couple of reasons. Chicago has a long way to go before their starters can play at the same level as a team that annually makes the postseason. But they may have better reserves than most teams. And the rookie class looks very good so far. Kyler Gordon didn't play but Jaquan Brisker showed all of us that he's going to be a big hitter at the pro level.
Okay rooks, we see you 👀 pic.twitter.com/eYUim4dg1W

— Chicago Bears (@ChicagoBears) August 14, 2022
It's inexcusable to miss this call.

1: The QB, Fields, gave himself up.
2: The defender lunged, led with his helmet, and hit the QB in head/neck area.
3: The ref was standing RIGHT there.
4: Fields O Line need to let the DB know that ain't okpic.twitter.com/9XC181bt8D

— Emmanuel Acho (@EmmanuelAcho) August 13, 2022
Eberflus, whose background is on the defensive side of the ball, knows his quarterback has the kind of raw dual-threat ability that can be a nightmare to defend. "The deep ball and then the ability to run with the ball. I think those things stretch you," Eberflus said to reporters back in May. "So when you get stretched vertically and horizontally like that, it always causes stressors on a defense. It doesn't matter what kind of style you're running."
Smith and Robert Quinn were on the sidelines Saturday, which seemed odd after a report leaked that someone in Smith's camp has contacted other teams about a potential trade. Whether GM Ryan Poles trades or extends the All-Pro linebacker, a resolution needs to come quickly. It is becoming too much of an unneeded distraction.
Former NFL coach Chick Pagano, who is also a good friend of Eberflus, said Smith's situation has become tiring. "As a coach, you kinda stay out of those things," Pagano said. "You can't be in that conversation other than saying 'Hey, we got your back we're gonna support you. We want you here. We need you here, Roquan.'"
Five Things
Though the Bears just played their first preseason game, the coaches probably already have a very good idea as to which players will make the 53-man roster. Special teams players Cairo Santos, Trenton Gill, and Patrick Scales are all locks. Chicago is also set at quarterback, running back, tight end, and in the defensive backfield. The biggest battle will come down to the offensive line, where rookies Ja'Tyre Carter, Doug Kramer, and Zachary Thomas fight for two backup positions. The first-string offensive line appears to be settling in, with Jones, Reiff, Cody Whitehair, Sam Mustipher, and Michael Schofield as the likely starters until Lucas Patrick returns.
Sanborn probably wasn't on the bubble but his performance in Saturday's game against the Chiefs most likely solidified a roster spot. Eberflus and defensive coordinator Alan Williams stress takeaways as a big part of the team's scheme. Sanborn was responsible for both of Chicago's takeaways in the game. He also has seven solo tackles, including one for negative yardage. The rookie linebacker was easily the player of the game.
Brisker can flat-out hit. The rookie safety delivered a bone-crushing hit that spun Chiefs wide receiver Skyy Moore like a top. Next, he came around the edge and lowered the boom on running back Derrick Gore. That wasn't his best work though. Brisker relied on elite instincts to bait quarterback Shane Buechele. It nearly resulted in an interception that would have been a pick-six. "They brought me in here to make plays, create turnovers, make big hits, and great tackles, and lead them to a championship," Brisker said in the Bears' locker room after the win. The proof is in his play, and he will quickly become a fan favorite.
The Smith situation is starting to unfold like a train wreck. Not having a registered agent consulting him is now working to the detriment of the linebacker. Smith may not want to hire an agent, but he needs to control the actions of whoever is advising him. It's not just unprofessional. Smith is hurting himself financially. He's also alienating teams that might be interested in trading for him.
The shoddy turf at Soldier Field drew criticism from Bears players and JC Tretter, the president of the NFLPA. Soldier Field's turf has been an issue for years. There have been concerts there over the summer including Elton John on August 5 which clearly didn't help the field. "To be honest, last year I used our home field as an advantage because I knew how [bad] our grass was," Fields said. It's no wonder the McCaskey family has no interest in staying there.
Camp Quotes
"I have a different mindset coming in this year. I'm way more comfortable, just being in the NFL this year and of course having played a year. We're just going to keep working, keep stacking days and continue to get better at the small details each and every day." – Fields
"The tackling. Deflecting the ball. [Brisker] should have had maybe a takeaway or two. But he was high-energy. Man, he likes to hit. I really liked that aggressive style for him, how he's playing."- Eberflus
"We were playing Cover-2 and I made a decent break on the interception. I think there are some more plays I could have made. I was just happy to be out there. Do everything for the team. That is my mindset. Do whatever the team wants me to do." – Sanborn
"Everything right now is pointing up for me. I'm feeling good and looking forward to Thursday [at Seattle] so I can show myself out and make sure I can still play this game at a high level." – Jenkins