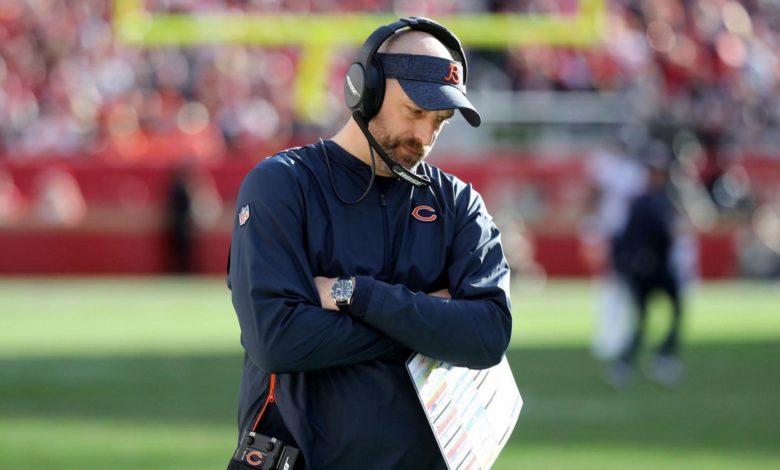 First & Long: Writing May Be on the Wall for Nagy, Fields a Prime-Time QB, OBJ Signs With Rams
The Bears head into their bye week with a 3-6 record and though Matt Nagy will more than likely finish the season as Chicago's head coach, it's probably just as much a certainty that his fate after this season has already been decided. Look for the organization to relieve Nagy of his duties once his contract expires in January.
By all rights, Nagy should be replaced immediately. There's no point in keeping a failing coach employed in the name of continuity, but the Bears have never fired a head coach midseason. A bye week would seem like an opportune time to make a change, but don't look for anything to happen anytime soon. Setting aside the second half of Monday night's 29-27 loss to the Steelers, Chicago has played uninspired football all season with too little progress by too many players.
Matt Nagy told @espnSteveLevy, "We practice better than a 3-5 team"

Too bad his offense PLAYS like an 0-8 team.
The illegal formation, after a hastily called timeout, followed by a punt, is the Nagy special.

— Silvy (@WaddleandSilvy) November 9, 2021
Worse, Nagy often provides little in the way of commentary when asked why things go wrong and how he intends to fix them. When a reporter inquired about the 115 yards his team amassed in penalties on Monday, the head coach was far from contrite.
"We've got to be smart," he said.
That's not very head-coachy and actually makes Nagy look like he is in way over his head, something he reiterated when talking about Justin Fields.
"Building and formulating a game plan for [Fields], not necessarily knowing exactly what was gonna be his strengths heading into that game, we feel a lot different now," the head coach said. "We feel better as to the types of plays we're putting in that fit him, fit our offense. Trying to find that match and that balance."
The key takeaways are the phrases "not necessarily knowing" and "trying to find that match and balance." In other words, after all the preseason work, exhibition games, and now seven starts, Nagy still doesn't know what his quarterback can do or how he can put the rookie in the best position to succeed. He's actually begging his employers to can him, and that's the most likely outcome come the Monday morning after Chicago's season sunsets.
It's clear that Nagy is a detriment to his quarterback's success and the first two offensive series in the Monday night game offer all the proof we need. You can add indecisive play-calling, lack of discipline, and an offense that has regressed in each of Nagy's four years at the helm to the equation.  If Fields is indeed a franchise QB, it's up to Ryan Pace to surround him with the right tools to avoid stifling Fields' progress, which of course includes the head coach.
Bears News & Notes
There's a Flag… On the Play
Here's how the Bears have performed the last three seasons under Nagy, who was hired for his offensive expertise:
Total offense: 29th (2019), 26th (2020), 32nd (2021).
Points: 29th (2019), 22nd (2020), 31st (2021).
Passing yards: 25th (2019), 22nd (2020), 32nd (2021).
Passing touchdowns: 25th (2019), 18th (2020), 32nd (2021).
Northern Exposure
Executives from other NFL teams questioned the perceived favoritism the league showed Aaron Rodgers and the Packers with regard to COVID-19 protocol violations.
An unidentified Vikings player is in stable condition after being hospitalized with a breakthrough COVID1-9 infection.
Wide receiver Josh Reynolds, formerly of the Rams and Titans, is excited to reunite with Lions QB Jared Goff. Detroit grabbed Reynolds off the waiver wire yesterday.
NFL News & Notes
After clearing waivers, Odell Beckham Jr. has reached an agreement to play for the Rams.
Buccaneers QB Tom Brady is not a fan of the NFL's extra game this season.
Disney is in discussions and negotiations to acquire non-exclusive rights to NFL Sunday Ticket. Direct-TV will also have rights once their contract with the league is extended.
With the Washington Football Team sitting at 2-6, facing a congressional investigation, and still nameless after more than a year, some fans are choosing to switch allegiances altogether.
The Dolphins reportedly offered the Texans three first-round and two second-round draft picks to acquire QB Deshaun Watson from the Texans.
Three Yards and a Cloud of Dust
On this date in 1990, the Chiefs' Derrick Thomas set an NFL record – one that still stands today – with 7 sacks in Kansas City's 17-16 loss to Seahawks.
The Jets have never defeated the Eagles. Ever.
Antonio Brown has the most touchdown receptions of any player in the league since 2014, and he's missed 30 games in that span.
He's a High-Motor Guy
Fields became a prime-time player when he connected with Allen Robinson on this play, and the Steelers had no idea what just hit them.
Fourth quarter… 3rd and 2. Fields reads the defense, makes a check and throws a dime to Allen Robinson for a big gain to set the #Bears up for the go ahead score. This throw looks effortless. pic.twitter.com/dVrBr6WX0K

— Zack Pearson (@Zack_Pearson) November 9, 2021
From the Podium
"My mindset [Monday night] was like, 'It's time. We're here.' You can be the guy who always gets put in that position and doesn't show up. Or you can be that guy who shows up in big moments. That's what my mindset was. I was just calm and focused on showing up." – Fields
"For him to follow through with that and make those plays he made, it was a really, really good feeling on the sideline. When you talk about the growth for him and the offense and our team in general, that's a moment. But in the end, we lost. When you're in the locker room right there, this is a team game, and that's what our guys care about. That's what we care about, and we've got to figure it out." – Nagy