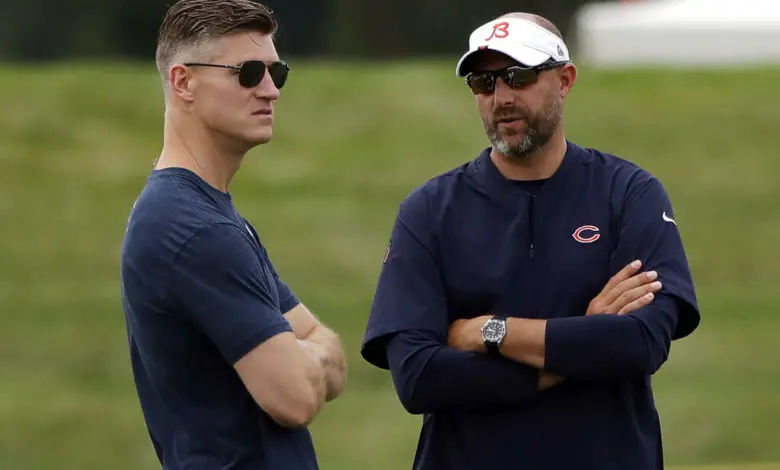 Chicago Bears Rumors: Matt Nagy and Ryan Pace Should "Get Another Year At Least"
When Ryan Pace was hired in 2015, at 37 years old, he was the youngest general manager in the NFL. His first head coach hiring, John Fox, didn't go very well, with Fox putting up a gaudy 14-34 record during his three-season tenure.
After firing Fox, Pace hired current head coach Matt Nagy. And while Nagy's time at the helm of the Bears hasn't been without its issues, his 25-13 record is certainly a big improvement over his predecessor.
In 2018, Nagy did well to lead the Bears to their first NFC North title since 2010. That upped expectations heading into 2019, when the Bears and Nagy fell flat at 8-8. Heading into 2020, some had the Bears pegged for last place in the NFC North. Those predictions, thus far, haven't lived up to the hype.
The Bears seemed to have mastered winning ugly so far in 2020, all the way to a 5-1 record. Nagy is quite optimistic about things, stating that he believes this is a special group. But he still has work to do and can't let winning prevent him from addressing ugly.
According to ESPN, it appears that the Nagy/Pace pairing "gets another year at least." This statement seems to indicate that both Nagy and Pace are tied to each other. If Nagy falls flat, does that really mean that Bears' President and CEO, Ted Phillips, would fire Pace?
That remains to be seen. But it's certainly something worth paying attention to should the Bears slip as the 2020 season continues.