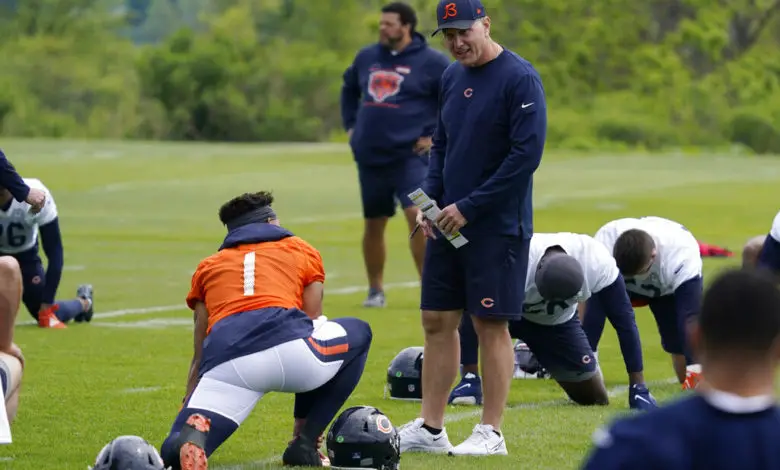 First & Long: Rookies Report to Camp Saturday, Eberflus Wants Players to Report in Shape, Kyler Murray Gets Paid, Deebo Might Be Next
Ohmygod ohmygod ohmygod ohmygod!
Yes, Bears' rookies will report to training camp in two days. The first phase of Chicago's top-to-bottom overhaul is complete, and it's time for the players to strap on the pads and start knocking the snot out of each other. New head coach Matt Eberflus asked his players to report to camp "lean, fit, and strong" and we'll know as soon as he makes his first cuts who paid attention and who did not.
"Training camp's not to get in shape," Eberflus said. "You should already be in shape. You should be ready to go for training camp because we are blowing and going from day one."
I don't necessarily like the phrasing but that attitude has been missing at Halas Hall for quite some time. Let's face it, the Bears coasted under Matt Nagy, especially the veterans, and Eberflus will have none of it. If I could make a small suggestion, however, I'd sit with former Cubs manager Joe Maddon if I were Eberflus so that I can be schooled on sports idioms and turn of phrase eloquence.
"The summer for these guys is going to be important," Eberflus continued, "and the message I said after practice to them was come back lean, fit, and strong. I left them with, 'get your track shoes on,' like I started my first press conference because we're going to be running once we get to training camp."
I can neither confirm nor deny that DE Robert Quinn is on board with that plan, but all eyes will be on the 11-year veteran because he completely recused himself from Chicago's OTA practices and its mandatory minicamp. Veterans do not have to arrive until July 26, so don't expect Quinn to get there any earlier. That's if he shows up at all.
Confirmed: @JaquanBrisker's got that dawg in him

— Chicago Bears (@ChicagoBears) July 21, 2022
Speaking of holdouts, safety Jaquan Brisker remains unsigned though there has been no word that he will bypass the mandatory reporting date. There will undoubtedly be reports over the next 48 hours with regard to his current status, but for now, it would be unfair to make any assumptions.
The biggest story of camp will be the continued development of quarterback Justin Fields. According to pass-catchers Darnell Mooney and Cole Kmet, Fields has already taken his game to the next level. That sounds wonderful, but I'm sure offensive coordinator Luke Getsy will be more concerned with the second-year starter's footwork and his propensity to turn the ball over. It will be fun watching Fields throw the deep ball to speedy wide receiver Velus Joines Jr. all summer.
Stick with us at Bears Insider for all the training camp news and notes. We'll have daily reports and lots of player features starting this weekend.
Bears News & Notes
Behind the ESPN+ paywall, Bill Barnwell ranks the Bears group of playmakers as second-to-worst in the NFL.
Mooney will lead a much-improved receiver room this season.
The Bears have 27 players who are virtual locks to make the 53-man roster. That means there will be plenty of intense positional battles through August and early September.
It's doubtful that GM Ryan Poles has stopped making additions to his roster, and I'm sure he'll be monitoring the waiver wire and trade market carefully. The Bears currently have $20.7M of cap space, 5th most in the NFL
The rookie GM has caught a lot of flak this spring and summer for his lack of needle-moving free agent moves, but he's really changed the face of the organization with a number of key decisions.
In case you're among those who think Poles is setting Fields up to fail, he's "all in" on his second-year quarterback.
Ex-Bears tackle Jason Peters has high regard for Fields, too, but he also thinks Chicago needs to better develop its offensive line.
Fields was sacked on a massive 10% of his dropbacks last season, leading the league among qualifying passers. You can blame the line for the bulk of that, but Fields needs to improve his release times.
The 41-year-old Peters would like to play at least one more season if an opportunity presents itself somewhere. He said he is ready to go at a moment's notice.
The Bears media department released their "Meet the Rookies" web series, the eighth consecutive season in which the team filmed the short-form profiles. Chicago dropped 10-minute documentaries on each of Kyler Gordon, Brisker, and Jones. Jr.
Larry Mayer of Chicago's flagship website believes that Jones Jr. will have the biggest impact among the Bears rookies.
Per his video profile, Brisker said he comes to play and "will knock your socks off."
An article at Bleacher Report posits that Quinn would be a nice trade target for the Raiders and that the Bears should also be looking into the availability of Giants wide receiver Darius Slayton
Kmet could be this year's offensive breakout player.
Former Bears DT Eddie Goldman announced his retirement just 13 days after agreeing to terms with the Falcons.
Retired Bears punter Bob Parsons passed away on Friday. He was 72. No cause of death was indicated in this release, though it does ask for donations in Parsons' name to the Alzheimer's Association of Chicago.
There's a Flag…On the Play
Cardinals QB Kyler Murray signed a franchise-record $230.5 million extension earlier today.
Kyler Murray is set to make $46.1M a year with his new contract extension with the Arizona Cardinals.

The Oakland Athletics, the team who took Murray 9th overall in the 2018 MLB draft, have a payroll of $48.5M this season 😲 pic.twitter.com/OZvZnKYhu8

— CBS Sports (@CBSSports) July 21, 2022
Northern Exposure
Green Bay: The Packers have a lot of new faces in camp this season, especially at wide receiver. It's fair to ask if their offense will regress this year. As great as he is, Aaron Rodgers isn't getting any younger.
Detroit: The pundits are giving the Lions a lot of love this offseason and some have said they might shock the world with a postseason berth. Statistical analysis disagrees with that assumption. Unit positional ratings reveal Detroit is somewhat overrated.
Minnesota: The Vikings playmakers were rated among the best group in the NFL. That says an awful lot about the greatness of WR Justin Jefferson and RB Dalvin Cook.
NFL News & Notes
Colin Cowherd thinks Jimmy Garappolo is the league's most underrated player.
In their search for a replacement for Deshaun Watson, the Browns have worked out quarterbacks Josh Rosen and A.J. McCarron but are reportedly not interested in trading for Garappolo.
Sean Payton admitted to Good Morning Football that he'll probably return to coaching in the future.
Deebo Samuel and the 49ers have had continued talks to keep the star receiver in San Francisco but nothing is imminent. Samuel is in the final year of his rookie deal and has requested a trade.
The Bills have drawn 19 bets to finish the season undefeated. That's more than all of the other teams combined.
Three Yards and a Cloud of Dust
Murray is the only player in NFL history with 70 touchdown passes and 20 rushing touchdowns in his first three seasons, yet Arizona fans are questioning his extension.
The average number of fantasy football leagues per individual is 6.29, but when respondents who played in more than six leagues were polled that number jumped to a whopping 16.6.
Retired Patriots and Chiefs linebacker Mike Vrabel was quite the goal-line offensive weapon. He caught 12 of 16 career targets for 17 total yards and scored a touchdown on every single one of those catches.
From the Podium
"There's going to be adversities for the season, and then how you're going to respond to that as a head football coach and as a football team. So, get your mind prepared for that. Take the notes that you have, that you're going through, and that's what I will be doing here, and then I will come back a week or so early to get set up for the camp, make sure schedules are all squared away." – Eberflus
"The team coming together, I feel most comfortable with that. We're able to look each other in the eye and tell the truth, and it's OK. It's OK to be wrong. It's OK to be right. It's just honest communication. Man-to-man, face-to-face, no problems. And that's encouraging because you have to have that as a team because you have to be close that way, because you're going to have adversity and you've got to be honest with each other." – Eberflus
"Looking for an up [and] coming offensive line, good team — or a playoff team. Either/or is good for me because I can pass my torch on to some guys who are trying to get better, the younger guys, the new generation. Or if I get on a team with some vets, they already know how I rock, and we can just go into the playoffs and make a run and try to win another ring." – Peters
Running Out the Clock
Gimme a shot of swagger with a side of the need to smash things.