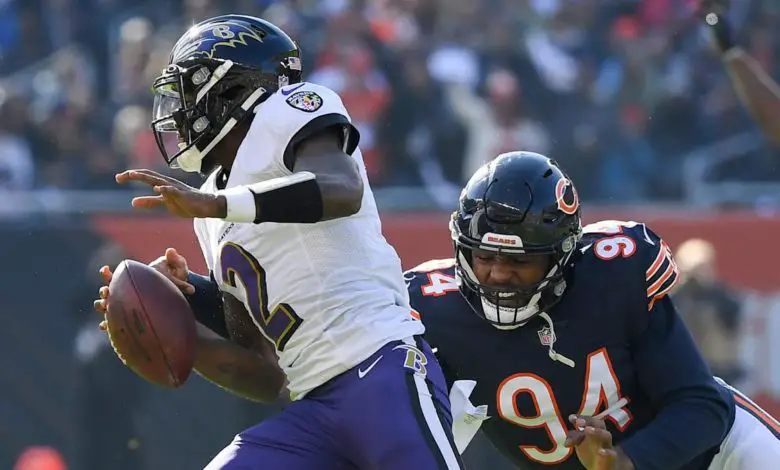 First & Long: Quinn Has Career Game Against Ravens, Nagy Losing Player Support, Bills Owner Rains Benjamins
In a season that seems to be getting longer with each losing effort, the Bears actually have a few bright spots that could become cornerstones in the next year or two. Before getting injured on Sunday, Justin Fields had flashed elite skills, and more frequently in recent games. Roquan Smith is another terrific young player and is poised to add his name to a historic list of all-time great Bears' linebackers. Robert Quinn deserves some credit, too.
Despite yesterday's heartbreaking loss, Quinn had a monster game, registering 3.5 sacks, three tackles for loss, and four quarterback hits. The 11-year veteran proved to be a vocal leader after the game, calling out his teammates for blowing a 13-9 Bears lead with less than two minutes left in the 16-13 loss to the Ravens.
"No need to be sensitive — call a spade a spade," Quinn said after yesterday's game. "When the play call is called, everybody has a 1/11th. Do your 1/11th. If you don't do your 1/11th, you're going to get called out. Don't be sensitive. Get yourself fixed and get it right. I'll just leave it at that."
Quinn now has 10 sacks in 10 games after registering just two all last year. What made yesterday's effort all the more impressive was that the edge rusher didn't have the benefit of Khalil Mack lining up opposite him or defensive tackle Akiem Hicks drawing double teams up the middle. The Ravens simply had no answer for Quinn, and he spent the majority of the day in Baltimore's backfield. He even forced a fumble, but it wasn't enough to ensure a win.
"It's sickening; I'll just put it that way," Quinn added. "It's a punch to the gut. We had the lead. The Ravens had the ball. It was on the defense to close it out and we didn't do that."
It was a career game for the twice-traded Quinn, whose previous best was three sacks, something he has accomplished five times, most recently when he played for the Rams in 2014. It was also the most sacks in a single game by a Bears player since Jay Ratliff registered 3.5 sacks in a loss to the Dolphins eight years ago. The two-time Pro Bowler leads Chicago in sacks this season and drew praises from Smith, who registered 17 tackles in the contest.
"[Quinn] stepped up big-time," Smith said. "I've got a lot of respect for that guy and just the way the guy goes about his work each and every day, practicing really hard and doing everything the right way. And I'm so happy for the guy. The guy was making those plays. He does it every week. So, it was great to be able to see that."
The two linebackers probably can't do anything to salvage Chicago's season, but at least they give Bears' fans something to look forward to each game.
Bears News & Notes
There's a Flag…On the Play
Nagy can't catch a break from anybody.
The idea that Matt Nagy does not know the current diagnosis of his starting quarterback's injury is, of course, implausible.

The Bears' ongoing push to conceal injury info as a competitive advantage has also not been proven to work.

— Dan Wiederer (@danwiederer) November 22, 2021
Northern Exposure
Placekicker Mason Crosby has had a rough season so far, but the Packers insist they are not looking to replace the 15-year vet.
Vikings QB Kirk Cousins matched Aaron Rodgers blow-for-blow in Minnesota's 34-31 win over Green Bay on Sunday.
Some oddsmakers have named the Lions as early favorites to beat the Bears on Sunday.
Three Yards and a Cloud of Dust
Mac Jones of the Patriots is the 1st rookie QB in NFL history to complete 80% of his passes in back-to-back games.
There have been 23 games this season that were decided on the last play of the game, the most through 11 weeks since the 1970 AFL-NFL merger.
The Bears have scored 10 points or fewer in the first half in 36 of Nagy's 60 games as head coach.
Pick Six
This week's top performers:
Aaron Rodgers, QB Packers – Completed 23-of-35 for 385 yards and four touchdowns.
Robert Quinn, OLB Bears – As mentioned above he was an absolute force against the Ravens.
Justin Herbert, QB Chargers – Threw for 38s yards and three scores on a 31-for-42 day.
Mac Jones, QB Patriots – Connected on 83% of his passing attempts Thursday night, good for 207 yards and a TD.
Justin Jefferson, WR Vikings – Caught 8 of 10 targets for 169 yards and two scores.
Colt McCoy, QB Cardinals – Serving as a substitute starter, McCoy was 35-of-44 for 328 yards and two touchdowns without an interception.
NFL News & Notes
Julian Edelman said that Tom Brady tried to recruit him to join the Buccaneers.
Patriots head coach Bill Belichick said that mashed potatoes are the perfect Thanksgiving side dish.
The United States Football League will return in April 2022, and the league announced the eight teams set to compete in its inaugural season.
Radio personality Howard Stern has little love for the Packers and Rodgers.
Bills owner Jim Irsay signed a bunch of $100 bills and handed them out to fans sitting in front of his suite during Sunday's game.
From the Podium
"[This sits with me] just like it sits with everybody else. You've got to finish." – Nagy
"I mean, honestly how many games have we lost in a row? Yeah, there's nothing to talk about. We aren't going to beat a dead horse. Like I said, we are all men. Coming in here and saying 'we have to figure out a way' to me it's BS. Like, we aren't going to keep talking. We have to find ways to win, we just have to get it done. Whatever it is…We've had five weeks of rah-rah speeches. I don't think that talking is anything we need to be doing." – Johnson