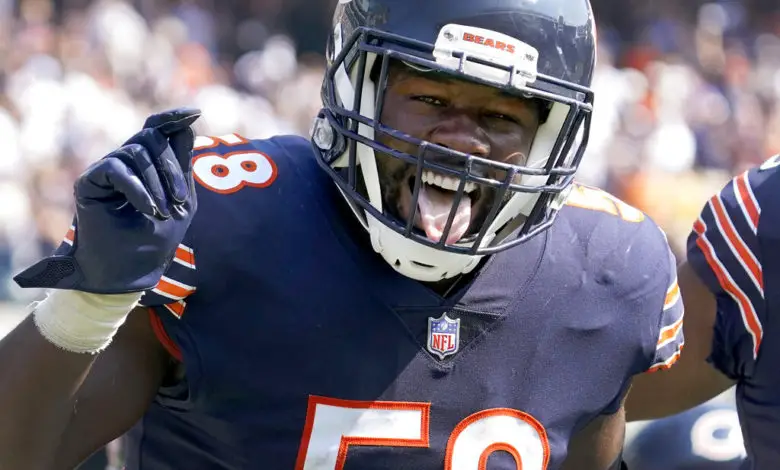 Roquan Smith Could Be Bears Next Great Linebacker
The Bears may have had just one franchise quarterback in their 101-year history, but the team warmly known as the Monsters of Midway seems to spawn a Hall of Fame linebacker once or twice every generation. Though the jury is still out on the ever-improving Justin Fields as the team's next big game passer, Roquan Smith has quietly etched his name among some of the best Bears linebackers of the past.
Smith's career started with a few missteps, including a 29-day holdout before he signed his rookie contract, a Week 4 absence of a game for personal reasons that same season, and a sophomore year that nearly had the former Georgia standout and first-round draft pick labeled as a bust. The holdout concerned whether or not Smith could have his contract terminated if he was suspended for an illegal hit to the head, the reason for the missed game against the Raiders in 2018 was never fully explained, and in 2019 he ranked 123rd out of 175 rated linebackers, mostly because he lacked the lateral quickness and game energy he now exhibits.
Something clicked for Smith last year when he bounced back to earn his highest grade from Pro Football Focus, and, to many, was snubbed when it came to getting a Pro Bowl nomination. He registered 139 tackles last year, 98 of the solo variety, and recorded four sacks to go along with two interceptions and one fumble recovery.
Smith is off to an even better start this year with 93 tackles through nine games – tied for first in the league – and is on pace for a career-high 176. His three sacks rank second among linebackers and he's added an interception and TD for good measure.
Roquan Smith playing like a guy who knows he should have been an All Pro last year. Some vengeance. #Bears pic.twitter.com/FBEzASK6Sc

— Zack Pearson (@Zack_Pearson) September 19, 2021
The fourth-year standout has also become a leader of the defense and a vocal presence in the locker room. After Monday night's loss to the Steelers, he came to the defense of fellow linebacker Cassius Marsh, who was flagged for a ridiculous taunting penalty that likely cost the Bears a chance to win.
"That was a BS call," Smith said. "The man's been doing that celebration his entire career, and for that to be called一but hey, it is what it is."
According to Fields, Smith, who had one of his best games of the season Monday night, also addressed the team after losing to Pittsburgh, pouring out his heart in the process.
"Just to see how passionate [Smith] is about the sport, and about the game, and about this team, you can just tell [which] guys wanna win and how passionate we are about this sport."
Roquan Smith with a potential game-saving sack after a COSTLY fumble on the kickoff 💥

(via @ChicagoBears) pic.twitter.com/DrK9t4QGkI

— The Game Day NFL (@TheGameDayNFL) November 9, 2021
Smith is also a gamer who lets his play do all the talking, rarely promoting himself as an All-Pro or Pro Bowl player despite some gaudy statistics the last two seasons.
"The Pro Bowl stuff, it's a popularity thing. I'm not out there tweeting all this stuff: 'Vote me, vote me.' That's not something I do," Smith said at the beginning of the season. "Hey, I play ball. I come out in each and every game and do what I need to do, and I let everything else handle itself. I'm not too worried about, 'Vote me into this' and 'Vote me into that.' The Bears organization knows who I am for this organization.'"
It would be unfair to rank Smith with Chicago Hall of Fame linebackers Dick Butkus, Mike Singletary, and Brian Urlacher, but Otis Wilson and Wilber Marshall would be legitimate comps. It's also fair to acknowledge the linebacker is one of the league's best defenders this year. He can still be inconsistent at times and Week 8 against the 49ers is a great example of when Smith tends to get a little lazy, but he's just 24 and still hasn't reached his ceiling. He has one year left on his rookie deal, and GM Ryan Pace will have to consider the hole Smith would leave if the two sides cannot agree on an extension.
It's not like the Bears have plenty of salary room to accommodate another big contract, especially with Khalil Mack and Eddie Jackson on the books, and a decision on whether or not to keep Allen Robinson after this season. Pace also needs to find a way to create more payroll flexibility in the coming seasons, so that he can add weapons around his rookie QB. Both Smith and Pace seem eager to reach a long-term deal. The only question is how much money it will take to keep the standout defender in a Bears uniform.