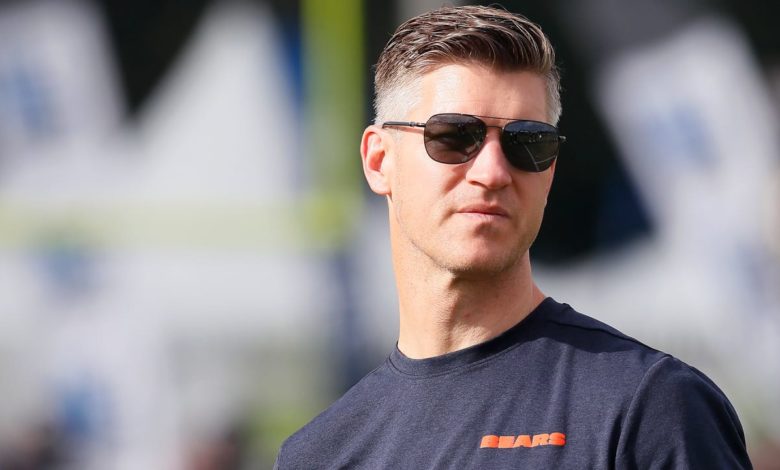 First & Long: Pace Stands Pat at Deadline, Nagy's Future Reportedly No Longer Tied to Fields, Rodgers Goes Into COVID-19 Protocol
The NFL trade deadline is not quite the experience as the MLB, NBA, and NHL versions and it shouldn't surprise anybody that the lone move Ryan Pace made was to sign LaCale London to the team's practice squad. In fact, with the completion of the MLB season yesterday, baseball's hot stove is generating more interest than the NFL trade deadline.
Logistically speaking, the NFL trade deadline is generally an exercise in sheer boredom. For one, there are few available players who may make the difference between making the playoffs and sitting out. The salary cap doesn't help either, though accountants get paid decent salaries to favorably work those numbers. Heck, the Bears have an accountant with an undergrad degree from Notre Dame (Ted Phillips) running their team. Then there is the matter of acclimating players to new offensive and defensive systems.
Rumors circulated after Sunday's loss to the 49ers that Allen Robinson might be traded and that the Chiefs may have had an interest in the wide receiver. GM Ryan Pace mentioned his "aggressive mindest" heading into yesterday's 4 PM deadline, so the spirit was willing despite the contradictory nature of the flesh. Some national writers mentioned that Akiem Hicks and Khalil Mack may have been on the block, too. Like Robinson, Hicks probably doesn't fit Chicago's plans after this season.
Does Pace's inactivity indicate the executive believes his team has a shot at the playoffs? At 3-5, the Bears are four games behind the Packers with nine games left and are ranked No. 13 overall in the NFC. Pace has his faults, but it's doubtful he believes his team can make up that much ground. It's not impossible, but the Bears would probably have to win out or at least go 7-2 in their final nine tilts. The Rams (7-1), Saints (5-2), and Panthers (4-4) lead the NFC Wild Card race. According to FiveThirtyEight, the Bears have a 6 percent chance of making the postseason and are projected to finish 6-11.
With Robinson sticking around at least until the end of the season, he and rookie QB Justin Fields need to develop some chemistry. Robinson caught just three passes for 21 yards on Sunday and has only been targeted 29 times since Fields became the full-time starter. Andy Dalton threw to A-Rob 11 times in Week 1, representing 25% of the receiver's total targets on the entire season.
Allen Robinson hasn't dropped a red zone target since Week 6 of 2016 🤯 pic.twitter.com/QoFi1FczPE

— PFF (@PFF) November 2, 2021
"We have solid chemistry," Fields said of Robinson the other day. "Of course, [we] need to get better. It's not the best in the country, but we're growing each and every day. Of course, the more reps you get with your receivers the better chemistry you have. It's really that simple."
"I thought Justin played fast." Robinson countered after Sunday's game. "I thought he made quick decisions. You can just tell as far as how he's moving out there, moving around, and what he's seeing that he's getting more comfortable and gaining more confidence."
Impatient fans need to realize that this season is strictly about growth and development. Wins are merely bonuses, and a playoff appearance would be a veritable miracle. That may mean head coach Matt Nagy won't be retained after this season, but so be it. Had Nagy done a better job with Mitchell Trubisky, Pace wouldn't have had to make the aggressive move to nab Fields in the first round this year.
If you're looking for positives, Fields had his best game as a pro on Sunday and has been the talk of the NFL Network all week for his running and throwing abilities. Barring injury, the young signal-caller could be in a position to lead Chicago back to the playoffs, or even a division title, in 2022-23.
Bears News & Notes
There's a Flag… On the Play
Aaron Rodgers reportedly chose to go unvaccinated, allegedly lied about it and now will miss at least one game while on the Reserve/COVID-19 list.
Breaking: Aaron Rodgers has tested positive for COVID-19 and will miss Sunday's game vs. the Chiefs, per @AdamSchefter. First reported by NFL Network. pic.twitter.com/hscBcLxIHI

— SportsCenter (@SportsCenter) November 3, 2021
Northern Exposure
Rodgers could only avoid vaccine scrutiny for so long. The league is investigating the Packers to ensure that all COVID protocols were followed.
The Bears aren't the only NFC North team with a head coach fighting for his job. Mike Zimmer of the Vikings is on the hot seat after a couple of coaching gaffes cost Minnesota a chance to beat the Cowboys the other night.
The Lions are the league's last winless team and because the NFL added a  game to this year's schedule, could be the first team ever to go 0-17.
NFL News & Notes
Prosecutors said Raiders WR Henry Ruggs III was driving at 156 mph with a blood-alcohol content twice Nevada's legal limit before his Chevrolet Corvette slammed into the rear of Tina O. Tintor's vehicle that burned, killing her and her dog. The second-year receiver's BAC was revealed to be .161 at the time of the gruesome crash.
Las Vegas QB Derek Carr said Ruggs "needs to be loved right now."
After news broke of the tragic accident, NFL Network analyst David Carr, the brother of Derek, found himself at the center of a social media firestorm for his tweet promoting his brother as the league's MVP.
The Raiders released Ruggs III last night.
Browns head coach Kevin Stefanski reportedly said in a team meeting on Wednesday that wide receiver Odell Beckham Jr. is "essentially not on the team right now."
Tony Buzbee, the attorney representing the women suing Texans QB Deshaun Watson, suggested in an interview Tuesday night that the defendant's legal team wanted to settle those cases so that Watson could've been traded before yesterday's deadline.
Longtime Colts standout and Pro Bowl running back Tom Matte has passed away at the age of 82.
Jets fans want overnight sensation Mike White to get another start at QB on Sunday.
The Bills have one of the best offenses in the NFL but the team is still working to cultivate an identity.
Three Yards and a Cloud of Dust
These quarterbacks have the most game-winning drives in the history of the NFL.
Peyton Manning – 54
Drew Brees – 53
Tom Brady – 50
Two-Point Conversion
If you have the financial means, do something nice here.
https://twitter.com/ARWithinReach/status/1455938075037683716
From the Podium
"When you have a rookie quarterback, you want to be able to see improvement and growth with how he's playing the game and how we're playing around him and coaching around him. So that's important that we see that. But in the end, we want to make sure we're doing everything we can to win." – Nagy