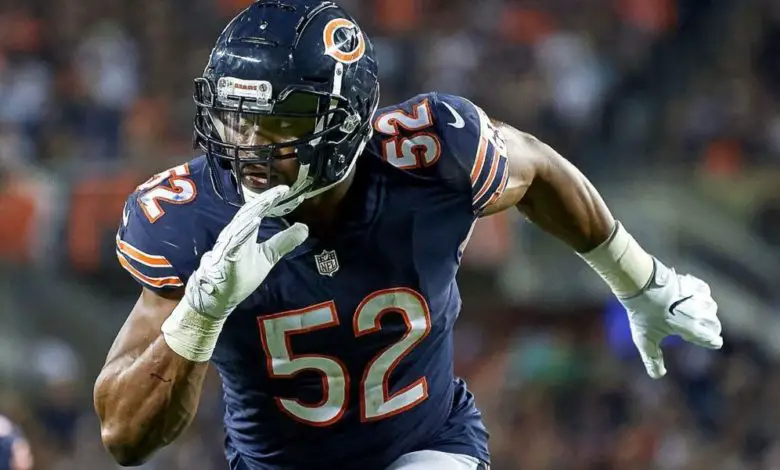 Roster Moves Ahead of Monday Night's Game May Mean Mack Getting Better
The Bears made a number of roster moves ahead of Monday Night's nationally televised game against the Steelers that may indicate OLB Kahlil Mack is getting better and could possibly play. Mack has been sidelined with a foot injury and missed Sunday's game against the 49ers,
For starters, Chicago waived outside linebacker Sam Kamara, leaving Mack, Robert Quinn, and Trevis Gipson at outside linebacker on the active roster. One of Charles Snowden and the recently added Cassius Marsh is likely to be promoted on game day, but it could be an indication that Mack is close to returning. We'll know more when the Bears release their final injury report at the end of this week.
Despite being ruled out last week, the six-time Pro Bowler is still considered day-to-day.
GM Ryan Pace was relatively inactive at Tuesday's trade deadline, but he did add defensive tackle LaCale London to the practice squad. This is London's second stint with the Bears, the first coming when he signed as an undrafted free agent out of Western Illinois last year. The 24-year-old native of Peoria spent the entire 2020 season on Chicago's practice squad. To make room for London, the Bears released OT Dareuan Parker.
Pace also released running back Chris Thompson, who was added to the practice squad as insurance when David Montgomery went down with his knee sprain. The third-year veteran is eligible to return from injured reserve this week, but with a bye week following the Steelers game, they may elect to take the more cautious route and stick with Khalil Herbert for one more game. Herbert has rushed for 344 yards on 74 carries with one TD in Montgomery's absence.
Eddie Jackson is dealing with a hamstring injury while the Bears are considering Khalil Mack as day-to-day. As for David Montgomery, Matt Nagy said: "He is improving every day."

— Chris Emma (@CEmma670) November 1, 2021
Marsh, mentioned above, was added to the practice squad as a protected player today. The outside linebacker was a 4th round pick by the Seahawks in 2014 and has totaled 14 career sacks in stints with seven teams, including the Steelers last season. Teams can designate up to four inactive players every week that are protected from being signed by another team. With Mack's status still uncertain, Marsh is too valuable to lose, and may even be promoted to the active roster before Monday night's tilt.
In addition to Marsh, the Bears announced that Snowden, defensive lineman Margus Hunt, and running back Artavis Pierce have also been protected. The roster moves are all a matter of standard operations, but may just indicate that Mack is getting better and ready to resume playing. The all-pro usually shines in nationally televised games and is probably champing at the bit to play Monday night.