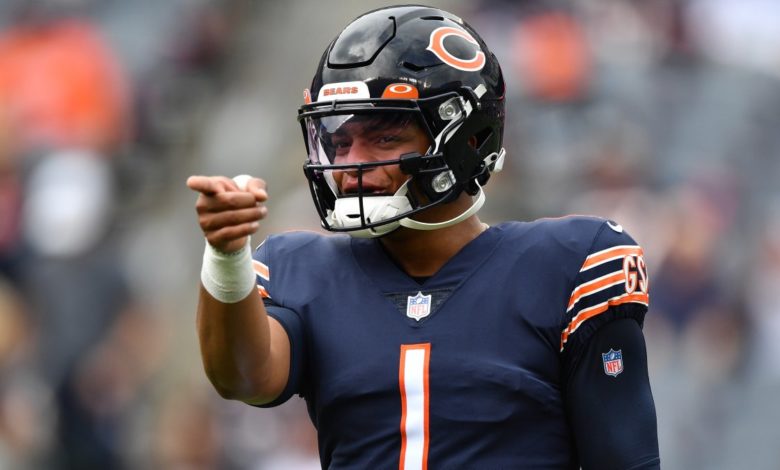 First & Long: Fields Has Breakout Game, Nagy Struggled With Quarantine Mandate, Moves Possible Ahead of Tuesday Trade Deadline
Head coach Matt Nagy said it was quite difficult to be away from the team and watch on TV during yesterday's 33-22 loss to the 49ers. He was impressed with the progress Justin Fields displayed and proud of the job special teams coordinator Chris Tabor did in his role as interim head coach.
"He went with full conviction on all his decisions," Nagy said of Tabor. "And for me watching it, I was really, really impressed with him and very appreciative."
Of Fields, Nagy said, "he played on time and on rhythm."
"His decision-making was excellent. Maybe one or two plays here or there," the coach added, "but that goes for any quarterback, let alone a rookie. He also made special plays. That fourth-and-1 play that he made (running for a 22-yard touchdown), credit their defense for making a good call. It wasn't there. And Justin made a play I think we'll all remember for a long, long time.
As impressive as that run was, the touchdown pass he threw to Jesse James in the 2nd quarter may have shown a little of the maturity we are hoping to see from the first-year signal-caller. Fields rolled to his left and threw to James in full stride, placing the low ball right where James could dive to make the catch behind cornerback Josh Norman. Fields called it a great route and catch by James, but that was an impressive toss by the right-handed rookie.
Look at this throw and catch. I see you Justin Fields. #Bears pic.twitter.com/LVhN3nQ4an

— Jarrett Payton (@paytonsun) October 31, 2021
It's doubtful the Bears are good enough to reach the playoffs this season, but the short-term mission should be the development and progress of Fields. If he and Allen Robinson can get in synch, it would make a huge difference for Chicago, particularly in the red zone. Coming into yesterday's game, Robinson had only been targeted 40 times this year. He had 70 targets after seven games last season. That's a pretty palpable disconnect.
Robinson, who may be a free agent after this season, would certainly like the opportunity to improve his stats, but more importantly, the Bears need a significant contribution from the wide receiver if they want to win games.  The wide receiver finished yesterday's game with three receptions for 21 yards. His four targets trailed Darnell Mooney (9) and tight end Cole Kmet (6), and just ahead of James (2), the team's third-string tight end.
Despite the loss, most fans and analysts admit yesterday was somewhat of a breakout game for Fields. If he can continue to improve with each passing week and continue to shake off his mistakes, the Bears may have finally found a franchise quarterback. It's a sign of advanced maturity that Fields was able to rebound so quickly from last week's putrid performance. He came out firing, made good decisions, and played with confidence and conviction. Sure it was the 49ers, but that's not what matters. A lot of rookies might not recover from a game like last week's loss to the Buccaneers.
Next week the Bears travel to Pittsburgh for a nationally televised Monday night tilt with the Steelers. Look for it to be Fields' coming out party, as long as Nagy doesn't tighten the reins.
Bears News & Notes
There's a Flag… On the Play
Ouch.
DEEBO SAMUEL. 83 YARDS. #FTTB

📺: #SFvsCHI on FOX
📱: NFL app pic.twitter.com/JRNKGLsXqK

— NFL (@NFL) October 31, 2021
Northern Exposure
The Vikings were holding on to a 16-13 lead last night and had just forced the Cowboys into a third-and-16, at which point the Minnesota defense called timeout, hoping to preserve the clock for the final possession of the game. However, after the Cowboys lined up, Vikings head coach Mike Zimmer called a second consecutive timeout, which is illegal. In most instances, the referees will simply ignore the request, but they flagged Zimmer instead.
The Packers might not be as good as their 7-1 start indicates, but they already hold a commanding four-game lead in the NFC North.
Detroit's rookie head coach Dan Campbell said the Lions are willing to listen to almost anything ahead of tomorrow's trade deadline.
NFL News & Notes
The Broncos are trading LB Von Miller to the Rams in exchange for two Day-2 draft picks next year, per Adam Schefter. 
Jets' backup QB Mike White completed 37 of 45 passes with three touchdowns and two interceptions, and also caught a two-point conversion pass from Jamison Crowder. According to ESPN Stats & Info, White and Cam Newton are the only quarterbacks in league history to throw for 400 yards or more in their first career NFL start.
Aaron Rodgers is reportedly taking part of his salary from the Packers in Bitcoin.
O.J. Simpson attended yesterday's Bills game.
By throwing four touchdown passes in yesterday's 36-27 loss to the Saints, Buccaneers QB Tom Brady became the NFL's all-time leader in games with four touchdown passes (38).
Brady acknowledged that despite all his success and accolades he's still somewhat of a pain in the ass to referees.
Texans rookie tight end Brevin Jordan said he "almost threw up" after his first touchdown on Sunday.
The Patriots are exploring trade options to strengthen their team. That said, head coach Bill Belichek isn't expecting anything significant. "If around the league there are 100 trades being talked about, there's probably four of them that will be made."
Drew Brees said he has no intention of returning to the Saints.
Three Yards and a Cloud of Dust
Since 2019, Tennessee running back Derrick Henry has 13 games with two or more rushing TDs, most in the NFL over that span. The Titans have won all of those games.
Cooper Kupp of the Rams leads the league in receiving yards with 924 yards, followed by Deebo Samuel of the 49ers with 819. Samuel caught six of nine targets yesterday for 171 yards against the Bears.
There's only been six defensive delay of game penalties in NFL History. Two were called because a player was holding defensive teammates could catch a breather. The other four infractions were due to defenses calling consecutive timeouts.
What Time Is It? Game Time Whoo!
For those of you new to the First & Long column here at Bears Insider, I'll be posting articles every Monday, Wednesday, and Friday, and some Saturdays, too. Thank you all for reading and subscribing.
Power Sweep
Today marked the 22nd anniversary of the death of Walter Payton, inarguably the greatest player to ever suit up for the NFL's flagship franchise. Payton's ability to impose his physical will on defenders is legendary.
Walter Payton's "flu game" was one of the greatest displays of mental toughness that you'll ever see in all of sports. pic.twitter.com/d3bgVxhfhd

— Ross Enamait (@rosstraining) October 19, 2017
From the Podium
"I thought [the 83-yard reception by Samuel] was a pivotal part of the game. We continued to stay in the game after that, but we just didn't do enough to finish it… you can just feel it and you felt like you know we were up [by] seven and we had field position and that is one of those plays that we're going to look back at and wish we had back." – Nagy
"I'm not gonna lie, that [22-yard touchdown] was awesome. I was excited, as y'all could see." – Fields