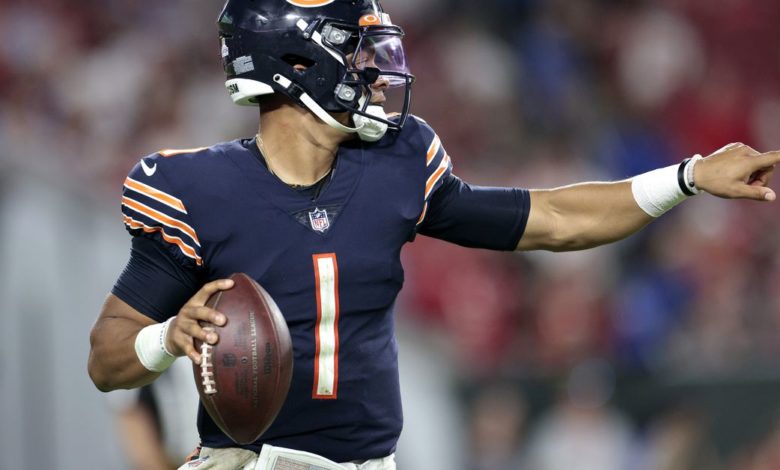 First & Long: Montgomery Officially Reinstated From IR, Fields Gets First Prime Time Start, Must-Win Game for Nagy
Bears running back David Montgomery has been officially reinstated from injured reserve and will get the start in tonight's game against the Steelers. The third-year Bears running back had missed their previous four games with a sprained left knee, but he returned to practice this past week. Before getting hurt, Montgomery led the Bears with 309 rushing yards on 69 carries with three touchdowns.
Without their starter, the Bears ground game has succeeded on the efforts of backup running back Khalil Herbert and quarterback Justin Fields. Herbert had his first career 100-yard game two weeks ago against the Buccaneers, and last week, Fields rushed for 103 yards on 10 carries against the 49ers. The combination of Montgomery and Fields will be a dual-threat that Pittsburgh's defense will have to plan for, and could help open up Chicago's passing attack. It would be nice to see wide receiver Allen Robinson potentially break out of a season-long slump this evening.
Not only have the Bears finally established an efficient, reliable running game, they quietly own one of the league's top rushing offenses.

How the emergence of Khalil Herbert and impending return of David Montgomery bolster an offense for Justin Fields. https://t.co/hpMr3iilJT

— Chris Emma (@CEmma670) November 8, 2021
The Bears enter action tonight one game behind the Falcons for the last playoff spot, but a loss would mean it would take Chicago at least four weeks to get back to .500. It's rough to characterize the 9th game of the season as a must-win affair, but for head coach Matt Nagy, whose job is hanging in the balance of a rebuilding season, a loss to the Steelers could be devastating.
"There's definite urgency, and I think that's OK," Nagy said over the weekend. "You need to have that. We always talk about the fork in the road and going left or going right. The only thing that matters is making sure we get that win. The wins change everything. It definitely deodorizes things that you don't do well."
A loss tonight would be the fourth straight for the Bears and would surely resurrect nightmares of the six-game losing streak that almost took the Bears out of the playoffs last year. After a bye week, Chicago returns November 21 with a home game against the Ravens before traveling to Detroit to play the winless Lions on Thanksgiving Day. That short week could leave the Bears fodder for an upset. Ironically, the Bears' sixth straight loss in 2020 was against the Lions before Chicago snapped their streak a week later against the Texans.
Tonight's game will be won by the better defense. Chicago enters Heinz Field averaging 15.4 points per game, while the Steelers aren't doing much better, averaging 18.9 points per game. The Bears will be without six-time Pro Bowl outside linebacker Khalil Mack, safety Eddie Jackson, and inside linebacker Alec Ogletree, so it would behoove Nagy to get his offense untracked.
Bears News & Notes
The Trend is Your Friend
Since 2006, the Steelers have defeated every NFL team except the Bears. Chicago is 3-0 versus Pittsburgh during that span, winning those contests 17-14 in 2009, 40-23 in 2013, and 23-17 in overtime in 2017.
There's a Flag…On the Play
Cassius Marsh should pretend he is facing the Bears tonight instead of playing for them.
The Bears added edge rusher Cassius Marsh this week, and he was flexed to the roster tonight. This is his 8th NFL team.

He has 14 sacks in 92 career games, but (fun fact alert) 3 of those came in 2 games against the Bears when he was on the 49ers in 2017-18.

— Kevin Fishbain (@kfishbain) November 9, 2021
Northern Exposure
Because Aaron Rodgers had been ruled out, Jordan Love got his first NFL start in Green Bay's 13-7 loss to the Chiefs, and the Packers' future QB1 was decidedly ordinary.
Over the past few seasons, Minnesota has shown a tendency to lose big games. Yesterday was no different, and the 3-4 Vikings remain four games behind the Packers in the NFC North.
The Lions were embarrassed by the Eagles yesterday in a 44-6 loss. "It's like [watching] The Bad News Bears."
NFL News & Notes
It is unlikely that Odell Beckham Jr. will be picked up on waivers by any team and will enter the free agency fray as an expensive luxury for most.
Browns quarterback Baker Mayfield is drawing inspiration from Kobe Bryant and Mike Tyson.
Meanwhile, former basketball great and NBA Hall of Famer Kareem Abdul-Jabbar slammed Rodgers for letting his team and the league down.
The 7-2 Rams are rolling toward a potential No. 1 seed in the NFC playoffs, but there are a few bumps in the road.
The Saints have been competitive throughout the first half of the season but frustratingly inconsistent.
A double-bird gesture has Eli Manning in a little hot water and even drew FCC complaints from viewers watching last week's "Manningcast."
The Raiders released former 1st round draft pick Damon Arnette today. The second-year linebacker was shown on a since-deleted video holding up multiple guns and threatening to kill somebody.
Did you ever wonder how much an NFL waterboy gets paid?
Three Yards and a Cloud of Dust
Ravens QB Lamar Jackson is the 1st player in NFL history with 2,000 pass yards and 600 rush yards through 8 games of a season.
Patriots cornerback J.C. Jackson has 22 INTs since 2018, the most in the NFL.
Last week, the Browns became the 4th team in NFL history to record a Pass TD, Rush TD, and defensive TD of 60+ yards all in the same game.
Run-Pass Option
Welcome to Prime Time, JF1.
Tonight is Justin Fields first prime time game as the #Bears starter. pic.twitter.com/NCdeQqN8Xr

— Bears Nation (@BearsNationCHI) November 8, 2021
From the Podium
"Especially in recent weeks, you feel [Fields'] decisiveness, confidence, timing. In the last game, he really used his athleticism. You see it in practice every day, too, just his practice and preparation continue to shine, so that's all been good. You see it translate to game day. Just need to keep on building and stacking upon that, knowing there will be ebbs and flows with any rookie quarterback, but excited about his progress." – Pace