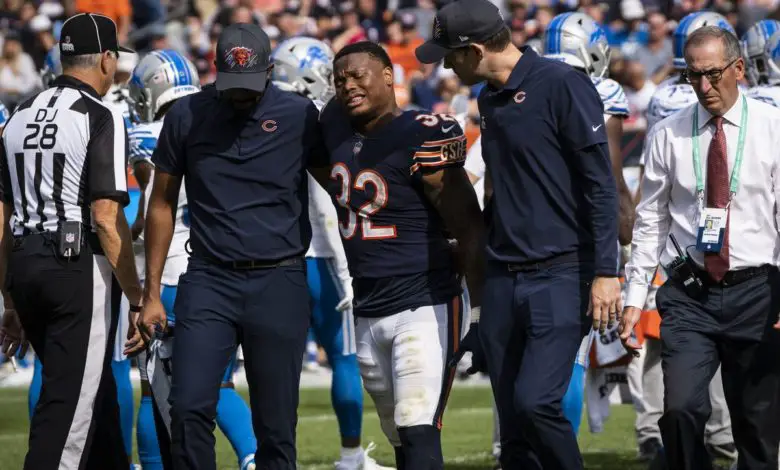 David Montgomery Expected to Miss 4-5 Weeks with Knee Sprain
When Bears running back David Montgomery limped off the field in the fourth quarter against the Lions Sunday everyone feared the worst. It was not the worst case scenario for the Iowa State product, but it was still a big blow.
Chicago announced Montgomery will miss four to five weeks with a sprained left knee. While not a season-ending injury, it is still a big blow to the offense. The Bears featured back had over 300 yards and three touchdowns through the first four games of the season. The remaining options to replace his production are not very promising.
The primary back up, 8th year veteran Damien Williams, has never rushed for over 500 yards in his career and opted out of the 2020 season for family health concerns. Williams has had some very good moments, especially in the Chiefs Super Bowl victory in 2019. That said, however, it's unfair to expect him to put up numbers he's never been able to produce in his career.
Khalil Herbert, the 6th round pick from Virginia Tech, has some potential yet he only has three career carries. Tarik Cohen is still rehabbing from his 2020 torn ACL and is not eligible to come off the PUP list until week 7.
To add to their problems, Williams suffered a thigh bruise in the game against the Lions and is questionable this week against the Raiders. Whatever solution the Bears go for, it it's important that it work out at least a little bit. The last thing they want is Justin Fields to be exposed in a one-dimensional offense with no run game.