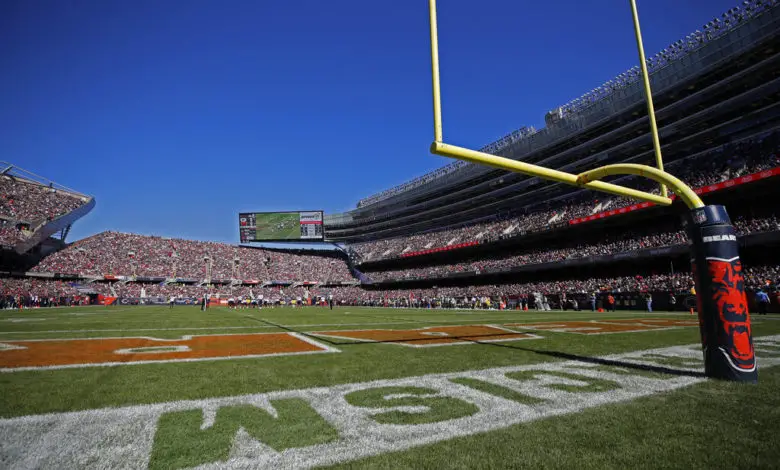 First & Long: Lightfoot Wants to Improve Soldier Field Fan Experience, Butkus Skewers Rodgers Again, Goodell Meets With Civil Rights Leaders
Chicago Mayor Lori Lightfoot has pitched putting a dome onto Soldier Field in order to keep the Bears in Chicago. That seems a tad unrealistic. Lightfoot also wants to improve parking at the stadium, but she's doing a poor job of reading the room. All the Bears are interested in is getting their permit and operating agreement (POA) changed. Cosmetic changes are unlikely to sway the McCaskey family and team president and CEO Ted Phillips.
Lightfoot has concentrated solely on forwarding plans to improve the campus area around Soldier Field as a means of preventing the Bears from building a new stadium in Arlington Heights. Getting out of their POA and into their own stadium, with team-owned amenities surrounding a new facility, could increase Chicago's valuation to $6 billion or more. No matter what Lightfoot does to improve the customer experience, the end result is that the McCaskeys will still be paying an annual lease fee to play at Soldier Field.
Mayor Lori Lightfoot revealed some ideas her administration is considering to keep the Chicago Bears from leaving Soldier Field for Arlington Park. https://t.co/ysgN02Mvef

— ABC 7 Chicago (@ABC7Chicago) February 12, 2022
As a die-hard Bears' fan and season ticket holder, Chicago's mayor acknowledged the need to enhance the fan experience at Soldier Field and turn the stadium into a year-round revenue generator.
"I am a Bears fan. I want the Bears to stay in the city of Chicago," she said. "And we are willing to work with [the McCaskey family] to try to address their concerns. But, I've got to do it in a way that is fiscally prudent and doesn't preclude other uses in that stadium.
"We are evaluating ways in which we can enhance the fan experience at Soldier Field. …I know that it can be better. I've been to other stadiums across the country where the fan experience is far superior to what we have at Soldier Field."
Lightfoot's efforts to improve the stadium could be difficult to execute. Her hands may be tied by the constraints of a lakefront seating bowl already towering over historic colonnades at a stadium that's also a war memorial. Then there's the fact that the Bears will probably have to vacate while the existing facility is upgraded. When the seating bowl was added in 2003 the Bears played their home games at the University of Illinois in Champaign.
"A lot of things are possible. But what do you have to do to expand the seating? Do you have to tear down half of it? Do you have to remove the old colonnades, for instance? Chicago would not stand for damaging or changing the historic architecture. It's a monument to the soldiers of World War I," said venerable Chicago architect Dirk Lohan, who worked with Boston's Ben Wood on the much-ridiculed initial renovation.
Is adding a dome actually possible? Lightfoot never answered the question when queried by reporters earlier this week. Instead, she paraphrased the Rolling Stones.
"You can't always get what you want. But you can try sometimes and get what you need," the mayor said — without singing.
It sounds like a half-hearted effort designed to influence her constituents that she is at least offering a solution. That's probably why she will not commit to anything that will increase taxes to city and county citizens, especially with the financial hurt caused by COVID-19 since 2020.
In building a new suburban stadium, the Bears would likely seek to add a campus of their own, much like Titletown in Green Bay or similar to what Tom Ricketts did with Wrigley Field's 1060 project. What would a new stadium cost to build? Los Angeles is home to the league's newest stadium, and it cost $5.5 billion to build.
If the Bears wanted something new on a smaller scale, Allegiant Stadium in Paradise, Nevada cost the Raiders $1.9 billion to construct. They'll host Super Bowl LVIII in 2024.
"Like most Bears fans, we want the organization to focus on putting a winning team on the field, beating the Packers finally, and being relevant past October," the mayor said. "Everything else is noise."
Eventually, all that noise will be coming from new digs about 25 miles northwest in Arlington Heights.
Bears News & Notes
There's a Flag…On the Play
Dick Butkus continues to skewer Aaron Rodgers on Twitter.
every time i try to engage here my phone gets interupted by someone named shailene whatsapp

— Dick Butkus (@thedickbutkus) February 18, 2022
for all of you who have asked
i am not the reason shailene woodley and @AaronRodgers12 have broken up

— Dick Butkus (@thedickbutkus) February 17, 2022
Northern Exposure
The Packers have hired Tom Clements as their new quarterbacks coach. Rodgers has long credited 68-year-old Clements, who came out of retirement for the Green Bay job, for his development during his early days in the NFL. It sure sounds like Rodgers intends to stay with Green Bay.
Lions president Rod Wood said that the team will not be raising ticket prices in 2022 because the on-field results "were not good enough" to warrant an increase.
New Vikings head coach Kevin O'Connell told the Minneapolis press Thursday that he is excited to work with QB Kirk Cousins.
NFL News & Notes
Rams defensive lineman Aaron Donald said he will return in 2022 if Los Angeles agrees to sign free agents Odell Beckham Jr. and Von Miller.
Roger Goodell met with Civil Rights leaders on Thursday to discuss the NFL's hiring practices.
Matthew Stafford and his wife Kelly have agreed to cover the hospital bills of photographer Kelly Smiles, who fell from the stage during Wednesday's Super Bowl celebration in Los Angeles, injuring her spine. The Staffords will also replace Smiley's broken cameras.
The Cowboys and a former cheerleader have settled on a voyeurism scandal to the tune of $2.4 million.
A forced sale of the Dolphins amidst tanking allegations could mean ownership for Tom Brady.
Jim Harbaugh signed a new contract with Michigan, but a buyout clause leaves the door open if the former 49ers head coach wants to return to the NFL.
Cincinnati CB Eli Apple is still the laughingstock of the NFL.
NBC announcer Cris Collinsworth took several hits for condescending announcing and pandering too often to the NFL in last week's Super Bowl.
Three Yards and a Cloud of Dust
Over the last two seasons, Joe Burrow (83) of the Bengals has been sacked more times than any other quarterback.
Cincinnati rookie kicker Evan McPherson made all 14 of his postseason field goal attempts.
Three starting quarterbacks have won the Super Bowl in their first year with a new team: Trent Dilfer (2000), Brady (2021), and Stafford (2022).
From The Podium
"[Justin Fields] is definitely 'that' guy. Just working with him every day from minicamp you see how much he's grown, how much he's learned, the confidence he has and he's continuing to make strides. I think he learned and had something new he took from each game. Next year's going to be a big difference." – Khalil Herbert