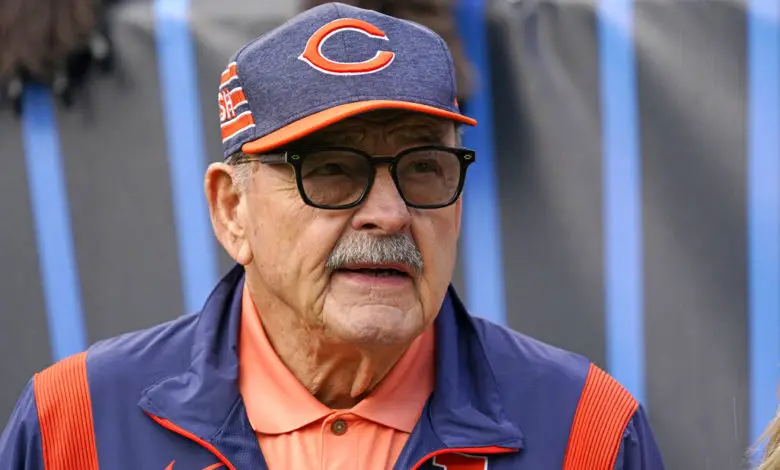 First & Long: Forget About Kenny Golladay, Butkus Trending, Bears Playing 'Boss Ball'
The Bears are down another receiver, and their options to replace Byron Pringle are Isaiah Coulter and Nsimba Webster. I know, I know… you've read other blogs and you're excited that the Bears could match up in a trade with the Giants for Kenny Golladay. Let's get real for a second.
The Bears play the Giants this weekend and New York isn't going to send Golladay to their game-week opponent.
The East Rutherford franchise is also down a receiver. WR1 Sterling Shepard tore his ACL in Monday night's game against the Cowboys.
 Golladay's contract is probably something GM Ryan Poles won't want to acquire unless the Giants agree to eat a large chunk of it. If they do, they'll want a premium draft pick, and that runs counter to Poles' long-term plan.
Shannon Sharpe isn't a big Golladay fan if that matters to you. It matters to me, and I say "hard pass."
"He had that one good year in Detroit, parlayed that into a big contract and has wet the bed ever since he's been in New York"

Shannon Sharpe was speaking for all the Giants fans this morning. #TogetherBlue pic.twitter.com/xkk1KYoE3H

— Brandon (@NJRange) September 27, 2022
So forget about Golladay, and while you're at it, cross Odell Beckham Jr., Darius Slayton, Will Fuller, and T.Y. Hilton off your lists. That leaves Denzel Mims, and, well… yawn. Talk of acquiring any wide receiver ahead of the trade deadline seems equally short-sighted and far-fetched. Flip a coin, and depending on how it lands you get Coulter or Webster. If anything, Pringle's injury means we may get to see if Ihmir Smith-Marsette is any good.
None of it really matters anyway since the Bears are operating at a 1.89 run/pass ratio. The Giants are allowing 5.3 YPC, and though it seems unlikely that David Montgomery will play on Sunday, Khalil Herbert should have a big game. The Bears boast the league's second-best rushing attack, so expect Luke Getsy to run that 1977 playbook again on Sunday. Minus the 10 sacks that Fields has taken, the Bears are averaging 7.0 yards when they run the ball.
Besides, Velus Jones Jr. and N'Keal Harry will probably return before Pringle can, which is October 30 against the Cowboys. Darnell Mooney, Equanimeous St. Brown, and Dante Pettis will get the bulk of the snaps, just as they have through the first three games. Golladay isn't coming to save Fields, and neither is anybody else. The second-year quarterback will have to man up on his own using the wideouts he has. That sounds like a perfect way to build character through adversity.
Bears News & Notes
There's a Flag…On the Play
Butkus was given the keys to the Bears' Twitter account and, well, this happened. This tweet spent more time in the pocket than JF1.
— Chicago Bears (@ChicagoBears) September 28, 2022
Scout Team
Film Room
CeeDee Lamb has a cool name and at least one good hand. He also scored what turned out to be the game-winning TD on Monday night. Pay attention, Mr. Mooney.
WHAT. A. CATCH 🤯

CeeDee Lamb makes an incredible one-handed catch to help the Dallas Cowboys defeat the New York Giants 23-16. #NFL #Cowboys pic.twitter.com/s5HOCM0qkC

— For Future Considerations (@PodcastFFC) September 27, 2022
Northern Exposure
Green Bay: A blog over at Fan Sided, which is obviously written by a fan, claims the Packers have already won the Davante Adams trade. I just can't.
Minnesota: Hurricane Ian may push Sunday's Chiefs-Bucs game to U.S. Bank Stadium in Minneapolis. The NFL will make a determination on Thursday as to when and where the game will be played. NFL fans will undoubtedly wonder which of Patrick Mahomes or Tom Brady will morph into King of Checkdowns Kirk Cousins.
Detroit: Due to an Achilles tear, the Lions have lost starting safety and team captain Tracy Walker for the season.
NFL News & Notes
Browns star defensive end Myles Garrett was involved in a single-car crash on Monday after leaving the team's practice facility in Berea, Ohio, and was transported to a local hospital after suffering non-life threatening injuries.
Bills OC Ken Dorsey said he'll learn from Sunday's meltdown in Buffalo's coaching box.
The Raiders are the NFL's last winless steam, and they have no margin for error if they expect to contend for a postseason berth.
The Saints are struggling, and it might be time to consider sitting QB1 Jameis Winston, who's been playing hurt. Who's his backup? None other than Andy Dalton.
Clay Matthews said he had hoped to spend his entire career in Green Bay and retire as a Packer.
The "Butt Punt" just won't go away.
Is it too early to label any team's draft a fail?  The Packers may be regretting their decision to select WR Christian Watson, and the Saints may have ignored more pressing needs when they chose WR Chris Olave.
Aaron Rodgers named Bill Belichick the NFL's greatest head coach ever. Do we care? How does Matt LaFleur feel about that?
The Bengals are going to be wearing some sick white-on-white crush uniforms for this week's appearance on Thursday Night Football.
Who says you can't wear white after Labor Day?#WearWhite | Swift Meats pic.twitter.com/wIAyzdZ2oA

— Cincinnati Bengals (@Bengals) September 27, 2022
Three Yards and a Cloud of Dust
Only two NFL players have a run of 30+ yards and a reception of 30+ yards. St. Brown of the Bears is one, and the other is his brother, Lions WR Amon-Ra St. Brown.
Golladay has 39 receptions for 543 yards with no TDs in 17 games since signing his 4-year/$72 million contract with the Giants before last season. He's caught 48.1% of his targets. This is not a player the Bears should pursue.
The Bears lead the NFL in three-and-outs with a 35% rate.
From the Podium
"If [our opponents] constantly pick up, three, four or five yards by simply running it, it can get frustrating. So, if our offense can run the ball all game long, pick up four or five yards a pop, it may not look flashy—the deep, bomb passes and all the stuff like that—but it's efficient, they're scoring points and giving us time to rest. So, there's nothing to complain about. I think it's demoralizing to the other team, and for us, in a sense, it's 'Boss Ball.' We basically own the line of scrimmage." – Quinn
"We have to stop the run to try to make them one-dimensional. Keep them from us being on our heels, and that is, in a sense, a manhood type of thing. If you want to stop the run, as a coach said to me, 'blow our neck or earn your check.' You just gotta man up and do your job." – Quinn
"We're doing everything we can to win the game. That's the most important thing. What's the style we would have to play to win that particular game? And it changes week-to-week. This week, we were in a mode where it was a style that we had to play to win the game, and it came out on the right end." – Eberflus
"I've showcased what I can do year in and year out. Not having a camp, you know, first two games still working my way in. But, hey, [by the] third game [I'm] normally feeling myself out. I think here on out you can expect some big things." – R. Smith
Running Out the Clock
Believe it or not, the Bears could be 3-1 with at least a share of first place in the NFC North of they beat the Giants on Sunday.