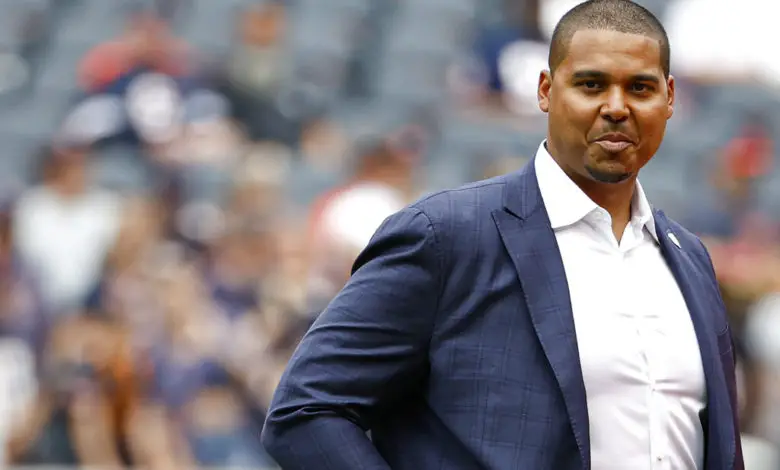 Wide Receiver Trade Talk Seems a Bit Far-Fetched
I have a lot of faith in GM Ryan Poles. And though he's made some decisions I don't always agree with, he tends to do what's best for the team and his salary cap situation. That's why rumors that the Bears will be shopping for a wide receiver ahead of next month's trade deadline seem premature and far-fetched.
Bleacher Nation devoted a whole post to a throwaway comment by NFL Insider Jonathon Jones, but they're not the only culprits. Heck, this has been going on since training camp.
"Expect the Bears to be active in the receiver market in a few weeks before the trade deadline," said Jones.
No. Not feeling it. It's a big stretch to go from something said in passing to an attention-commanding statement like the Bears are "scouring the wide receiver market." Because they're not. Why would they?
If Poles wouldn't spend money on a free agent this summer, why the heck would he invest draft picks on a player another team is desperate to unload? It just doesn't add up. At best, trading for a receiver does nothing but raise Chicago's floor at that particular position. The Bears have a lot of floor guys already in Dante Pettis, Ihmir Smith-Marsette, and Equanimeous St. Brown. There's also unproven rookie Velus Jones Jr.
CBS Sports' Lead NFL Insider @jjones9 gets us up to speed on all the latest storylines from around the league. pic.twitter.com/ygqNIZknyU

— NFL on CBS 🏈 (@NFLonCBS) September 25, 2022
Available options are probably too costly or entering the final year of their rookie deals. That means you should forget about players such as D.K. Metcalf, Brandin Cooks, Corey Davis, and Darius Slayton. Why give up draft picks when you can just sign Odell Beckham Jr.?
The other issue is that the Bears don't have anything to play for. Yes, they're 2-1 but so far they look a lot more like an 0-3 team. The deadline is a little over four weeks away. So, unless Chicago is sitting on a 6-1 record at that time, what is the point in trying to remain mediocre at the expense of draft choices? To drive the point home further, Justin Fields is struggling to connect with Darnell Mooney, and the pair have been building chemistry going all the way back to last season. What good will bringing in another Smith-Marsette do, especially when the original has yet to play?
The only additions to the Bears' wide receiver room should be Jones Jr. and N'Keal Harry. Jones could be available this Sunday, and Harry could return in time for the Vikings game a week later. Those two should help the passing game substantially, and give Fields two more of a plethora of Nos. 2 and 3 receivers to throw to. That said, the Bears should wait if they intend to go outside the organization for help. They should also target guys who are capable of being a WR1. Sliding Mooney into a role better suited for his talents would be optimal.
Most of all, Poles isn't looking to add age to his roster.
In the meantime, don't hold your breath waiting for a trade. It seems more than a bit contrarian based on what Poles has done so far, and what he plans on doing beyond this season. If the Bears can find a guy who is talented but hasn't been afforded an opportunity, perhaps he'll pull the trigger. But Poles already has that player in Harry.  And, he feels so strongly about the former first-round draft choice that he forfeited a roster spot to keep him on cutdown day.
Nothing about this rumor adds up. Run with it if you like. I'll wait until after the Super Bowl to see how Poles improves his receivers group.