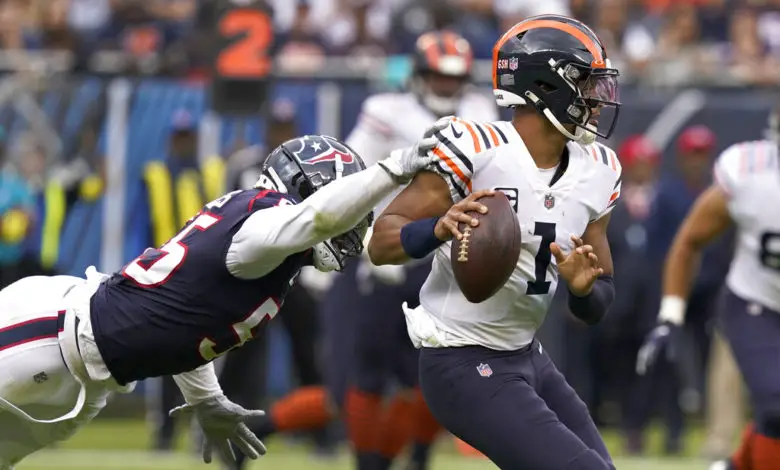 Bears Run-Heavy Game Plan Designed to Protect Justin Fields
Through three games, the Bears have run the ball 104 times with just 45 passing plays, a run/pass ratio of 1.89, the highest in the league. In fact, per Football Outsiders, over a full season, that ratio would be the highest for any NFL team in 45 years. The Raiders and Patriots had similar ratios in 1977. Additionally, quarterback scrambles and sacks count as rushing plays, and Fields has remarkably been sacked 10 times while dropping back only two or three times per drive. That makes it pretty obvious that Chicago's coaches are trying to protect Justin Fields.
#DaBears are on track for a historic run/pass ratio, especially when compared to league average. Check out the most run-heavy teams of all time, plus the best and worst players of Week 3 by FO stats.https://t.co/3EDXH3Ywyb

— Football Outsiders (@fboutsiders) September 27, 2022
Whether you agree with Pro Football Focus grades or not, there is a huge disparity in Chicago's run and pass blocking scores three games into the season. That explains why the Bears are No. 2 in the league in rushing, averaging 5.4 yards per carry. If you take away the number of times Fields has been sacked, that average jumps to a whopping 7.0 YPC. Let's look at the Bears' offensive line, and I'll list each's RBLK scores followed by their PBLK scores.
Patrick has been the weak link but he's playing out of position. Interestingly, however, he's been on the field for 14.3% more passing plays than Jenkins. Mustipher, Whitehair, and Jones are below average at pass blocking, too. That means teams are getting to Fields' too easily when he drops back to pass. When Jalen Pitre sacked Fields on Sunday he was virtually untouched. Plus, Fields was just 5-for-11 for 57 yards with two interceptions and three sacks inside his own 40-yard line on Sunday. That's why Luke Getsy and Matt Eberflus deferred to the run so often.
Terrific blocking from the Bears to set up Khalil Herbert's 52-yard run. Cody Whitehair and Teven Jenkins helped seal that lane at the second level. pic.twitter.com/OjfIl7Jbp2

— Chris Emma (@CEmma670) September 25, 2022
At the same time, Jenkins, Whitehair, and Borom have been monsters on running plays. Khalil Herbert rushed for 157 yards on 20 carries against Houston. He was stuffed twice, and eight of his carries earned first downs. He also had six gains of 10 yards or more, accounting for 30% of his carries. That's also why Chicago went with a run-heavy offense.
Patrick should move back to center against the Giants on Sunday. That means Jenkins should get the bulk of reps at right guard. That said, New York is much better in pass defense than they are at stopping the run. Opposing teams are averaging 5.3 YPC against the Giants this year, so the Bears will continue to operate at a nearly 2:1 run/pass ratio. Herbert should have another great day. The Giants are surrendering nearly 140 rushing yards per game.
There's no doubt it looks like Chicago's coaching staff has lost confidence in Fields, and it's not just because of poor pass blocking. Fields holds the ball too long, is struggling with footwork, and has missed his targets far too often. He's failed to look past his primary target and tends to run if his primary is covered when he should check down to his other receivers. Believe it or not, all of that is correctable. But, after careful analysis, it looks more like Getsy and Eberflus just want to keep their starting quarterback alive.
Because Herbert and David Montgomery have been so successful, the Bears are able to buy Fields some extra development time. It's painful for Bears fans to watch, especially in the pass-happy NFL. We expected Getsy to deploy an aerial attack on par with the league's best teams. Instead, he's set the Bears back nearly five decades. Obviously, a pass-first offense would put Fields at risk for injury and further erode what's left of his confidence. He can't get any better if he spends the season in a body cast.
It's possible, therefore, that the lack of confidence lies in Chicago's offensive line and receivers group instead of the quarterback. I don't intend to analyze Chicago's wideouts in this post, but Equanimeous St. Brown has had more opportunities (nine targets, three rushes) than any other wide receiver. If anything, that tells us that the rest of the group is still learning the nuances of Getsy's offense.
On the flip side, the offensive line isn't going to get any better at protecting Fields if Chicago is running the ball twice as much as they are passing. But, the Bears have decided to play to their strengths, and that's why they're 2-1, including a victory against the 49ers, who played in last year's NFC Championship Game.
I'm not trying to absolve Fields by any means. The second-year quarterback still has a lot of work to do, but he's also had just 13 NFL starts. He didn't get any first-team training camp reps as a rookie, and this year he's had to learn a new offense. Fields is also working behind a restructured offensive line. His flaws are correctable, and his tendencies will change as he matures.
The front office and coaching staff still have 14 weeks to evaluate the young man. Remember, we entered 2022 just hoping to see progress in Fields' development. In that respect, the new offensive scheme doesn't matter as much. Let's give it more time. That's how Getsy and Eberflus see things, too.