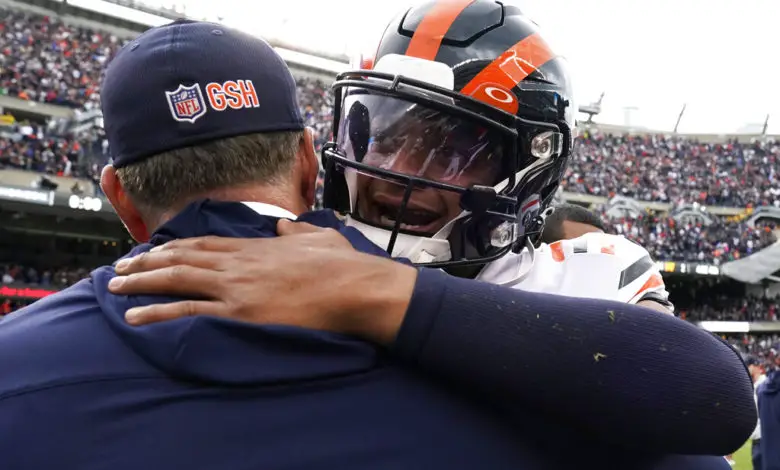 Bears Have Full Faith in Fields, But Play Calling Tells Different Story
"I think when you are working with a young quarterback in a new offense, I think the people around him have to be solid. So that's important for us, meaning that the protection has to be good, the run game has to be good, the defense has to be really good, and special teams, we've got to be awesome. What you do is support that quarterback while he's growing. And while he's going through this, and there's going to be good and there's going to be things that he has to improve on, but that's on the whole football team. The whole football team is like that." – Matt Eberflus
The Bears continue to state that they have absolute faith in Justin Fields and that he is the quarterback of the future. Eberflus and GM Ryan Poles have said so since the day they were hired, and Luke Getsy claims he's been a fan of Fields since Eberflus made him offensive coordinator. The previous regime traded up to select the Ohio State product last year, and hopes have been high in Chicago since.
Things to a bit of a hard turn in Sunday's 23-20 win over the Texans, however. Fields had his worst game as a starter, finishing with a quarterback rating of 27.7. He has regressed for two straight games following a very productive second half in the season-opening win against the 49ers. During the Texans game, the second-string quarterback completed just eight passes, his third consecutive outing of single-digit completions. Fields has completed 23-of-45 attempts for 297 yards, two touchdowns, and four interceptions. That's one game's output for most NFL starters. He's been sacked 10 times in three games, which scales to 57 sacks over the full season. That is if he survives.
Jalen Pitre gets his second INT of the day.

What a game by the rook 🔥 (via @HoustonTexans) pic.twitter.com/DeNnZbnTJs

— NFL Rookie Watch (@NFLRookieWatxh) September 25, 2022
Fields finished 8-for-17 for 106 yards with two bad interceptions on Sunday. The Texans are one of the NFL's worst teams. You can fault Fields for his subpar effort against the Packers in Week 2, but he shouldn't continue to regress against the league's poorer teams.
We may still need to practice patience with the second-year starter. After all, most quarterbacks need two seasons to adjust to the NFL. Plus, Fields is working with his second coaching staff and second offensive system in two years. And, he's got just 13 career starts under his belt. Despite his early struggles, it seems the coaching staff fully supports the young quarterback.
Or do they?
Chicago's playcalling on Sunday could be described as conservative, at best, especially on third down. In fact, Getsy and Eberflus took the ball out of Fields' hands completely a few times. In the first half, Getsy called a running play on 3rd-and-6. That seemed odd and looked as if it actually demoralized the defense. Houston quickly drove down the field and scored after Chicago punted it away.
When Fields was allowed to throw the ball, he threw to the wrong spot, held the football for too long, or hit Texans safety Jalen Pitre square in the numbers. As the game wore on, you could see a lack of confidence in the quarterback's eyes. He looks afraid to make a mistake, and that's the last thing you want from your QB1.
Retired NFL quarterback Boomer Esiason blamed the organization for Fields' failures.
14-year NFL veteran and four-time Pro Bowl quarterback Boomer Esiason on the Chicago Bears: "This is a franchise where quarterbacks go to die."

(Via CBS Sports)

— Daniel Greenberg (@ChiSportUpdates) September 25, 2022
He's got a point. The Bears haven't had an elite quarterback since Sid Luckman was tossing touchdown passes to Harry Clarke and George Wilson back in the 1940s.
If Eberflus and Getsy are truly backing Fields, they have to give him more opportunities to succeed or fail. At the same time, Fields has to understand his reads, manage the pocket, and throw more quickly and accurately. The disconnect between the coaching staff and the quarterback was pretty obvious yesterday. Getsy doesn't trust Fields, but the signal-caller isn't doing anything to earn it. If they're going to treat the rest of the season as a tryout for next year, they should give Fields as much as he can handle, if not more. Getsy and Eberflus have to push Fields to be his best. Coddling and protecting him will completely stunt his development.