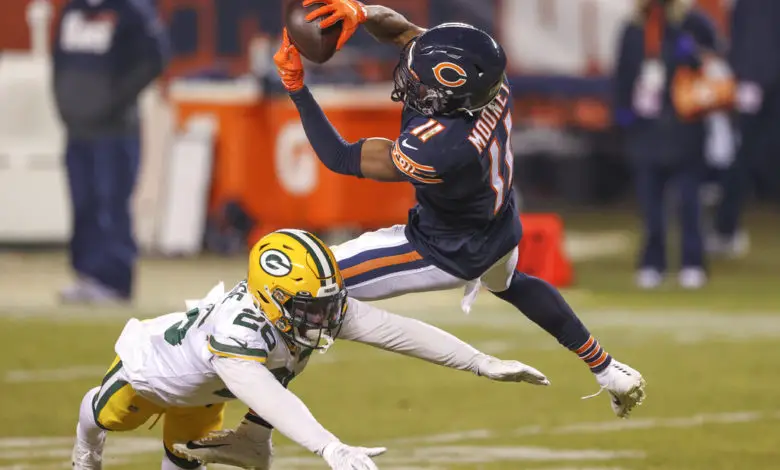 First & Long: Finally on the Right Side During Rivalry Week, Bears Hope to Contain Rodgers, Pack Hasn't Started 0-2 Since 2006
Bears-Packers week is one of my favorites, and it's been a long time since I've been this amped for the game. Here's the deal: I have lived in Wisconsin since 2008, but grew up  Bears fan. I switched allegiances when Brian Urlacher was prematurely forced into retirement. Chicago did the same thing to Walter Payton back in 1987, just because Neal Anderson was a cheaper option. Jonathan Bostic replaced Urlacher. Obviously, the middle linebacker's contract was a little too rich for the McCaskeys' tastes.
But, it was really Ted Phillips who bothered me. The NFL's flexible bylaws allow families like the McCaskeys to keep ownership. Indeed, the Bears are worth about $5 billion and change right now. George Halas paid $100 to charter the franchise in 1920, so that's a tidy profit. I really don't have a problem with Virginia McCaskey and her family operation. It would be nice if they knew more about football, however, and that brings me to Phillips, who was never qualified to make football decisions.
I swore I wouldn't put my heart on the line season after season until Phillips was moved out of football operations. The McCaskey family granted my wish in February. Despite moving on from the beloved franchise in 2013, I never rooted against the Bears when they played the Packers. But tomorrow night I will be at Lambeau Field for the first time since 2012 as a die-hard Bears fan once again.
The Packers treat games at Lambeau Field like a New York City nightclub. Title Town is nice and you can't help but enjoy yourself outside the stadium. I'm hoping the Bears will copy some of that when they build their version in Arlington Heights. It is as loud as all get-go inside Green Bay's stadium. In fact, it's fair to say it's an overly-obnoxious level of noise.
There is one way to silence the shenanigans, however, and that's to beat the home team. At last year's game in December, you could hear a pin drop when the Bears roared out to a 24-14 first-half lead. Packers fans are a lot more weak-kneed than you might believe, and you could smell the fear of an upset during halftime. Chicago lost that game 45-30 after the defense collapsed in the third quarter. But, for 30 minutes, the Bears showed that they can compete with Green Bay.
Chicago has a better roster this year, and the new coaching staff stands head and shoulders above the previous regime. The Packers lost a lot of quality players, specifically wideouts Davante Adams and Marquez Valdes-Scantling. Blame that on a new contract for Aaron Rodgers at a time when the roster had serious financial constraints due to the salary cap.
Expect Chicago's defense to be all over Rodgers on Sunday night. The Bears will win the game if they can stop Green Bay's running game and keep Rodgers from escaping the pocket. Dominique Robinson will have another big game. Roquan Smith will play out of his mind. A victory is realistically possible if the Bears can sack Rodgers at least four times and win the battle of turnovers.
I'm leaning more toward a Bears win with each passing day. I'll have my final prediction tomorrow morning.
Bears News & Notes
There's a Flag…On the Play
One last look. You've got to love how much these players love each other, something that was absent on the Bears before GM Ryan Poles cleaned house.
SLIDING TO VICTORY! @ChicagoBears pic.twitter.com/mruoqtVrkC

— NFL (@NFL) September 11, 2022
Scout Team
Film Room
Rodgers alone may not be enough. The Bears need to take advantage while Green Bay's receivers are still trying to develop chemistry with their quarterback.
The Green Bay Packers have been here before…but the DNA of this year's roster puts the team in an awkward spot, where their $50M per year QB and twice reigning NFL MVP Aaron Rodgers isn't likely the biggest remedy to getting right. 👇 pic.twitter.com/l8kIPV12Ml

— The Draft Network (@TheDraftNetwork) September 12, 2022
Northern Exposure
Green Bay: The last time the Packers lost their first two games of the season was in 2006.
Minnesota: Dan Marino almost played for the Vikings after announcing his retirement in 1999. Minnesota had just hired Dave Wannstedt, and the head coach almost convinced the Hall-of-Fame quarterback to lead his team during his first year.
Detroit: Quarterback Lamar Jackson has named the Lions as a "potential destination." The Ravens' star has reportedly rejected a 6-yr contract offer with $133 million fully guaranteed at signing and will be a free agent after this season.
NFL News & Notes
The NFL has never had a 2,000-yard receiver, but with a 17-game schedule, Justin Jefferson has a shot at reaching that benchmark if he stays healthy.
Patriots quarterback Mac Jones was cleared to play against the Steelers this weekend. The second-year quarterback had been dealing with a back injury he suffered last week against the Dolphins.
Josh Allen of the Bills is the league's top-rated passer.  Rodgers is this and Fields is No. 22.
49ers punter Mitch Wushnowsky signed a four-year contract extension worth $13 million.
Rams kicker Matt Gay was fined by the NFL because his game pants were too short, so he had a little fun with it.
Bucs QB Tom Brady is really struggling with unretirement. He looks rode hard and put away wet.
The NFL's media department made a mistake and the league got roasted on Twitter because of it.
Arrowhead Stadium in Kansas City was named the NFL's loudest.
Three Yards and a Cloud of Dust
Robbie Gould is still Chicago's all-time leading scorer with 1,207 points. Cairo Santos is the highest-ranked active player, coming in at No. 18 with 237 points.
Joe Burrow and Matthew Stafford took seven sacks apiece in Week 1.
Chiefs quarterback Patrick Mahomes has tossed seven touchdown passes without an interception in Kansas City's first two games.
From the Podium
"You're facing one of the best in history. So when you're facing a guy like that, that's a guy that has a ton of experience. You're not going to trick him, you're not going to fool him, he's super accurate, and can throw from different angles. [He's] one of the best 'B' gap escape guys in football. You just have to play a complete football game." – Williams
"I think we know that that's not the product that they wanted to put on the field or put on tape. We know this week they're going to come with something to prove because they didn't have the game they wanted to have last week. They're probably not going to make as many mistakes as they did last week, so we're just going to have to come out with a fast start and just put points on the board." – Fields
Running Out the Clock
Starting to get more than a little fired up!