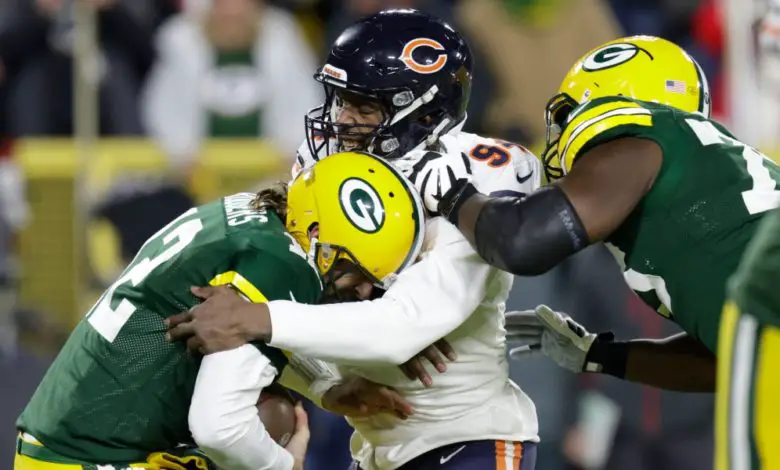 Chicago Bears @ Green Bay Packers – Week 2 Game Preview: Overview, Keys to Game, Insights
The Bears (1-0) surprised most of the NFL by beating the San Francisco 49ers to begin their 2022 season. Chicago put together an inspired defensive effort and young quarterback Justin Fields made two dynamic plays to seal the victory.
Several members of the winning team dramatically belly-flopped on the rain-soaked Soldier Field turf to celebrate the win. Still, there was a lot to be concerned about in the Bears performance, especially, with an offense that produced a meager 204 total yards. The task does not get easier with a trip to Green Bay Sunday for a primetime matchup with reigning MVP Aaron Rodgers and the Pack.
The Packers (0-1) did not look good against the Minnesota Vikings in a 23-7 Week One loss. Rodgers threw for just 195 yards and the leading receiver was running back AJ Dillon with 46 yards. Star wide receiver Davante Adams' departure for Las Vegas has left a massive hole in Green Bay's passing attack.
The Packers had a good defense in 2021, top 10 in yards allowed per game and were opportunistic with a +14 turnover differential. Justin Jefferson lit up their secondary in Week One, but the Bears have no wide outs close to that level of ability.
Not that any Chicago fans are ever going to count Aaron Rodgers out but if you were inclined to do that remember only last season. The Packers QB played an uninspired game in a 38-3 Saints romp to begin the year. Many talking heads declared Green Bay dead in the water after the blowout and began speculating if their MVP quarterback was washed.
Of course, what actually happened was in spite of a river of self-created controversy, Rodgers had another MVP season and Green Bay won 13 games. This is going to be a very difficult challenge for the Bears, if they really want to confound the experts and make a playoff run winning here would go a long way.
Where to Watch/Listen
Sunday, September 18 at 7:20pm CT on NBC, WBBM Radio (English), and WRTO Radio (Spanish)
Keys to Victory
Here are my keys to Sunday's game. If these things happen, the Bears should have a shot to win.
Take advantage of Green Bay's weak offensive line and get the pass rush to Rodgers. The Vikings sacked the Packers quarterback four times and harassed him throughout the game. Give him time to throw and bad things will happen.
Try to make the most of Justin Fields unscheduled plays. The Bears offense was most effective when the Ohio State alum took advantage of broken plays.
Don't forget about Green Bay's running attack. The running game is usually an afterthought at Lambeau Field but the two-headed monster of AJ Dillon and Aaron Jones is a going to get a lot of work this season.
Target Darnell Mooney and Cole Kmet early. Chicago's two best passing weapons combined for 8 yards on one catch with only four targets between them. In fact, Fields completed only 8 passes on Sunday.
Don't Tell Me the Odds
The Vegas Sports-books don't give the Bears much of a chance against the Packers at home with Green Bay installed as a 10-point favorite. They don't expect either team to score a lot of points with an over/under of 41.5.
It's Football Weather
According to AccuWeather, the forecast for game time in Green Bay Sunday is in the mid 60s with a chance for showers.
My Prediction
I would like to say the Bears could pull another upset out of their hats but I just don't see it. Rodgers will throw a couple touchdowns and the Packers will take home a 24-10 victory.
Official Bears Preview
Here are Bears analysts Jeff Joniak and Tom Thayer with their preview of the Bears' upcoming Week 2 matchup.