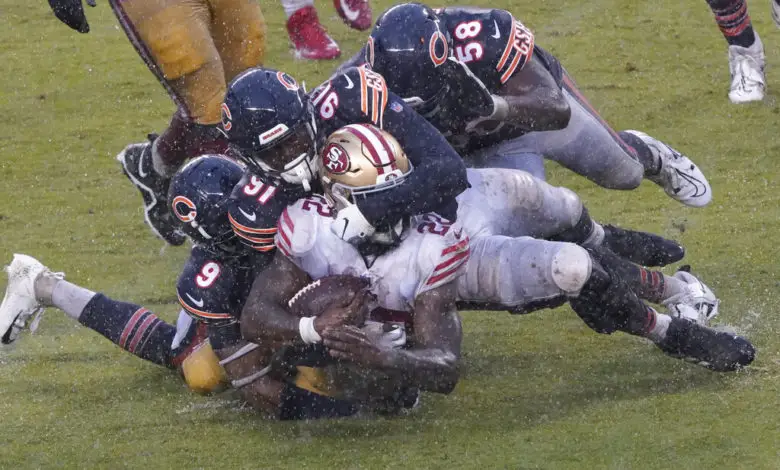 Bears Defense Key to Beating Packers
"Don't drink the Kool-Aid that there's doom and gloom in Green Bay. Don't fall into that trap." – Bears defensive coordinator Alan Williams
If the Bears are going to beat the Packers at Lambeau Field on Sunday night, they're going to need standout performances from every member of their defense. I know Packers quarterback Aaron Rodgers struggled with rookie wide receivers Christian Watson and Romeo Doubs against the Vikings on Sunday. But let's face it, Rodgers can make any pass-catcher a potential All-Pro and he's done that throughout his career. Watson and Doubs are one breakout game away from being the next in a long line of great Green Bay receivers.
Williams and his charges are intent on making sure that the breakout game doesn't happen this weekend. In order for the Bears to beat the Packers and improve to 2-0 on the season, the following things must happen without fail:
Win the Turnover Game
Justin Fields to St. Brown FOR THE LEAD

🎥: @NFLpic.twitter.com/voQIzuXzdM

— Bears Talk (@NBCSBears) September 11, 2022
Rodgers looks a lot more ordinary when he turns the football over three or more times. The Bears work religiously in practice on creating turnovers and earned two takeaways against the 49ers last Sunday. But Chicago needs to protect the ball, too. Justin Fields had a bad interception in that game, but he also threw touchdown passes to Dante Pettis and Equanimeous St. Brown. He's done a better job of protecting the ball in the new offense and he'll have to continue that Sunday night. Giving Green Bay a free set of downs usually results in giving up scores.
Win the Battle for Time of Possession
Christian Watson dropped a 75 yard touchdown on the first play of his career

Aaron Rodgers is disgusted

— Eric Rosenthal (@ericsports) September 11, 2022
That goes hand in hand with taking the football away. Teams that control the football not only limit Green Bay's ability to score, but also tend to win those games. Despite the ability of Rodgers to score almost at will, he's incapable of getting the ball into the end zone if he is sitting on the sidelines.
If Allen Lazard is unable to play, that puts a lot of pressure on Watson, Doubs, and Amari Rodgers. The Packers are going to get running backs Aaron Jones and AJ Dillon more involved in the offense this week. Both had good games against the Bears and are Green Bay's version of thunder and lightning. Williams and the defense need to stop both. Doing so will keep Rodgers and company off the field.
Put Rodgers on His Ass
Roquan's got us ready to run through a brick wall 😤

— Chicago Bears (@ChicagoBears) September 15, 2022
The Packers almost never win when the four-time MVP is sacked at least four times in a game. The Bears could be catching the Packers at a vulnerable time. Starting tackles David Bakhtiari and Elgton Jenkins are hurting and may not play. In fact, the Packers moved undrafted offensive lineman Caleb Jones to the active roster. That's likely an indication that one or both of their tackles will be out. Additionally, guard Jon Runyan left the Vikings game due to a concussion.
The Bears are coming off of a solid defensive effort against the 49ers and should improve this week. Rookie edge rusher Dominique Robinson was the team's highest-rated player and was named Chicago's Player of the Game.  Eddie Jackson, Jaylon Johnson, and Jaquan Brisker had very good games, too. The Bears need Roquan Smith, Nicholas Morrow, and Trevis Gipson to up their games on Sunday night.
If Robinson, Smith, Gipson, and Robert Quinn can consistently get to Rodgers, the Bears have a real opportunity to beat the Packers. Better coverage in the secondary will force Rodgers to hold the ball longer than he probably likes, but a violent pass rush goes a lot further toward putting him on his backside.
The Bears have the pass coverage and defensive scheme to take advantage of Green Bay's deficiencies on offense. Robinson, Quinn, and Gipson could have a field day against the Packers' undermanned offensive line. Green Bay's poor receivers group is no match for Chicago's improved secondary. If the Bears can win the turnover game and get to Rodgers as often as possible, they'll win this game.