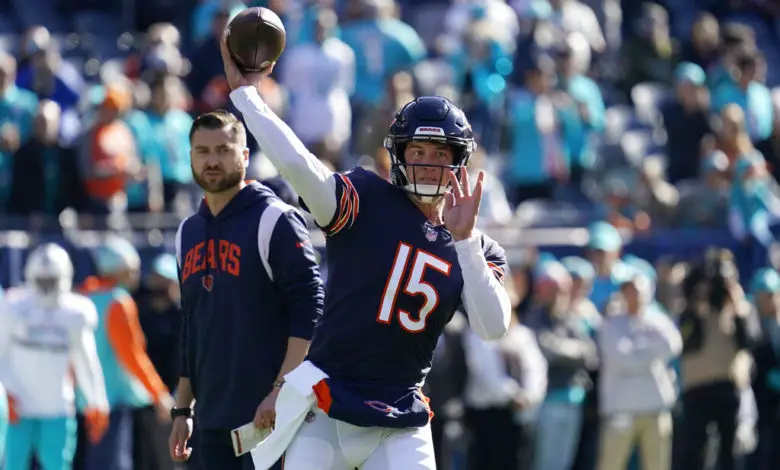 First & Long: Fields Out, Siemian In, Gordon and Brisker in Concussion Protocol, Vikings Close to Clinching NFC North
Justin Fields is officially out and head coach Matt Eberflus no longer holds the edge by withholding that information. Trevor Siemian will start against the Jets on Sunday afternoon. Everybody can now breathe a little easier knowing that the Bears erred to the side of caution with regard to their franchise quarterback.
Can the Bears win with Siemian leading the offense? Anything is possible, but Chicago is 3-8 with a healthy Fields, so a loss seems likely. It has been a full year since Siemian started a game. He was a member of the Saints when the Bills dropped New Orleans 31-6 on November 25, 2021. The Northwestern product was 17-of-29 for 163 yards, with one touchdown and one interception in the loss.
"I look forward to [possibly playing]," Siemien said on Friday. "There's no excuse. There's no asterisk on the win-loss total or stat sheet. It's something I look forward to, it's a challenge I accept. Like I said, if I get to play, I'll be ready to go. That's part of the deal with being a backup."
If anything, Sunday's game will also go a long way toward proving whether or not Siemian belongs with the Bears as a backup next season. Chicago won't draft a quarterback in rounds one or two, but Anthony Richardson of Florida is a reasonable facsimile of Fields, and he'll be available as a Day 3 pick.
The Bears will need a strong effort from their defense to have any shot at winning on Sunday. The Jets averaged 2.77 inches per play in the second half of last Sunday's game, but they've benched starting quarterback Zach Wilson in favor of Mike White. The battle between Siemian and White isn't quite the gate attraction as Fields vs. Wilson would have been. For what it's worth, Fields is unbeaten this season against fellow second-year quarterbacks Trey Lance (49ers), Davis Mills (Texans), and Mac Jones (Patriots). His perfect record, therefore, remains intact.
Each of those wins came before the Bears traded Robert Quinn and Roquan Smith. Opponents are averaging 35.5 points per game against the Bears since the trade deadline. A loss tomorrow paired with a Panthers win at home against the Broncos would move the Bears into the No. 2 overall selection in next April's draft. Expect Chicago to rebuild its defense at the top of the draft. Will Anderson Jr. (Alabama), Jalen Carter (Georgia), and Clemson defensive linemen Myles Murphy and Bryan Bresee should all be available when GM Ryan Poles makes his first pick.
Bears News & Notes
There's a Flag…On the Field
Nothing to see here. Please move along.
McMahon, Tomczak, Harbaugh, Willis, Furrer, Kramer, Walsh, Krieg, Mirer, Stenstrom, Moreno, Matthews, McNown, Miller, Chandler, Burris, Stewart, Grossman, Quinn, Krenzel, Hutchinson, Orton, Griese, Cutler, Collins, Hanie, McCown, Campbell, Clausen, Hoyer, Barkley, Glennon … https://t.co/vZGdN2geXt

— StartKyleOrton (@startkyIeorton) November 27, 2022
Scout Team
Film Room
Siemian for six!
Trevor Siemian drops it right in the bucket to Dazz Newsome for the TD! 🎯 #DaBears

📺: #KCvsCHI on @NFLNetwork
📱: Stream on NFL+ https://t.co/3mvoWh7UD3 pic.twitter.com/QRDiATYgWp

— NFL (@NFL) August 13, 2022
Northern Exposure
NFL News & Notes
The 2022-23 season is a little more than half over, but the Jim Harbaugh rumors have already started. Teams to watch include the Browns (they also tried to trade for Harbaugh in early 2014), Broncos, Texans, Chargers, and Cardinals.
Offensive coordinator Ben Johnson of the Lions is also a hot name to follow in this year's coaching carousel.
As many as six quarterbacks could be drafted in the first round according to Pro Football Focus.
The Cowboys and Giants set an NFL record on Thursday. Their Thanksgiving contest was the most-watched regular season game ever.
WR Parris Campbell of the Colts and EDGE Samson Ebukam of the 49ers are among several under-the-radar free agents worth keeping an eye on. Cornerback Rock Ya-Sin, who has the coolest name in the NFL, is also listed.
Steelers tight end Pat Freiermuth has established himself as one of the best tight ends in the game.
Jimmy Johnson has published his memoirs.
Eagles QB Jalen Hurts is exceeding almost everybody's expectations this season. He's also changing the way that pro scouts analyze young quarterbacks.
Greg Olsen warned Tom Brady not to become an NFL broadcaster. "I gotta tell you…this TV thing sucks."
Three Yards and a Cloud of Dust
Nick Chubb has the most 20+ yard runs this season with 10.
The Dolphins lead the NFL with 158 plays of 10 or more yards
The Lions are now 37-44-2 on Thanksgiving. They've hosted a home game on Turkey Day every year since 1934, except for seasons during WWII.
From the Podium
"That's just [Fields] being a man. He knew that he had made a mistake toward the end of the game that was kind of, you know, big. I feel him because I played quarterback, so I understand when you make a mistake that late in the game and then the other team ends up winning, he feels that it was on him. But it wasn't on him. There were multiple things that went on throughout the game between offense, (special teams) and defense that we all had a part in causing us to lose. So I understand where he came from, and we backed him up. You know, we told him that wasn't on him." – Dominique Robinson
"All of us look to Justin [Fields] and he always puts his cape on. He's also an incredible leader. [Fields] listens to everybody, he's a really humble guy and he just wants to win and ultimately make this organization and this team as good as [it] can be." – Montgomery
Running Out the Clock
A second chance for Siemian.