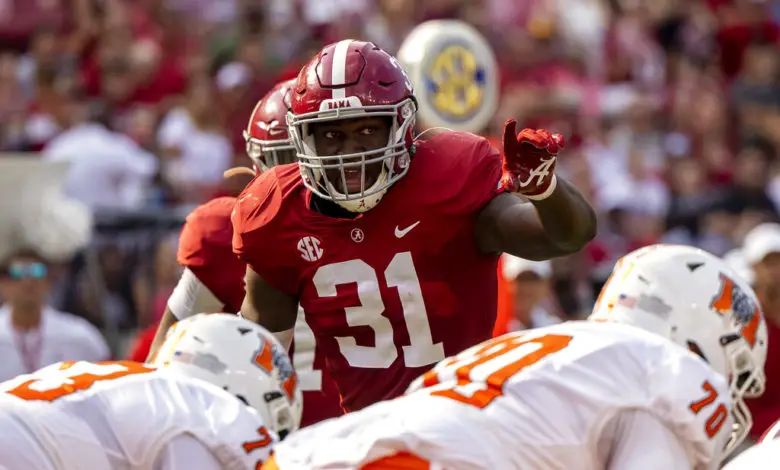 A Look at the Top Five Prospects in the 2023 Draft
The Bears are 3-8, might be without starting quarterback Justin Fields for at least one week, if not more, and appear to be locked into a top-five pick in the 2023 draft. Chicago needs offensive and defensive linemen, a No. 1 wide receiver, and a linebacker to replace Roquan Smith. The Bears would have the third pick in the first round if the season ended today. That presents an interesting scenario that may involve trading down to get extra picks.
I published our first mock draft a little over a week ago, and today I'll look at the top five prospects. Some of these players have already been linked to Chicago. I grabbed the players' strengths and weaknesses from NFL Draft Buzz.
Mind you, these are not the predicted top-five picks. These athletes have the highest consensus grades as of right now.
Anderson is the best player in this draft by a wide margin and Chicago has an excellent chance to grab the EDGE rusher at No. 3 overall. The Texans and Panthers are likely to grab quarterbacks C.J. Stroud (Ohio State) and Bryce Young (Alabama) with their first picks. If both pass on Anderson, Chicago will probably not trade down. The Alabama senior was the most dominant NCAA player last year, and he hasn't missed a beat in 2022. His combination of size, speed, strength, and athleticism is almost too good to pass on. He's a beast and would lead the Bears' next great defense along with Jaquan Brisker, Kyler Gordon, and Dominique Robinson.
Will Anderson Jr.: The Terminator 😤 pic.twitter.com/QuV4SvMrBA

— College GameDay (@CollegeGameDay) October 1, 2022
Anderson's Strengths
His spin is his best move, tight and quick to the point that blockers don't have time to react to it. His closing burst is outstanding.
His fluidity and speed allow him to cover a lot of ground when dropping back into the zone, and Anderson is capable of turning and running with tight ends..
He's explosive off the line of scrimmage, showing the quickness that sets blockers back on their heels.
Anderson's Weaknesses
Anderson is likely going to struggle at the point of attack in the run game unless he adds bulk, potentially risking his movement skills in the pass rush.
Plays too high when trying to set the edge. His motor is inconsistent.
Doesn't play with a physical edge. Anderson too often wants to run around the edge, and he has trouble disengaging when an offensive lineman can get into his frame.
Carter is probably not a fit for the Bears because he's better suited to play in a 3-4 scheme. He has strong short-area quickness and burst to close on the ball carrier. Carter is an alignment-fluid defender—Georgia plays him in multiple spots: 1-tech, 2i, 3-tech, and 5-tech. He has good body control, plants, and redirects flowing to the football. Carter's motor also runs hot and he's a violent hitter. He consistently works through blocks and chases plays from the backside.  Justin Jones has earned the right to return to the Bears next season. He's been Chicago's most consistent defensive player.
Coming soon to a #Bears defensive line near you: Jalen Carter https://t.co/G3rxqCB5bG

— Jacob Infante (@jacobinfante24) November 20, 2022
Carter's Strengths
Carter has the strong core and powerful hands to shed blockers, and he shows excellent instincts with the ability to quickly locate the ball.
Can make the impressive chest-to-chest bear hug tackle in the hole due to his ability to wreak havoc in the backfield.
He shows surprising speed for a 300-pounder when chasing the ball carrier in pursuit.
Carter's Weaknesses
Carter lacks suddenness as a mover, and he isn't going to do much in the pass rush when working one-on-one.
Sees the ball well but is stuck on blocks when head-up; does not shed to make plays often enough.
Carter doesn't move well laterally and doesn't have a lot of range when it comes to pursuing on the backside.
GM Ryan Poles will not select a running back in the first round. Khalil Herbert is returning, and David Montgomery could return depending on his asking price. The Bears also like rookie running back Trestan Ebner. Robinson will probably be a late first or early second-round pick. The Bills could grab him at No. 29 if he falls to them.
Robinson has an excellent build for a running back with a thick, well-proportioned lower half and a well-defined upper body. He is also a great athlete and can flat-out run away from defenders to rip off long runs. Robinson appears to be a complete running back that can be a threat to score from anywhere on the field. The Texas junior always seems to be one move away from taking it to the house.
The insane run from Bijan Robinson near the end of the first half. pic.twitter.com/gRzDGybVT2

— Hook'em Headlines (@HookemHeadlines) November 19, 2022
Robinson's Strengths
Robinson brings a nice blend of size, speed, and power. His best attribute is his relentlessness; he consistently thrashes through tacklers to turn minimal gains into long ones.
He's aggressive and willing, with more than enough size when asked to chip block or pick up blitzes. Robinson has the potential to be one of the league's best in that area.
Possesses quick feet and straight-line speed. Is usually patient as a runner, following pulling guards while making good decisions on his cuts.
Robinson's Weaknesses
While Robinson has very good speed he isn't elite.
Can be a little indecisive and hesitant at the line of scrimmage.
Murphy has shown tremendous growth in his collegiate career, and if the Bears do trade down, that means Poles prefers the Clemson junior to Anderson. Murphy is more of a traditional defensive end while Anderson is more of an outside linebacker. Most mock drafts have Murphy going to the Seahawks with the pick Seattle received from the Broncos in the Russell Wilson trade. He's my favorite defensive player in this draft and I'd love to see him play for the Bears.
Murphy offers a potent first step and an effective ability to flatten the edge when running the outside arc. His acceleration and twists inside to explode through interior gaps are tremendous. Murphy offers a prototypical build to play as a 4-3 end but Clemson did charge him with some zone drops, both dropping to the flats and dropping into a shallow spy. He has the speed to do that in the NFL.
Murphy made Bruce Feldman's Freaks List at number 3. Feldman wrote: "The 6-5, 275-pound junior is viewed by NFL scouts as a "significantly better player" than former Tiger Clelin Ferrell, who went fourth overall in the 2019 draft. Murphy bench-presses 405 pounds, power-cleans 335, and deadlifts 505. He also has vertical-jumped 35 inches, broad-jumped 10 feet, and consistently clocked in the high 4.5s in the 40."
Clemson junior edge rusher Myles Murphy is an absolute force.

He displays a tremendous combination of athleticism, hand usage and pure power. He easily has the profile of a future top-15 pick. Game-changer. pic.twitter.com/HIgzX2QdIs

— Luca Sartirana (@SartiranaLuca) October 18, 2022
Murphy's Strengths
A savvy, versatile and instinctive edge rusher who did a little bit of everything, Murphy was especially effective getting to the quarterback.
He has a lethal, NFL-caliber spin move and the pure speed to close quickly.
Murphy can also win going speed-to-power, with the leg drive to push blockers back.
Murphy's Weaknesses
Plays tall and gets upright off the snap. Wins with upper-body strength and needs to focus on leverage.
Murphy struggles to shed blockers and doesn't show ideal lateral movement skills. He also needs to make better use of his length and hands in the pass rush.
He remains a bit raw, as Murphy is inconsistent with his hand use and lacks violence in his hands.
Bresee is arguably the best physical specimen in this draft. The 6-foot-5 junior gets into offensive backfields so quickly it's almost unfair. He's twitchy and can rip through lateral contact and then flash to the football with an elite closing burst. Bresee has a high motor, has consistently beaten double teams, is an instinctive player, and can quickly slip blocks with the speed to cover a lot of ground in pursuit. He gets extra points for his natural ability and desire to lead. If Bresee didn't have ACL surgery in 2021 he'd be the top defensive player in this draft.
Bresee also made Feldman's Freak's List – ranked #14. Feldman wrote "The former five-star was a third-team All-ACC selection (15 tackles, three TFLs) despite being limited to four games due to a torn ACL in late September. Bresee benched 435 pounds, power-cleaned 330, and deadlifted 585. He has vertical-jumped 30 inches, but the most impressive number is him clocking in the high 4.7s in the 40."
If you play offense in @ACCFootball, you do not want to see @ClemsonFB DL Bryan Bresee 🏈🏈🏈🏈🏈 pic.twitter.com/8QrIQ5amxK

— ACC Digital Network (@theACCDN) August 21, 2021
Bresee's Strengths
Amazing physical attributes with elite power and agility for his size.
Elite strength and balance to sit down, lock out, and create a pile, leading to possibilities inside and out.
Bresee has lateral agility and balance to cover multiple gaps and shows some good closing burst when moving in pursuit.
Bresee's Weaknesses
The main concern with Bresee is the ACL injury and whether he will be the same player he was prior to the injury
Often plays upright and struggles with leverage – lacks the technique to consistently shed or redirect blockers.
Possesses excellent weight-room strength, although it doesn't always translate onto his play, and Bresee's change of direction skills are only average.