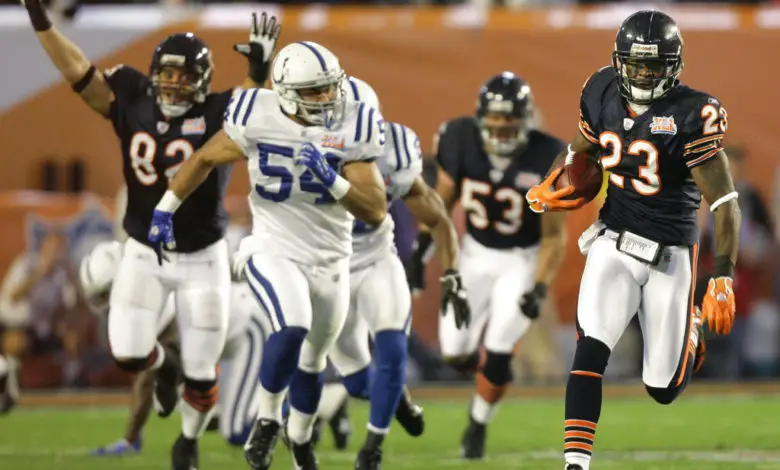 Devin Hester Named Hall of Fame Finalist
Former Bears star Devin Hester has been named one of 28 modern-era semifinalists for the Pro Football Hall of Fame's Class of 2023. The announcement was made on Tuesday. Hester was selected as one of 15 finalists in his first year of eligibility last year, but he was not chosen as part of the Class of 2022.
Hester will become the 31st Bear to be enshrined in Canton if he is elected. Ed Sprinkle and Jimbo Covert joined the Hall of Fame in 2020 as the team's most recent inductees.
The dynamic kick returner played eight of his 11 seasons with the Bears. Hester holds NFL records with 19 kick-return touchdowns, 14 punt-return TDs, and 20 return touchdowns, which include punts, kickoffs, missed field goals, fumbles, and interceptions. He retired in 2018.
The 40-year-old was a second-round pick (No. 57 overall) out of the University of Miami in 2006. Hester was a three-time all-pro and was named to the Pro Bowl in four of his 12 seasons. He even returned a missed field goal for a 108-yard touchdown.
15 years ago today:

Devin Hester returned the opening kickoff of Super Bowl XLI 🐐

Hester was +2500 to score the first TD of the game

(via @nflthrowback) pic.twitter.com/Sv1g8DzmMl

— br_betting (@br_betting) February 4, 2022
Though his signature return will always be the opening kickoff in Super Bowl XLI, Hester's most impressive game as a pro came in his rookie year in what is now referred to as the Monday Night Meltdown. Hester scored the winning touchdown in a 24-23 victory on an 83-yard punt return after the Bears had staked the Cardinals to a  20-0 lead. That's the game Cardinals' head coach Denny Green completely lost his composure in his postgame press conference.
"The Bears are who we thought they are. If you wanna crown them, then crown their ass!" Green said, furiously and famously."The Bears are who we thought they were, and we let them off the hook."
The 28 semifinalists will be pared down to 15 finalists in January. The Hall of Fame's 49-person Selection Committee will then reduce the list to 10 and then to five. Each of the remaining five will be voted on, with an 80 percent "yes" vote required for enshrinement—as is also the case for coach/contributor candidate Don Coryell and senior finalists Chuck Howley, Joe Klecko, and Ken Riley.
The Hall of Fame Class of 2023 will be announced live on February 9, 2023 on the "NFL Honors" telecast prior to Super Bowl LVII. The class will then be enshrined in August in Canton, Ohio.
The list below contains the 27  finalists in addition to Hester. We thought the return specialist was a shoo-in as a first-year inductee, so hopefully, Hester will get the Hall call this time.