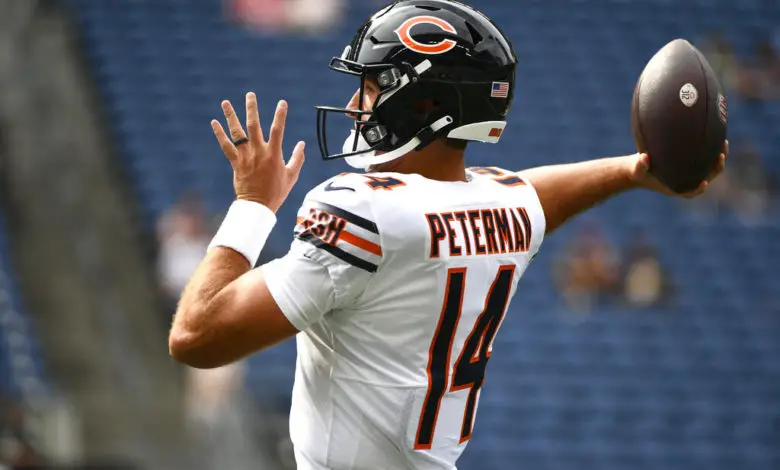 Bears Flex Backup QB Nathan Peterman to Active Roster
Justin Fields was hurt in last week's loss to the Falcons, and it's looking more and more like he will be a scratch on Sunday against the Jets. The second-year quarterback has an injury to his non-throwing shoulder. On Wednesday, Fields described the separated shoulder as "basically an AC joint injury" with potentially torn ligaments. Matt Eberflus said the quarterback's availability would be a game-time decision.
"I think we're going to let it go up to the game," Eberflus said. "We'll try to do that. We think that's where it is, and we'll see where he is at game time and see how he feels."
The Bears flexed Nathan Peterman to the active roster as a precaution. Peterman will serve as the backup to Trevor Siemian if Fields can't go on Sunday.
Nathan Peterman had himself A DAY! @Raiders

23/27 210 Yds, 2TDs.#OAKvsGB pic.twitter.com/d2hxonK4AA

— NFL (@NFL) August 23, 2019
Chicago has enjoyed an offensive resurgence since OC Luke Getsy opened up the offensive playback during a 33-14 win over the Patriots in Week 8. The Bears have averaged 29.6 points per game in their previous five contests, though they have a 1-4 record to show for it. They've lost three straight by a field goal or less.
Eberflus said that Fields is feeling better "every single day" but that any decision to play the second-year starter will be determined by clearing three hurdles. Fields would first need to be cleared to play by Bears medical staff, then the quarterback would need to "feel really good about his performance." Finally, Chicago coaches would take their assessment of Fields during the week at practice, according to Eberflus, to make a decision about his status.
"He's able to do a lot of things, so we're getting him in there with what he can do, and he's been doing good in there," Eberflus said.
The head coach added he and Getsy will run the same offense with few modifications no matter who starts.
"You do have to have plays that are [designed specifically] for Justin. But it's not a huge range. Obviously, our offense is our offense. [There are] certain things that Justin does and we've added since the bye week, the mini-bye. It will just be our offense."
Siemian hasn't altered his practice this week. As a backup, Siemian said his job is to always be ready, something he takes pride in.
"Every week you're ready to go," Siemian said Friday at Halas Hall. "You anticipate [playing] every week, truly. That's how you have to prepare to stay in it. It could happen the first snap. It could happen on play 62. You just gotta be ready to roll whenever your number's called. No different than any other week."
The backup quarterback has a career record of 13-16-0. The former Northwestern Wildcat was 0-4 as a starter for the Saints in 2021. He also started one game for the Jets in 2019, a 23-3 Week 2 loss to the Browns. Siemian completed three of six targets for three yards and was sacked twice before being replaced by Luke Falk.
Peterman is a four-year veteran who played for the Bills and Raiders. He joined Chicago's practice squad this year, though Eberflus and Getsy worked out ex-Packer Kurt Benkert just before the regular season started. Peterman is 1-3 as a starter. The 28-year-old has completed 71 of 135 passes in his career for 575 yards with three scores and 12 interceptions.
Eberflus would prefer that Fields could start but won't jeopardize the young star's health. He said whatever he decides would be the same even if the Bears were fighting for a playoff berth. That sounds like he's leaning toward Siemian and Peterman.
"My preference is [for him] to play if he's 100 percent ready to play," Eberflus said. "That's my preference."
The Bears made a couple of procedural moves ahead of tomorrow's game in New York. The team waived defensive back Lamar Jackson. Chicago also added linebacker DeMarquis Gates to the active roster. Running back Darrynton Evans will serve as the primary backup to David Montgomery and Trestan Ebner.