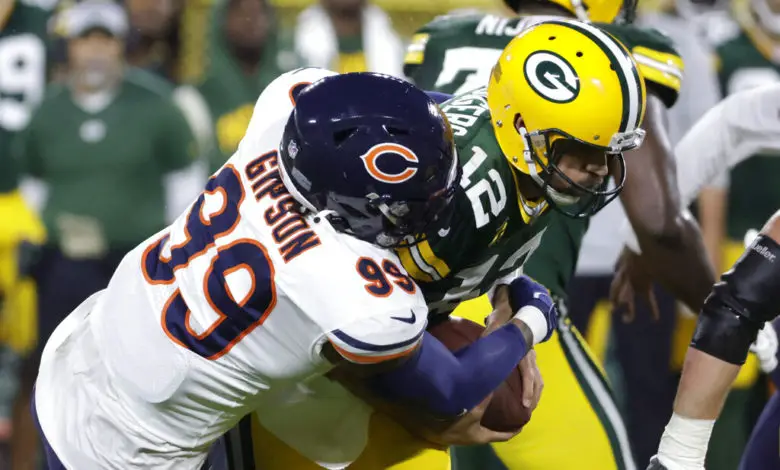 First & Long: Expect Fields and Montgomery to Ball on Sunday, Gipson Driven to Be the Best, Kelce Bashes PFF Grading System
The talk this week – even here at Bears Insider – has been all about improving Chicago's passing attack. That said, I'd be fine if the Bears rush for 250 yards against the Texans on Sunday and win in a low-scoring affair. The Bears stuck with their running game against the Packers because it was dominating more often than not. David Montgomery rushed for 122 yards on 15 carries, the third most productive game in his four-year NFL career. But Matt Eberflus conceded that his ideal offense is one that mixes it up.
"I just think you need balance," Eberflus said. "We'd like to be 50/50 in a game that you're able to do that and we want to have balance for sure because it keeps the defense honest."
That's a fantastic sentiment by the first-year head coach, but the best offensive game plan is the one that nets the most yards and scores the most points. If the Bears have to run the ball 50 times to beat Houston, then run the ball 50 times. That's also the way Luke Getsy sees things.
"I truly believe in evaluating the matchups each week and saying, 'OK, here's where we have the advantages. Here's where our disadvantages are,' " Getsy said. "If it's 50 throws, 50 runs, I don't really care. It's about winning. It's about giving us the best chance to win."
The best formula for winning in the NFL is taking advantage of what the defense gives you. Chicago will be able to run the ball effectively against Houston on Sunday, and the middle of the field will be wide open for intermediate gains on pass plays. I'd love nothing more than to see Justin Fields flood the zone between the hash marks for 15 and 20-yard gains whenever he airs it out. If the big play is there – yes – take advantage. But based on the coverage schemes Lovie Smith will deploy, the middle of the field will be barren of defenders and tacklers.
Fields practices against the same defense every damn day. If he can't find its weaknesses and take advantage, it's going to be a long Sunday for Chicago.
Bears News & Notes
There's a Flag…On the Play
Fields cannot continue to hold the ball this long.
Need to see better processing from Justin Fields this weekend. Progress needs to happen in that department.

He currently has the LONGEST time to throw in the NFL according to NFL Next Gen Stats at 3.26 seconds. pic.twitter.com/4lLCwgeHgb

— Joseph Herff (@JosephHerffNFL) September 23, 2022
Scout Team
Film Room
This touchdown pass to Equanimeous St. Brown was slightly outside the hashes. But, I'll take these types of plays all game long against the Texans if they're there.
Equanimeous St. Brown puts the @ChicagoBears ahead!

📺: #SFvsCHI on FOX
📱: Stream on NFL+ https://t.co/8gCtJMnwZ7 pic.twitter.com/0FuwOMlTkp

— NFL (@NFL) September 11, 2022
Northern Exposure
Green Bay: The Packers announced they have placed wide receiver Sammy Watkins on the IR with a hamstring injury.
Minnesota: Would the Vikings really trade star running back Dalvin Cook ahead of this year's deadline? I'm not buying it.
Detroit: NFL Insiders Dan Orlovsky and Jonathan Vilma are already calling for the Lions to make the postseason.
NFL News & Notes
Phil Mushnick of The New York Post is the Debbie Downer of NFL reporting, and this week he takes exception at the league for not marketing itself as wholesome, family entertainment.
Getsy isn't the only ex-Packer struggling in his new gig. The Broncos have hired an assistant for first-year head coach Nathaniel Hackett. Jerry Rosburg will be Denver's senior assistant, and he'll help the former Packers' OC with "game management decisions."
Bills safety Micah Hyde suffered a scary neck injury that will sideline him for the rest of the season.
Peyton Manning said he has no desire to become an NFL head coach.
The NFL has partnered with Apple Music for its Super Bowl Halftime Show. The multi-year deal kicks off with this year's event in Glendale, AZ on February 12, 2023.
A bottomless draft of beer and a huge breakfast buffet for NFL game day, plus great weather? Take me to Hawaiʻi for Sunday's Bears-Texans game, please and thank you.
Chiefs tight end Travis Kelce said that PFF grades are basically a bunch of crap, and also intimated that some player agents could be spiffing the creators of the system to the benefit of the players they represent. That's a strong accusation, but big, if true.
Patrick Mahomes commented about the grading system last week after an interception he threw against the Chargers was overturned by replay. Mahomes' jokes come a week after he completed 30 of 39 passes for 360 yards and five touchdowns in a victory over the Cardinals. Despite those eye-popping numbers, and more incredible throws from Mahomes in the win, PFF gave Mahomes a grade of 71.5, putting him behind quarterbacks such as Ryan Tannehill, Jameis Winston and Jalen Hurts on the week.
Three Yards and a Cloud of Dust
Amon-Ra St. Brown of the Lions is the first wide receiver in

NFL

history to have six straight games with 8+ receptions with a score in each game.

In the Bills' last 20 wins, they've beaten all of their opponents by 10 or more points.
The Texans faced a blitz 32% of the time in Week 2 — highest in NFL.
From the Podium
"I realized how special it was when I got my first job. What you're always trying to do though is do well enough. You're hoping that will allow other men that look like me to get the first chance. Doing something to help somebody that's coming after you like the people before you did for you." – L. Smith
"I have respect for [Lovie]. He's one of the guys that you would say is from coach Tony Dungy's tree, and so I kind of have a feel for what he would be, or I think I do, what he would be telling his guys in the meetings and how he wants his guys to play. Love that he's a head coach in the NFL again. That part of it I'm proud of. Excited for him. But at the end of the day, he's the opponent across the field and he's trying to come into our house and take what we have, and so with that in mind, we're going to do everything that we can to make sure that he goes away with a frown on his face." – Alan Williams
"We need to highlight our skill. We know that. So we're going to try to do a better job of that. We will do a better job." – Eberflus
"You don't think there [are] agents out here paying these scouts to give higher grades so their players can make more money when it comes down to the bargaining? You don't think there [are] agents out here trying to slither their way into a few extra [bucks]?" – Kelce
Running Out the Clock
It's time to get back in the win column.