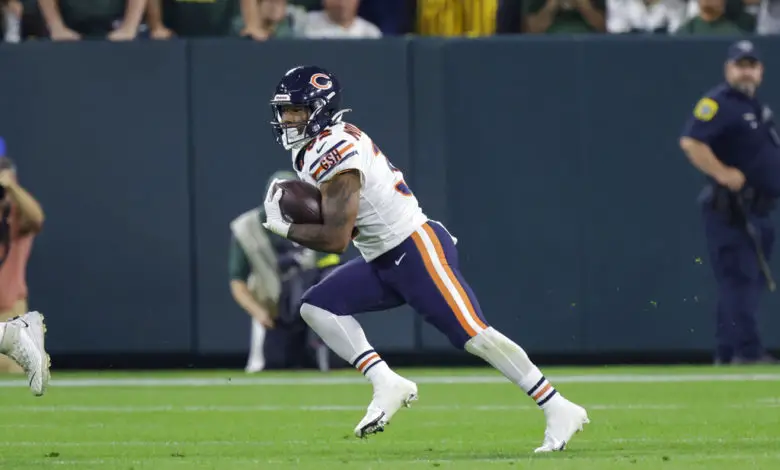 Bears Put Green Bay Loss Behind Them, Focused on Sunday's Game vs. Texans
If I told you before the season the Bears would be 1-1 at this point, you would have probably been happy about that. Oh wait, I did say that. It's amazing the way a loss to the Packers sucks all of the morale out of the room. No point in looking back, though, right?
Eyes forward. pic.twitter.com/qeC1O7Vjk0

— Chicago Bears (@ChicagoBears) September 24, 2022
What Went Right on Sunday
Before we look forward, let's look at what went right last week. The Bears running attack is as good as it's been in about a decade. David Montgomery is running with anger and purpose. Teven Jenkins has been a destructive force at right guard while run-blocking. Khalil Herbert is a great second back, and you have to be happy that the Bears at least have a counter to Aaron Jones and AJ Dillon of the Packers. Chicago's two backs averaged 8.42 YPC against Green Bay.
Additionally, Montgomery leads the NFL in broken tackles per rush attempt. He is also averaging 3.56 yards after contact per attempt. That is much higher than the 2.7 of his career, or the 2.53 that he posted last season.
The Bears are going to lean heavily on their run game this Sunday, too. The Texans are Sunday's opponent, and their run defense is ranked No. 30 in the NFL. Houston allows 4.7 yards per rushing attempt and leads the league in missed tackles. Expect Chicago's running backs to pound the ball until Texans head coach Lovie Smith forces Justin Fields to take to the air.
The defense should have few problems keeping Houston's offense on the sideline. If any team has fewer playmakers than the Bears, it's the Texans. Smith has always said "we get off the bus running" and a decade later he still hasn't changed. Houston will run the ball, and Chicago has to stop them. Sunday's tilt may look more like Ali-Foreman in Kinshasa, Zaire than an exercise in modern NFL football.
Chicago Must Improve Its Passing Game
Chicago has to find ways to improve its passing attack. I covered this the other day, but the statistics are worth repeating.
Fields has completed 15 passes for 191 yards and two touchdowns in two games. His two-game ESPN QBR is 23.9.
The second-year quarterback is on pace to be sacked 43 times, which is downright frightening since he's only averaging 14 pass attempts per game.
Darnell Mooney has five targets with two catches for four yards for the 1-1 Bears.
Cole Kmet has two targets and has yet to catch a pass. Backup tight end Ryan Griffin has one reception.
Montgomery and Herbert have a combined seven receptions for 39 yards.
Bears wide receivers have caught a grand total of seven passes in two games. Equanimeous St. Brown leads the group with three catches for 57 yards. Mooney has two receptions, and Byron Pringle and Dante Pettis have one apiece.
Luke Getsy vowed to unleash his high-powered offense. The offensive coordinator promised to turn Fields into a mobile rocket launcher. Perhaps the second-year quarterback needs to be convinced he doesn't have to run the ball when his primary target is covered.
"I mean, there were actually quite a few plays called that were pass plays, there were more plays called that were [passing] plays," quarterbacks coach Andrew Janocko said Thursday. "The thing about Justin that's great is he's locked into the game all the time. Are there frustrations in the game? Yeah, there should be. Any competitor will get frustrated at times if something doesn't go right. Tom Brady is paying for a lot of tablets right now, and he's the greatest ever. So, you want there to be things at times that irritate you."
"But as far as the number of pass plays we ran, [as] I said and I think Luke [Getsy] said as well, there were a bunch more pass plays called. Certain things in the game dictate you do something. The touchdown was a pass play early in the game and Justin made a play with his legs. As far as that's concerned, I don't think that's really a factor."
Jones Still Sidelined
Velus Jones Jr. won't play this week. It would be nice to see him back on the field. Jones hurt his hamstring during the second week of training camp. He didn't practice much after hurting the hamstring and only appeared in one preseason game. Jones Jr. did improve as this week went on, however. He started as a DNP on Wednesday, then turned in two limited practices on Thursday and Friday.
It's also a little surprising that we've yet to see Ihmir Smith-Marsette.
Back in August, I predicted a 38-7 win for the Bears in their Week 3 matchup against Houston. The Bears won't score 38 points on Sunday unless the defense accounts for at least two touchdowns. That's actually not as far-fetched as it may seem.
I do expect Fields to put some points on the board this week. At some point, Smith and his defense are going to have to fully commit to stopping Montgomery and Herbert. Houston runs a great deal of two-high coverage, and if they start crowding the box, the middle of the field will be wide open. Getsy and Fields need to take advantage. If they do, Pringle and Kmet should have big games. Look for Montgomery and Herbert to see more looks as pass-catchers on play-action calls, too.
I'll have my final prediction tomorrow. That said, the Bears will win this game unless they lose the turnover battle by a wide margin.