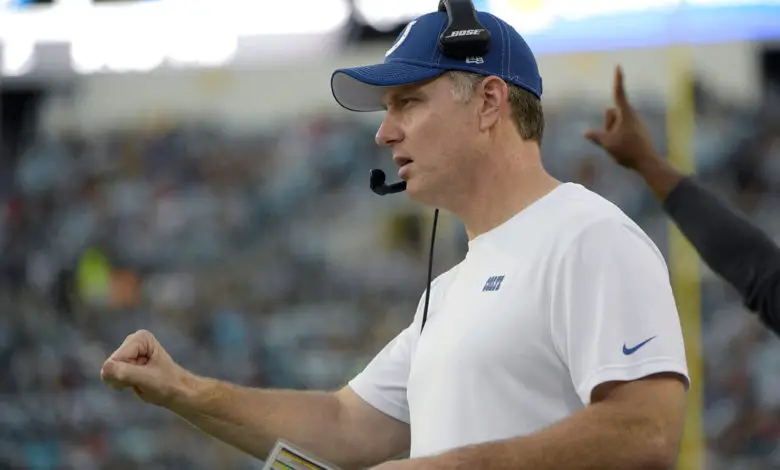 First & Long: Eberflus Adds to Staff, Lovie Lands in Houston, Deflategate Returns, Shaq Wants to Party With You
New head coach Matt Eberflus continues to add to his staff at such a breakneck it's hard to believe it's only been a week and change since he was hired. The organization announced that Jim Dray has been hired as the new tight ends coach and that Austin King will assume the role as the team's new assistant offensive line coach.
Dray was a journeyman tight end for eight years after the Cardinals drafted him in the seventh round in 2010. He had 56 catches for 605 yards and three touchdowns in 94 games, including 38 starts, for the Cardinals, Browns, Bills, and 49ers. After his playing career ended he became a coach at Stanford for one year before coming back to the NFL. His three years of professional coaching experience include stops with the Browns in 2019, and the Cardinals, the last two seasons as Arizona's offensive quality control coach.
King, 40, comes aboard to work with new offensive line coach Chris Morgan. He spent the 2021 season with the Raiders as their tight ends coach after being promoted from offensive quality control coach the previous year. He is a former center who played for four years at Northwestern University and followed that with two years in the NFL  playing for the Falcons.
In the week since the Bears introduced Eberflus to Chicago as their new head coach, he has made the following hires:
Offensive coordinator: Luke Getsy
Special teams coordinator: Richard Hightower
Passing game coordinator/wide receivers coach: Tyke Tolbert
Quarterbacks coach: Andrew Janocko
Offensive line coach: Morgan
Assistant offensive line coach: King
Tight ends coach: Dray
Linebackers coach: Dave Borgonzi
Defensive backs coach: James Rowe
Assistant defensive backs coach: David Overstreet II
Eberflus still needs a defensive line coach and a running backs coach. The favorites for the former opening are Brian Baker and Rod Marinelli, who seems to be the fan-favorite. Either would be an excellent hire, though Baker may have the advantage.
That's because the Texans announced today that they've hired Lovie Smith to be their new head coach. Smith, who took the Bears to the Super Bowl in 2007, wasn't considered the favorite in Houston. Marinelli is a close friend of the new Houston head coach and worked with Smith in Chicago from 2009-12.
Smith was the Texans' associate head coach and defensive coordinator this past season and beat out Josh McCown and Brian Flores for the job. Both were considered favorites by some, though a lawsuit against the NFL filed by Flores may have hurt his chances of getting the job, something the former Dolphins head coach has publicly stated.
The Texans' selection of Smith came after Flores filed his racial discrimination lawsuit against the NFL and three teams last week. Though his selection could be seen as a bit of a surprise, Smith said he was grateful to be selected as Houston's new head coach, his third NFL opportunity after stints with the Bears (2004-12) and Buccaneers (2014-15).
"I'm humbled to be the next head coach of the Houston Texans and incredibly excited to continue to work with Nick," Smith said in a statement. "I have so many friends, family, teammates, and coaches to thank for supporting me and helping me continue to do what I love, which is teaching and developing players. I understand the responsibility I have to this organization and this city to develop a championship-level program. I'm ready to get to work and build it together."
Bears News & Notes
There's a Flag…On the Play
The trade scenarios involving Fields read like something out of The Onion. Here's a link to the entire article.
Ok we've found it. The worst article ever written pic.twitter.com/ZJFj8zsoes

— Jeremy "Sell the team George" Layton (@JeremyLayt0n) February 7, 2022
Northern Exposure
It appears Aaron Rodgers and Tom Brady are the likely finalists for this year's MVP award.
Quarterback Kyler Murray is reportedly unhappy with the Cardinals, and if he becomes available, the Lions could be interested.
The Vikings felt that Jim Harbaugh was not a fit as their head coach because of a philosophy that conflicted somewhat with that of new GM Kwesi Adolfo-Mensah. There may have been an issue with Harbaugh's personality, as well.
NFL News & Notes
Did you watch the Pro Bowl on Sunday? Me neither.
Deflategate is back (do we not have a better name after seven years?) thanks to a new book by Mike Florio of Pro Football Talk.
One report says the NFL covered up key evidence that protected the Patriots during the investigation.
The Saints are reportedly promoting defensive coordinator Dennis Allen to head coach, replacing Sean Payton.
The Dolphins have hired 49ers offensive coordinator Mike McDaniel to be their new head coach.
The NFL is issuing an immediate call to action regarding player safety after disproportionately high injury rates to special teams players.
Slime and Sponge Bob aren't fixing the NFL's image problem.
Super Bowl News & Notes
Leave it to Shaquille O'Neal to host one of the best Super Bowl parties of the year— and open it up to the public. General admission tickets are going for $300 on resale websites.
A Madden '22 simulation of Super Bowl LVI predicts the Bengals will knock off the Rams 24-21.
Pete Prisco of CBS Sports says Cincinnati will win 31-30 in a thriller.
The average cost of a 30-second ad for Sunday's game is $7 million.
You won't find Jake from State Farm and compatriots  Rodgers and Patrick Mahomes among the commercials during the Super Bowl this year. The Bloomington-based insurance giant is instead turning to the popular video app TikTok to reach people.
Three Yards and a Cloud of Dust
Fields had a 60% deep ball accuracy. That's second-best in the NFL. His tight-window percentage was tops in the league.
34 offensive holding penalties by the Cowboys this season nullified 373 yards and 13 different gains of 12+ yards, killing 19 drives.
Bengals QB "Broadway" Joe Burrow was sacked 51 times this year, most in the NFL. Super Bowl opponent "Hollywood" Matthew Stafford was intercepted 17 times, tied with Trevor Lawrence for most in the league.
From the Podium
"[Taking the division] is not going to happen overnight. Is it going to take five years? I don't think so. Not with this regime. We'll be competitive sooner than later, but it's going to take some time." – Bill Polian
"Explosive athletic ability is one of the traits we are looking for. That equals chunk plays on offense and it equals stopping chunk plays on defense. If you want to score points, you have to get chunk plays and big plays. That's how you score." – Eberflus
"Do you know how many of these Super Bowl events require at least $10k, $20k, $30K just to walk in the door? It's insane! I've always been for the people and needed to provide a way for any fan to attend." – O'Neal