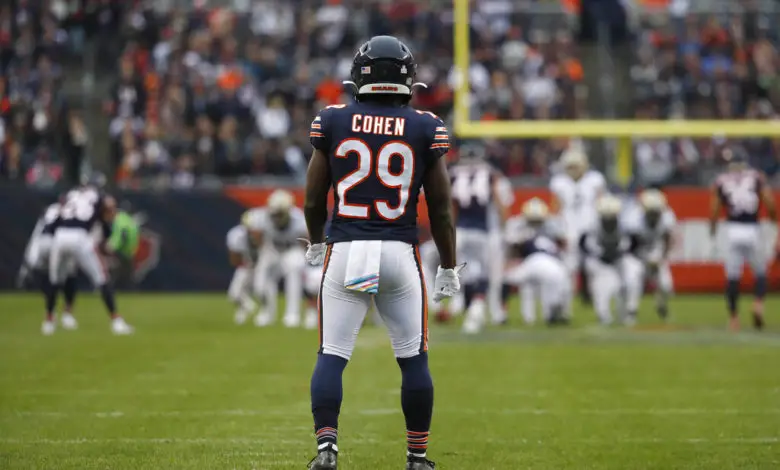 First & Long: What to Do With Tarik Cohen, Poles Wants Dominating O-Line, Packers Expect Rodgers to Return
The Bears will enter free agency with about $40-$42 million in cap space as things stand right now, but with a dearth of draft picks, they may need to find creative ways to save or increase spendable income. Three players, Eddie Goldman, Danny Trevathan, and Tarik Cohen could become cap-related cuts. Today I'll focus on Cohen.
The Bears drafted the incredibly athletic Cohen in 2017. You might remember this spectacular pre-draft video of the running back and special teams player. He was a late-round steal by GM Ryan Pace and has been dominant at times in different roles for the Bears. Things changed when he tore his ACL in Week 3 of the 2020 season. Cohen hasn't played since, spending most of that time on the physically unable to perform (PUP) list.
His best professional year came in 2018. That season, Cohen was named first-team All-Pro as a punt returner and established himself as one of the best all-purpose players in the league. He finished with 444 rushing yards on 99 carries with three touchdowns while also catching 71 passes for 725 yards and another five TDs.
His production dropped considerably in 2019, but Matt Nagy didn't use Cohen in his offensive scheme as much as the year prior. He still caught 79 passes that season, but he carried the ball just 66 times for 213 yards.
If Poles cuts Cohen after June 1, he could free up $4 million in available cap money. If Poles keeps the veteran running back, it will represent a $5.75 million cap hit this season. While the 26-year-old is a dynamic player, it remains to be seen what he has left after 18-months of not playing football. No one outside of Hals Hall knows exactly how healthy his knee is and he still has two years remaining on his contract.
Complicating matters was the performance of rookie running back Khalil Herbert this year. He filled in quite admirably for three weeks while starter David Montgomery was out, and if the Bears keep Cohen, the two will battle in training camp to be Montgomery's primary backup.
The NFL is expected to set the 2022 cap at $208.2 million, confirming that the salary cap will reach the max threshold agreed to by the NFL and NFLPA back in May. The cap for 2021 was set at $182.5 million due to COVID-related revenue losses. Though that seems like a huge difference, it's still a little light. Before the pandemic hit, the expected cap for this year was expected to be somewhere between $218 and $211 million.
According to Field Yates, the Bears are slated to have nearly $2 million in unused cap space roll over to the 2022 season. That would bring their current cap space to around $42 million. The additional $4 million they'd save by cutting or trading Cohen would go a long way toward helping other areas of the roster. Cutting Goldman and Trevathan would add an additional $12.2 million toward the cap, giving Poles an extra $16.2 million to sign a premium free agent or two, or multiple mid-tier players.
Bears News & Notes
There's a Flag…On the Play
The dramatic "first day at the office" videos of new NFL head coaches has become a nauseating exercise in media overkill.
T-Law 🤝 Dougie P#DUUUVAL pic.twitter.com/yupjVd95DV

— Jacksonville Jaguars (@Jaguars) February 5, 2022
Northern Exposure
Packers CEO Mark Murphy has made it clear that the organization wants Aaron Rodgers to return in 2022.
Though Green Bay will struggle with the salary cap in doing so, they're planning their offseason as if they expect Rodgers to return.
Though the Lions have Jared Goff, one scenario has them drafting North Carolina quarterback Sam Howell and then starting him immediately.
Vikings wide receiver Justin Jefferson said he is excited to play for offensive-minded head coach Kevin O'Connell.
NFL News & Notes
Roger Goodell said that the NFL's diversity efforts are less than acceptable.
The Texans are rumored to be down to two finalists for their head coach opening, Josh McCown and Jonathan Gannon. Brian Flores is reported to have an outside shot but his lawsuit against the NFL may scare Houston away.
49ers DE Nick Bosa could become the first non-quarterback to earn a $30 million deal. As a 2019 draft pick, Bosa is eligible to sign a contract extension. He is not a free agent.
Davante Adams also wants $30 million per season, but it's very likely the Packers will slap him with a franchise tag.
The Steelers might be interested in 49ers quarterback Jimmy Garoppolo to replace the recently-retired Ben Roethlisberger. San Francisco is reportedly planning to trade Garoppolo this offseason.
Eli Manning doesn't think Tom Brady will go into broadcasting. "He's too good," said the ex-Giants quarterback.
Brady has a real opportunity to become the game's first ex-player billionaire.
NFL fans have given a universal thumbs-down to Washington's new nickname.
Pitt QB Kenny Pickett certainly made the most of his chance at the Senior Bowl with perfect 6-of-6 passing for 89 yards and a touchdown. The punters put on quite a show, too.
Three Yards & a Cloud of Dust
Joe Burrow is the 1st QB to make a Super Bowl after being sacked the most in the regular season.
Brady finished with 40 or more TD passes in his final two seasons, the only time he's done that back-to-back in his career. He threw for 50 scores in 2007.
With Brady's retirement, Matt Ryan is now the active leader in career passing yards (59,735).
Super Bowl Week is Here
Tickets for Super Bowl LVI at SoFi Stadium in Inglewood range in cost from $5,300 to $906,00 dollars.
There are seven factors that will determine who wins next Sunday's game between the Bengals and Rams.
Bettors are split evenly so far on the outcome of the game.
The league is planning another celebratory video similar to the"100-Year Game" ad that aired right before the Super Bowl two seasons ago. Mike Singletary, Franco Harris, and Odell Beckham Jr. were standouts in that ad. The new one-minute film will be called "Bring Down the House."
The "most anticipated halftime show ever" will feature a slate of legendary artists that includes Eminem, Snoop Dogg, Kendrick Lamar, Mary J. Blige, and Dr. Dre. What? No Digital Underground?
From the Podium
"It's exciting because you have the ability to create [the] core pretty fast. The challenge becomes when you don't have a lot of draft picks. It's hard to do that. We're going to have to be strategic with, again, free agency, going to that second and third wave of free agency, shorter contracts to supplement the roster as we start to add more draft picks. And if there are opportunities to get more draft picks with trades of players or going up or down, then that's great. We have to take it one step at a time to know where the value is with each year. It may not make sense this year." – Poles
"[Success] starts with the foundation in terms of the O-line and establishing that run game, which then leads to explosive plays. We've got to continue to work on that, get that to a level, and I think you'll start to see more points scored and more efficiency, more explosive plays. Everything plays off of that. That's going to be a focal point." – Poles