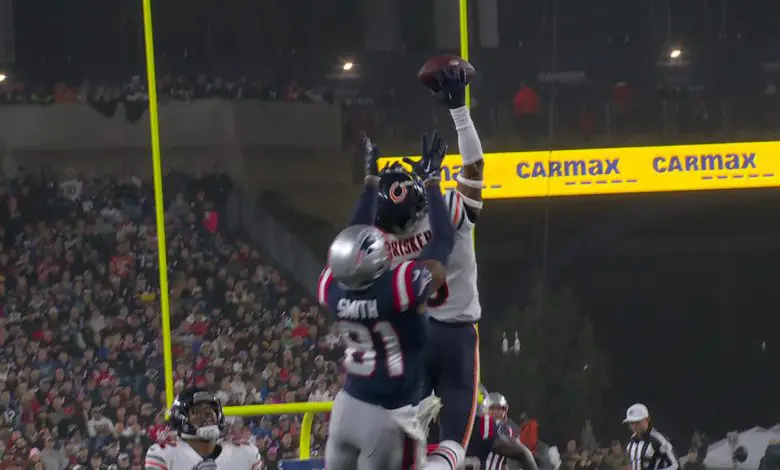 First & Long: Bears Turning Keys Over to Young Players, Smith Gets Emotional, Ezekiel Elliott Ruled Out
The Bears now have $134 million in cap space plus eight selections in the 2023 draft. Chicago picked up an extra 4th-round pick from the Eagles in the Robert Quinn trade. Rookie Dominique Robinson is Quinn's heir apparent, and he's one of a handful of young playmakers that have excelled so far this season. In case you haven't noticed, GM Ryan Poles is engineering a massive youth movement.
The Bears locker room loves Robert Quinn. He was voted a team captain for many reasons. But the room should also understand the business side of moving a 32-year-old pass rusher. Quinn now gets a shot with a Super Bowl contender in the Eagles.

— Adam Jahns (@adamjahns) October 26, 2022
The Bears are getting younger, faster, quicker, and more violent. Poles deemed those ingredients necessary to unseat the Packers in the NFC North. They'll have to contend with the Vikings, too, but after Monday's 33-14 win over the Patriots, Chicago showed it is capable of playing solid football against any opponent.
Quinn will be missed, and he should be. He was Chicago's 2022 Defensive Player of the Year and holds the franchise single-season sack record with 18.5. He set that record while passing Richard Dent last season. Smith ended his media session upon hearing of the trade. He was that upset. The deal closed the win-at-all-costs window that Ryan Pace and Matt Nagy propped open over the previous four seasons.
Excluding special teams players Patrick Scales and Cairo Santos, Lucas Patrick is now Chicago's most seasoned veteran starter, and he's just 29. The Bears are young, flush with draft picks and cap space, and ready to build on any momentum they generate this season.
Bears News & Notes
There's a Flag…On the Play
I loved Chicago's win over New England, and I'm a fan, but even I am not this carried away by it.
Yesterday before 8pm Every Cowboys fan looked at the Bears game as a instant win! After they played they now feel they can Beat the Cowboys and the National Media will too! Listen to @ColinCowherd Already saying "They Beat Dallas" I think this is amazing! Don't sleep let's work! pic.twitter.com/xUolJoG7Q1

— CowboysFanTalk (@Cowboys_FanTalk) October 25, 2022
Scout Team
Film Room
It will be interesting to see how Luke Getsy attacks the Cowboys' front seven. Look for another 8-12 designed runs on Sunday, if not more. Getsy's offense has produced 391 and 390 total yards of offense in consecutive weeks against two proven defensive minds, Bill Belichick and Ron Rivera.
Another week, another dominant performance from the @DallasCowboys defense. 😤 (by @CourtyardHotels) pic.twitter.com/r7SnGRz4eQ

— NFL (@NFL) October 27, 2022
Northern Exposure
Minnesota: Vikings running back Dalvin Cook did his best Bart Simpson imitation as a mild form of protest after the league fined him for throwing a football into the stands on Sunday.
Green Bay: The Packers play the 5-1 Bills on Sunday night, and Aaron Rodgers complimented Buffalo wide receiver Jake Kumerow for his pass-catching ability. Kumerow has four catches for 27 yards, so it was more than likely a subtle dig at his own wide receivers group.
Detroit: Lions owner Shiela Ford Hamp gave head coach Dan Campbell and GM Brad Holmes a vote of confidence despite Detroit's 1-5 start. Pencil in Campbell as a potential rider on the 2023 coaching carousel.
NFL News & Notes
Seahawks head coach Pete Carroll and safety Quandre Diggs said they'd like to see a close reexamination of whether NFL stadiums should exclusively use natural grass.
Chiefs defensive end Frank Clark has been suspended by the NFL for two games for violating the NFL's personal conduct policy.
In September, Clark pleaded no contest in Los Angeles to two counts of misdemeanor possession of an assault weapon.
The Broncos are reportedly considering a trade offer for star pass rusher Bradley Chubbs. Denver would allegedly receive "significant compensation" in return and Chubb would agree to a long-term extension with the team he is being traded to.
Things are so bad in Denver that first-year coach Nathaniel Hackett could lose his job. Additionally, one analyst for NFL.com said that Russell Wilson is "steering a sinking ship" with the Broncos.
Another loss could end the Hackett era in Denver, which might actually be for the best.
The Patriots will start quarterback Mac Jones over Bailey Zappe against the Jets on Sunday afternoon.
New England has fielded a number of calls for wide receivers Jakobi Meyers, DeVante Parker, Nelson Agholor, and Kendrick Bourne, according to a report by NBC Sports' Phil Perry.
The Eagles earned a B+ from CBS Sports for their acquisition of Quinn.
Three Yards and a Cloud of Dust
The Jets have outscored their opponents by 54 points in the 4th quarter this season.
The Giants are the first 6-1 team in NFL history to have each of their seven games decided by one possession.
Drew Brees had 12 games with 400+ passing yards and at least three passing TDs, the most in league history. Patrick Mahomes has eight such games in 70 starts.
From the Podium
"On the business side, [the deal] just made too much sense for what we're trying to do. It's going to allow us to continue to build a highly competitive roster. I think the other thing too on the business side and really the football side is I just really trust Trevis Gipson, Al-Quadin Muhammad, Dom Robinson, [and] Kingsley Jonathan. Those guys are going to continue to do a good job." – Poles
"We can't get too high on the win. We've got to get reset Wednesday and come in and prepare like any other week, prepare like last week. I know our guys aren't going to be satisfied with just this win, and we're going to get back to work this week." – Fields
"The mix and match of the in-pocket [plays], out-of-pocket [plays], the different protections we were using to really focus on the strengths of our football team and our offensive unit, I thought was excellent. [Getsy] really did a nice job of keeping things off balance for the opponent and it was good, it was good." – Eberflus
Running Out the Clock
Tonight's Casey Kasem long-distance dedication goes out to Bears linebacker R. Smith.