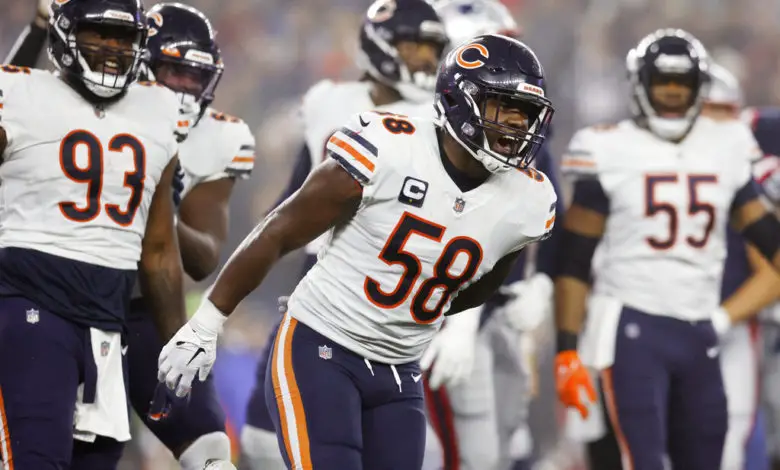 Quinn Trade Could Mean Contract Extension for Roquan Smith
Bears have $134 million in 2023 cap space
The Bears have a 25-year-old stud at linebacker who's playing for a new contract. His name is Roquan Smith, and though he was visibly shaken when he heard the Bears traded Robert Quinn, he could find himself on the favorable side of a contract extension. Smith was at the podium and walked away upon learning of the deal.
Roquan Smith learned of the Robert Quinn trade while speaking to the media. He was emotional about it and had to leave the podium. pic.twitter.com/hiKjyn0HxJ

— Brendan Sugrue (@BrendanSugrue) October 26, 2022
The Bears received a 4th-round pick from the Eagles in the deal. GM Ryan Poles will also have $134 million in cap space next season according to Over the Cap. That's the most of any NFL team and gives Poles plenty of financial wiggle room to extend Smith. The star linebacker is widely regarded as Chicago's best defensive player. Smith is under contract this season for $9.7 million after the Bears picked up his fifth-year option in May 2021. He's reportedly seeking $100 million over five years to stay with the Bears.
For comparison purposes, Shaquille Leonard is the highest-paid off-the-ball linebacker in the NFL (per overthecap.com). Leonard earns an annual average of $19.7 million with $33 million fully guaranteed. He signed his extension in August 2021. Poles wants to keep Smith in Chicago, and the executive has said so going all the way back to August.
"I'll double down on what I've said before: My feelings for Roquan haven't changed at all," the first-year GM said in August. "I think he's a very good football player, and I love the kid. I love what he's done on the field, which makes me really disappointed with where we're at right now.
"Right now my intentions are to sign Roquan to this team. And we're going to take it day by day. At the end of the day, we've got to do what's best for this organization. But my intentions are to make sure Smith's on this team."
The All-Pro linebacker told reporters back in April that he "absolutely" envisions a long-term relationship with the Bears.
"Obviously we're resetting things and starting over fresh, new faces, new regime," Smith said at the time. "So it's a great opportunity to be the face of the new regime, and doing whatever it takes to make this the best regime in Bears history, that's my plan."
It's not just a matter of money, however. Poles has wanted to see how well Smith plays in the new offense. After Monday night's win against the Patriots, Smith leads the team in tackles with 78. He has 48 solo tackles and 2.5 sacks, which also lead the team. Additionally, his two interceptions are second to safety Eddie Jackson (3). He's ranked astonishingly low by Pro Football Focus, but make no mistake, he's Chicago's defensive leader on the field and in the locker room.
Why were the Patriots only able to rush for 70 yards? Roquan Smith.

PFF probably has him graded poorly but the tape does not lie. This man balled out. #DaBears #Bears pic.twitter.com/Ypqx3Ki9ZS

— Clay Harbor (@clayharbs82) October 26, 2022
PFF doesn't value counting stats, but rather the quality of the plays used to accumulate them. Nicholas Morrow is a perfect example of the poor PFF algorithm. Smith sits eight spots beneath Morrow.
Leonard and Fred Warner are the linebackers most often compared to Smith during discussions about financial worth. Leonard has played in one game this season because of injuries. Warner has 0.5 sacks through seven games, with 50 tackles and zero picks. He signed a five-year $95 million extension last season. I'd say it's time for Poles to pony up and pay Roquan his money.
Given both his sustained excellence and the Bears' surprising 3-4 start, it seems far more likely Smith will stay in Chicago. Poles always has the option to tag the former University of Georgia standout as a franchise player, but why create more bad blood? Smith had no problem with the net value of the contract. He was uncomfortable, if not downright angry, with the guarantee and some of the language in the deal.
"[The Bears] have refused to negotiate in good faith, and every step of this journey has been 'take it or leave it.' The deal sent to me is one that would be bad for myself, and for the entire linebacker market if I signed it."
With Quinn gone, and Poles flush with money, signing Smith to an extension would be one way to buoy morale, especially after the Bears most impressive win of the season. Smith is young enough to be the centerpiece of Chicago's defense. He's a team leader and a playmaker. He helps to bring out the best in rookies Dominique Robinson, Jaquan Brisker, and Kyler Gordon.
Besides, it's not in Poles' best interests to saddle Smith with a franchise tag. The franchise value for a linebacker is $18.7 million this season. That's a 26.3% increase over last year ($14.8 million). The tag would be worth $23.6 million with a similar increase in 2023. If Smith continues to play this well for the rest of the season, Poles will have gambled and lost whether he signs him, tags, him, trades him, or lets Smith walk away as a free agent.