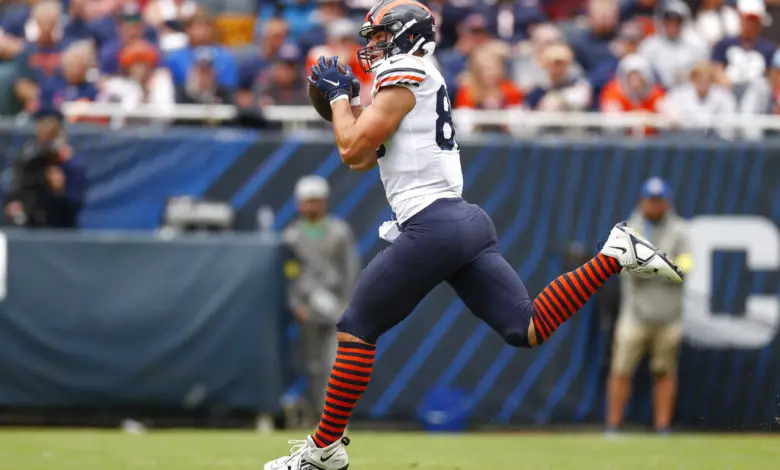 First & Long: Bears Set Up Nicely for 2023 and Beyond, Fields and Claypool Putting in Extra Work, Kmet Hitting His Stride
The Bears are 3-7, and though they are now playing an exciting brand of football, it's looking more and more like a 2023 top-five draft choice is their future. Chicago plays the Falcons and Jets in their next two games, and both are winnable. But then the Bears hit the toughest part of their schedule, closing out the regular season with tilts against the Packers, Eagles, Bills, Lions, and Vikings.
If you feel generous, give Matt Eberflus and his charges two wins in those seven games. That said, running the table with seven losses is not impossible given the disaster that is Chicago's defense. Bears fans do have hope for a brighter future, however, and here are five reasons why.
Justin Fields is becoming a genuine franchise quarterback. He sits at No. 11 in this week's NFL power ratings at his position, and he should have another big game against the Falcons, who have one of the NFL's weaker run defenses. If you take the last six weeks and scale that out over a complete season, Fields would finish with 2,884 passing yards, 1,706 rushing yards, a 99,6 quarterback rating, and 42 total scores. By the way, the young signal-caller is averaging less than one turnover per game.
The Bears have eight picks in next year's draft, including seven of their own. They also own the Ravens' second and fifth-round picks and a fourth-round selection they received from the Eagles. If Chicago finishes with a top-five pick, expect Poles to trade down to a team that may be looking to grab one of this year's top quarterbacks. It's probably not a stretch to expect the front office to accumulate extra picks by trading one of its two fourth or fifth-round selections.
Chicago has an astounding $110.8 million in cap space available once the 2022-23 season officially ends. To put that in perspective, the Falcons are second with $61.6 million. The Bears will have their choice of the top available free agents before most teams have an opportunity to speak to those players. Expect GM Ryan Poles to strike swiftly initially, and then hunt for bargains as the field levels off. The Lions have $16.8 million available, which is the second most in the NFC North.
Rookies Kyler Gordon, Jaquan Brisker, Braxton Jones, and Dominique Robinson are getting more snaps than most NFL rookies. Now that running Khalil Herbert has been placed on injured reserve, Trestan Ebner should see plenty of action as a backup to David Montgomery. Shortening the learning curve for those players ahead of their second seasons helps their development considerably. Most rookies need 12-16 starts to get to the next level. Chicago has accomplished that goal with their younger players.
UDFA Jack Sanborn is quickly becoming Chicago's best defensive player. He's receiving national attention and is being compared to greats Dick Butkus, Mike Singletary, and Brian Urlacher. That's a bit of a stretch, but the recognition and accolades are deserved nonetheless. Sanborn has 18 tackles in two starts, including two sacks and two TFLs. He also has four quarterback hits.
IT'S SANBORN SZN @PSchrags | @ChicagoBears | #DaBears pic.twitter.com/dEYXJpOwit

— Good Morning Football (@gmfb) November 15, 2022
Cole Kmet is another reason that Bears fans should feel hopeful about the future. The tight end from Notre Dame looks like he's finally found his game, though a three-game resurgence is still a bit of a small sample size. Kmet has blocked well all season but now has five touchdowns in three games, including a nifty fifty-yard bomb against the Lions last Sunday.
Bears News & Notes
There's a Flag…On the Play
You can't teach speed, folks. Fields made Lions defenders look painfully slow on his touchdown run.
"My name is Justin Fields, and I am the fastest man alive." ⚡

(via @ChicagoBears)pic.twitter.com/yhxOPZ3RZU

— NFL on ESPN (@ESPNNFL) November 13, 2022
Scout Team
Film Room
Rookie wide receiver Drake London has a legitimate shot at Offensive Rookie of the Year honors.
Drake London is THAT GUY 😤 pic.twitter.com/iWmiYscxQy

— PFF ATL Falcons (@PFF_Falcons) November 11, 2022
Northern Exposure
NFL News & Notes
One NFL analyst "sees an on-field disconnect" between quarterback Mac Jones and Patriots' receivers.
Tight end Chris Herndon – who is not signed with any NFL team – has been banned for the rest of the season. The NFL did not offer a reason for the eight-week suspension.
If the playoffs started today, every team in the AFC East would earn a berth.
Retired running back LeSean McCoy says that Bill Belichick is basically just an ordinary coach without Tom Brady.
Broncos linebacker Aaron Patrick is suing the NFL the Rams, the Chargers, and ESPN for his season-ending ACL tear. He's also suing SoFi Stadium, Hollywood Parkland Company LLC, Stockbridge, The Flesher Group, Kroenke Sports and Entertainment, NFL TV liaison Moe "Green Hat," and Roe Mat Company for negligence. It almost sounds like a Jerky Boys bit.
Buffalo is expected to get several feet of snow this weekend, and it could disrupt the Bill-Browns game.
The NFL has struck a deal with "Top Gun: Maverick" producer Skydance Media to create documentaries, as well as fictional movies, shows, and short-form content.
Three Yards and a Cloud of Dust
The Bears are the first team in NFL history to score at least 29 points in three consecutive games and lose all three.
Eagles DB C.J. Gardner-Johnson leads the NFL with six interceptions.
I hate to post this, but now that the Eagles have lost, the 1972 Dolphins remain the only NFL team to finish a perfect season.
Two-Minute Warning
Here is the full list of teams in league history who finished the regular season undefeated and untied:
1934 Bears (13-0): Lost NFL Championship Game to the Giants
1942 Bears (11-0): Lost NFL Championship Game to the Redskins
1972 Dolphins (14-0): Won Super Bowl VII vs. Washington
2007 Patriots (16-0): Won two playoff games before losing in Super Bowl XLII to the Giants
From the Podium
"It's just going to take time. I don't think anybody expected [Claypool] to just come and just start having 100-yard games. It just doesn't work like that. Just getting on the same page. Me knowing him, him knowing me, and just working together." – Fields
"I'm not expecting too much right now, being that, you know, I just got here. I think having a full understanding of the playbook will help, and I'm pretty close to that. So I think in the next couple of weeks, it won't be a problem." – Claypool
"It leads me to what I think the bigger conversation is – when do you go away from the 20 to 26 throws a game to the 30 to 36 throws a game? When do you start lowering the volume of runs? If you're trying to win a Super Bowl next year or the year after, at some point, [the Bears] need to add 100 to 150 throws to Justin's season…so that he can have more learning moments." – Dilfer
Running Out the Clock
Is it wrong to feel good about the Bears even though they continually find ways to lose football games? This song still slaps, by the way.