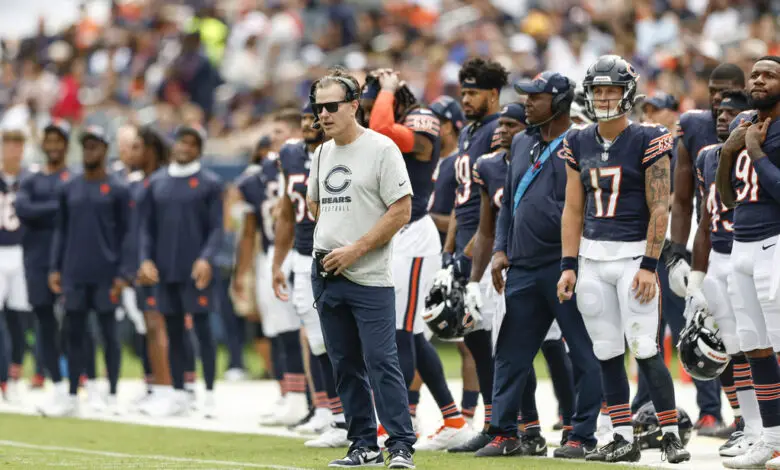 First & Long: Bears Reshuffle Roster, Jenkins to IR, Bagent Named QB2, Packers Continue to Show Little Faith in Jordan Love
I don't know how you feel, but to me, the NFL season starts once rosters are finalized, and for that reason, we are switching from Camp Notes to First & Long today. The caveat here is that the Bears are still tinkering with their roster and made several moves today after getting down to 53 players on Tuesday.
Teven Jenkins was placed on short-term IR today, meaning he will miss a minimum of four games. Jenkins has a leg injury that the team has been reluctant to discuss. He injured it during the shared practice sessions with the Colts and was seen on crutches after Chicago's final preseason game against the Bills. GM Ryan Poles would not clear up the mystery of what happened to Jenkins and when, but said the team feels it's a "week-to-week thing." Jenkins is eligible to return October 5, and the Bears will continue to reshuffle the line until then.
The Bears do have a temporary replacement in Dan Feeney, who was acquired from the Dolphins on Monday for a sixth-round draft choice. At least Feeney has experience. The Orland Park native has made 64 career starts in six NFL seasons.
Bears have chosen to keep Rasheem Green over Terrell Lewis.

Stats after 3 Pre-Season Games

Rasheem Green
• 2 assisted tackles

Terrell Lewis
• 4 Solo Tackles
• 3 Sacks
• 1 Forced Fumble

Someone convince me that this was a smart move. 😐

— Max Markham (@MaxMarkhamNFL) August 30, 2023
The front office made some changes on the defensive line, too. Poles claimed defensive end Khalid Kareem and safety Quindell Johnson off waivers Wednesday. To clear room on the roster, Chicago waived defensive end Terrell Lewis and safety A.J. Thomas.
Poles also strengthened his special teams by claiming Trent Taylor, who was waived by the Bengals on Tuesday. He will serve as the team's punt returner and provide depth to the wide receiver group. Taylor, a fifth-round draft choice by San Francisco out of Louisiana Tech, has averaged 9.7 yards per return throughout his five-season career with the 49ers and Bengals.
Taylor is a vested veteran because he has a tenure of four-plus years. That means the Bears are on the hook for his full-season salary if he is still on the team after Week 1.
The Bears began assembling their practice squad, too, finalizing deals with seventh-round draft picks Travis Bell and Kendall Williamson as well as Micah Baskerville, Nsimba Webster, Greg Stroman, Stephen Carlson, Aviante Collins, Robert Burns, Jalen Harris, DeMarquis Gates and Roy Mbaeteka. They still had six practice-squad spots open as of Wednesday evening and remained hopeful to use one on veteran quarterback Nathan Peterman.
Bears News & Notes
There's a Flag…On the Play
Armchair coaches everywhere should buy this man a shot and a beer.
#Chiefs HC Andy Reid says he was once approached by a janitor who had a cool play concept for him to use.

Reid listened, liked the idea, incorporated it into a game, and it resulted in a TD.

Reid: "We take plays from anywhere." 😂

(via @greenlight) pic.twitter.com/dWo37FuQre

— Ari Meirov (@MySportsUpdate) August 31, 2023
Scout Team
Film Room
Love's preseason stats: 21-of-33 for 193 yards with three TDs and no interceptions.
Fields: 5-of-9 for 180 yards with two scores and no interceptions.
Top-10 defense? Top-10 RB?

Will Jordan Love help lead the Packers to the playoffs? 🤔🤷‍♂️ #Packers #GoPackGo pic.twitter.com/Cnl0HPx1hL

— GBP Daily – Rob Westerman lll (@GBPdaily) August 30, 2023
Northern Exposure
NFL News & Notes
Here are the final roster updates for all 32 NFL teams, if you're interested.
If you'd rather have a condensed version, Pro Football Focus listed the most notable cut by every team.
Jaguars head coach Doug Peterson had the unenviable job of cutting his son, but at least he signed him to the team's practice squad.
Broncos quarterback Russell Wilson is reportedly on a "very short leash" this season.
The NFL has adopted two minor rule changes for the 2023 season.
The Cowboys remain at the top of all NFL franchises for 2023 with a record valuation of $9 billion. The Bears are ranked No. 5 at $6.3 billion.
Three Yards & a Cloud of Dust
Dolphins WR Jaylen Waddle averaged 8.2 yards after the catch in the last eight weeks of the 2022 regular season, the best among 65 qualified NFL receivers. D.J. Moore will give him a run for his money this season.
The Steelers have not had a top-five draft pick since 1970, when they selected Terry Bradshaw.
The Bears are 9-14 in Week 1 games since 2000, while the Packers are 14-9.
Fantasy Projections (per ESPN) – Justin Fields
Fields is entering his third NFL season after an up-and-down 2022 campaign that included some major highs (top-seven fantasy scorer in eight straight games) and some concerning lows (60% completion rate, as well as an NFL-high 55 sacks and 16 fumbles in 15 games). He  was unsurprisingly a major factor as a rusher, as he led all QBs in rushing yards (1,143), yards per carry (7.1) and scrambles (67) to go along with eight rush TDs. Fields is still on the ascent at age 24 and his supporting cast will be much better this season with Moore joining Mooney, Cole Kmet, and Chase Claypool. Fields' legs make him a solid QB1 target, but he's a candidate for a full-on breakout.
From the Podium
"Never thought about or had any conversations about trading Mooney. Trevis never came [into] my office and said that he wanted to be traded. So, I just want to make that clear. In terms of Gipson, love that kid. It was more of a fit thing, scheme fit. His success came in a different scheme. We had a great conversation [Tuesday]. I'm excited to see where he goes and what he does." – Poles
"[Feeney] is a great guy. [He loves] football, [and] loves beer." – Justin Jones
"I can confirm the latter, for sure." – Kmet
"Ryan [Poles] texted me just telling me congratulations, be an asset to Justin, stay focused, stay ready because you know the season's so long. Once again you never know what could happen, so that's kind of what my goal is. Just be an asset to the team, help in any way that I can, and just be ready for any situation." – Bagent