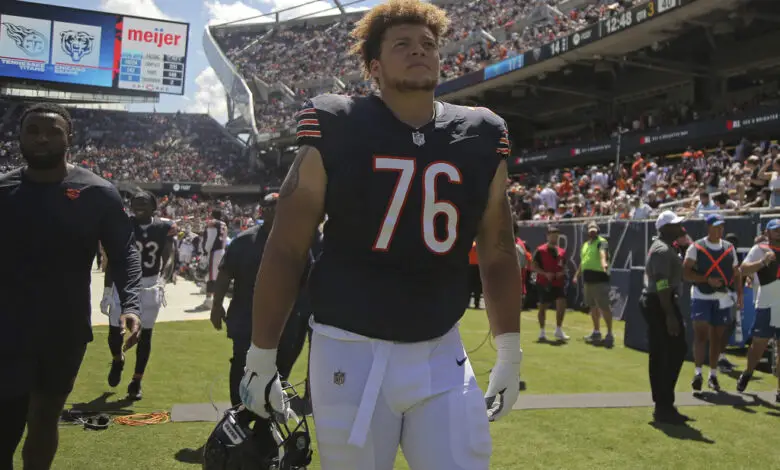 Bears' Options At Offensive Line With Teven Jenkins Out
The Bears' lack of depth on the offensive line continues to be a problem and it's a little more pronounced after it was reported that Teven Jenkins will likely miss the first 3-4 games with a leg injury. The team rotated their offensive line frequently at the start of last season. Offensive coordinator Luke Getsy may have to resort to a similar plan next month.
Jenkins, who switched from right to left guard this year, is Chicago's top offensive lineman. Head coach Matt Eberflus has been particularly guarded with injury information, but he also rested most starters on Saturday night. Jenkins has been injured for most of his career and he will be out for at least six weeks according to the team. Chicago's first game is 20 days away.
Depth is a problem and options are limited. In Monday's practice, Lucas Patrick played center while Cody Whitehair was back at his familiar left guard position. Patrick has also battled injuries since signing with the Bears, and center is Whitehair's best position. Larry Borom, Ja'Tyre Carter, and Alex Leatherwood are other options. Leatherwood was in danger of being a camp cut, but that calculus has probably changed.
I couldn't tell you how confident the #Bears are Ja'Tyre Carter could make the muscle memory switch from RG to LG.

That said, Carter has easily been their best iOL this preseason. Feel that should count for something when looking for a Teven Jenkins replacement.

— Jacob Infante (@jacobinfante24) August 21, 2023
Jenkins missed the start of his rookie season in 2021 after undergoing back surgery. He was sidelined at the start of training camp last summer and then missed two games in November with a hip injury. Jenkins played only 11 snaps in the final four games, missing two of them completely. He has logged full-game snaps only six times, so durability is certainly a question. The third-year veteran should be a building block, but injuries continue to stunt his growth. Jenkins would garner All-Pro consideration if he could just stay on the field.
Nate Davis, who is playing on the right side, has missed considerable time this summer, too. The coaching staff is ramping him up to start Week 1 against the Packers. Still, the Bears set their starting five in place well before training camp started. That plan is once again in flux.
Jenkins could start the season on injured reserve, and he would be required to miss four games with that designation. GM Ryan Poles could then seek a temporary replacement when roster cuts are announced next week. Braxton Jones and rookie Darnell Wright will be the starting tackles, Patrick will start at center, and Davis and Whitehair will be the guards as things currently stand.
Keep your eyes on Carter, however, who has played guard while Davis was recovering. Leatherwood, a former first-round pick of the Raiders, could step in, too.
Dalton Risner could be a free agent option if Poles wants to go that way. Risner just finished four seasons as the starting left guard with the Broncos before the team opted to replace him with Ben Powers. The 28-year-old has been mostly average throughout his career (just one season above 64.4 overall grade on PFF) but has been solid as a pass blocker in the NFL (never more than four sacks or 29 pressures in a season). One would think his pass-blocking skills would appeal to the coaching staff, at least on an interim basis.
Nine-time Pro Bowl OT Jason Peters, who is a free agent, said today he still plans to play this season in what would be his 20th NFL season. Peters started his NFL career as an undrafted free agent in 2004 in Buffalo.

— Adam Schefter (@AdamSchefter) August 18, 2023
Justin Pugh and Jason Peters are available, too. Peters is 41 years old and recently announced he'd like to play one final season. Knowing Poles, however, he'll probably keep things in-house until roster cuts are announced next week, and then weigh his options, if necessary.