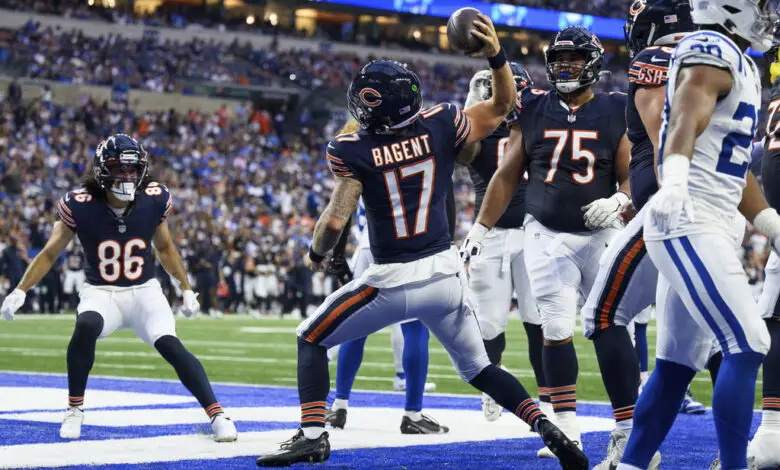 Tyson Bagent: From Shepherd to Spiking a Football
authored by Cole Tamarri
Before getting into the meat and potatoes of this article, here's a little about me. I am not a football expert. I respect those who can watch game tape and break it down for the fan at home. I'm not a breaking reporter, and I appreciate those who work hard to cover the happenings of the Chicago Bears. I'm just a fan who wanted an opportunity to take observations, questions, and thoughts about this team and publish them in a public space.
Saturday night's Bears vs. Colts matchup began with second-string quarterback P.J. Walker leading two uninspiring drives that mirrored the reports coming out of Bears' camp. Walker was sloppy, taking bad sacks, and completed only one of his four attempts for six yards.
When Tyson Bagent took over in the second quarter, the name sounded familiar to me. Prior to becoming the next backup Bears quarterback to capture a segment of the fan base, he was the 2021 Harlon Hill award-winning quarterback from Shepherd University who I watched on a monitor in my college newspaper's office torch my alma mater, East Stroudsburg University 76-34 in 2019 when he threw for 288 yards and five touchdowns. PSAC defense makes the Big 12 look competent in comparison.
#Bears rookie QB Tyson Bagent was featured on the @nflnetwork before the draft. Here's a portion of that video where Tyson, his coach at @SURamsFootball, and his arm-wrestling champion dad, @TravisBagent, comment on why he went to a Division II school.
(Link to Full Video:… pic.twitter.com/1eazsGR4OM

— Barroom Network (@BarroomNetwork) August 21, 2023
There's something fitting about the Bears having a Hill Award winner on the roster.
That award mentioned above is the DII equivalent of the Heisman, named for the former Bears receiver who held the rookie record for receiving yards until Darnell Mooney broke that in 2020. Bagent displayed the same calm demeanor and arm talent from the pocket on Saturday night that I watched four years ago as I was putting together the Stroud Courier's sports page. He went nine of 10 passing for 76 yards and had a two-yard scramble for a touchdown.
Dane Brugler's pre-draft on the 23-year-old for The Athletic confirmed a lot of what Bears fans and coaches were treated to in his performance in Saturday's second-quarter action. Brugler's report said in part "[Bagent] has a whip for an arm and spins a zippy spiral…balanced in his setup and gets the ball out quickly for catch-and-run opportunities… flashes the ability to touch up and layer throws against zone… played under three different offensive coordinators, which helped shape his football mind… extremely productive and left Shepherd with every school passing record."
For as long as I can remember, people like Adam Hoge and Adam Jahns have repeatedly emphasized the importance of finding a QB prospect in the late rounds and developing that player in the system. Who cares about backup QB play you might ask?
Talk to the 49ers and coach Kyle Shanahan about how glad they were to have drafted Brock Purdy so that he could step in and save the 2022 season. Bagent looks to fit the criteria of a good developmental signal-caller. He's got plenty of game experience, albeit at Division II with 2040 pass attempts, over double what former top-five NFL draft picks Trey Lance and Mitchell Trubisky have combined. He's demonstrated an ability to process the field and make good throws.
It's understood that he's not going to supplant Justin Fields, but it speaks a lot to the quality scouting of Chicago's front office that he's pushing Walker and Nathan Peterman with his play. Bagent is forcing a lot of tough questions at Halas Hall as the final preseason game approaches because it is unlikely he will clear waivers to the practice squad. However, if the team carries three signal-callers in the regular season, it means one less roster spot for positions with ongoing competitions such as defensive end and wide receiver.
Regardless of what the next three weeks hold for Bagent, it's hard not to root for the West Virginian. As Kevin Fishbain of The Athletic reported in the post-game press conference ($), the undrafted rookie enjoyed his first spike ever after his score, because in college that would have been an unsportsmanlike penalty.
Bears QB Tyson Bagent told us he had never spiked a ball in a game before — they don't allow that in college — so he was pretty excited for his touchdown celebration (he believes it was a good spike, said he got positive feedback on it) pic.twitter.com/6ZgpyK8cmy

— Kevin Fishbain (@kfishbain) August 20, 2023