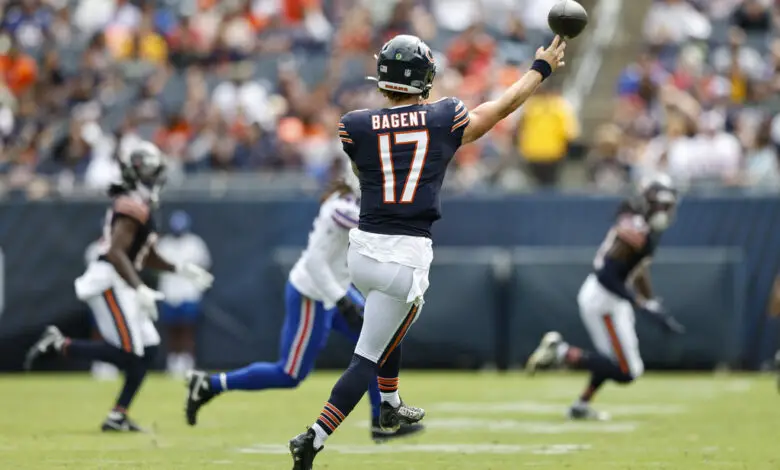 Camp Notes: Cutdown Day Arrives, Bears Depth Chart Takes Form, Bagent Wins QB2
When the Bears cut P.J. Walker in favor of Tyson Bagent, that was just the beginning of what I now call Reckoning Day in the NFL. This year, for the first time, there is only one official cutdown day. Bagent will get a roster spot, but don't be surprised if the Bears sign Nathan Peterman to the practice squad or grab a different veteran QB after today's cuts.
Trevis Gipson, Kindle Vildor, and Alex Leatherwood were among today's cuts, something we discussed two weeks ago. Second-year running back Trestan Ebner was waived with an injury designation. Larry Borom and Velus Jones remain on the roster for now, and if you haven't heard, Darnell Mooney might be a trade candidate.
The Bears aren't concerned about a drop in production by Mooney. He is in the last year of his contract, extension talks have been non-existent according to sources, and maybe it makes good sense to see what a potential return would look like. GM Ryan Poles also drafted Mooney's replacement when he selected Tyler Scott in this year's draft. The folks at Pro Football Focus don't believe Poles will trade Mooney, but they didn't discount that option, either. It's speculation and nothing more (emphasis mine).
Some will see Gipson's cut as a surprise. He had a good preseason, but he accumulated his stats against third-stringers. The writing was on the wall for the fourth-year EDGE when Poles signed Yannick Ngakoue. Gipson's release also confirms the team's confidence in second-year end Dominique Robinson. Another way of looking at it is that Poles is also distancing himself from the leftovers from the previous regime. Justin Fields isn't going anywhere, but he's just one of a few inherited players with long-term expectations.
With Trevis Gipson and Kindle Vildor waived, only 9 Ryan Pace draft picks remain on the Bears roster:
Cody Whitehair
Eddie Jackson
Cole Kmet
Jaylon Johnson
Darnell Mooney
Justin Fields
Teven Jenkins
Larry Borom
Khalil Herbert

— Kevin Fishbain (@kfishbain) August 29, 2023
Vildor, like Gipson, is a holdover from the Ryan Pace era. Both players should find new homes before the regular season starts a week from Sunday. I'll list the other cuts by position group.
Quarterback: Walker, Peterman
Running Back: Ebner, Robert Burns
Tight End: Chase Allen, Jake Tonges, Stephen Carlson, Jared Pinkney, Lachlan Pitts
Wide Receiver: Aron Cruickshank, Daurice Fountain, Joe Reed, Nsimba Webster
Offensive Line: Leatherwood, Logan Stenberg, Aviante Collins, Kellen Diesch, Deiter Eiselen, Robert Haskins, Gabe Huoy, Josh Lugg
Defensive Line: Gipson, Travis Bell, Andrew Brown, Jalyn Holmes, D'Anthony Jones, Roy Mbaeteka, Bravvion Roy
Linebacker: Micah Baskerville, Kuony Deng, DeMarquis Gates, Buddy Johnson, Davion Taylor, Barrington Wade, Mykall Walker
Defensive Back: Vildor, Macon Clark, Greg Stroman, Bralen Trahan, Kendall Williamson
Special Teams: Andre Szmyt (PK)
The depth chart is close to its final iteration as well. The Bears acquired offensive lineman Dan Feeney from the Dolphins on Monday night. Poles sent a 6th-round pick to Miami for the Orland Park native who can play guard or center. Here is how things shake out as of Tuesday afternoon, starters are emboldened.
Just got call from Bears QB Tyson Bagent. Hadn't reconnected since he left @seniorbowl, where he was coached by Luke Getsy.

Extremely difficult for D-II kid to make opening day 53 as UDFA but to potentially be No. 2 behind Justin Fields is Hollywood stuff.

Incredible story. pic.twitter.com/xMykMTDnBv

— Jim Nagy (@JimNagy_SB) August 29, 2023