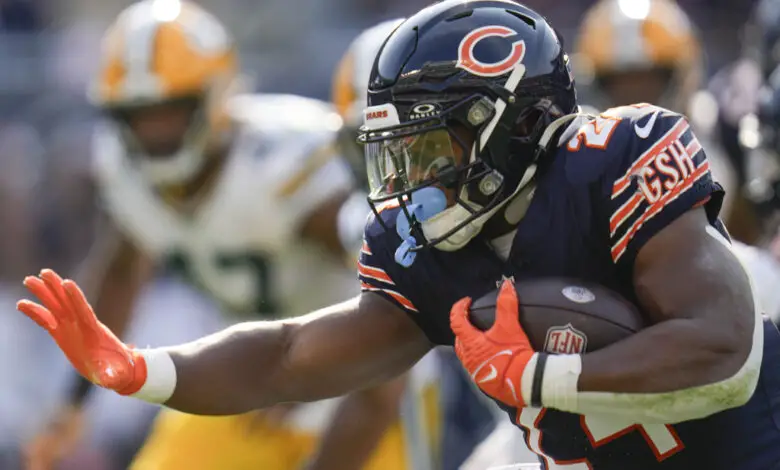 First & Long: Bears Need Rebound Effort Against Bucs, Herbert Slumping, Fields Intends to Be More Aggressive
If you're like me, a Bears' loss to the Packers ruins your entire f**king week, but it's a new weekend, and thankfully so. That said, the organization has had a fair amount of issues this week. Luke Getsy is taking hits from all over for last Sunday's unforgivable game plan, and a lot of fans have seen enough of Justin Fields. Nate Davis, who played like a guard who missed almost all of training camp, won't play tomorrow due to a death in the family. Defensive coordinator Alan Williams will be absent, too, though the Bears say it's a personal matter.
Some clarity on Nate Davis' status, per a source. Davis is dealing with a death in his family that happened this morning. This family health situation has been on-going throughout the offseason and is the non-injury reason for his absence throughout camp/preseason.

— Courtney Cronin (@CourtneyRCronin) September 16, 2023
That's not an indictment of Davis or Williams, but heading to Tampa Bay shorthanded doesn't bode well for the beloved. Tomorrow doesn't represent a must-win game for the Bears, but it is a pivotal tilt for a team that needs a whole lot of positivity. Head coach Matt Eberflus will call the defensive plays, while Getsy will look to atone for last week's debacle.
The Bears would like to get a win because they travel to Kansas City to play the Chiefs next week before returning home to square off with the Broncos. But, and I'll repeat this until my jaws fail me, Bears fans should be looking for game-to-game improvement that isn't necessarily predicated on victories. Yes, wins are nice, but Chicago is 3-15 under Eberflus and they're not trending upward. The little stories behind the big ones are more important right now. The Bears have 22 players in their first or second years and nine new starters. They've just started making the soup while still waiting for the carcass left behind by the last regime to become its stock.
Mike Ditka was Chicago's only continually successful head coach not named George Halas. He started with a roster that had future Hall of Fame inductees Walter Payton, Jimbo Covert, Mike Singletary, Dan Hampton, and Steve McMichael. That team didn't start winning regularly until Week 11 of Ditka's second season. The current Bears do not have a single player that belongs in the group above. Patience, is, therefore, the word of the day. I believe the Bears will win tomorrow. If they don't, I'll settle for a competitive game and improvement by Fields, Getsy, and both lines.
Bears News & Notes
There's a Flag…On the Play
It's hard to blame Fields for not staying in the pocket with such poor pass protection.
Chicago's Dawg. @justnfields does it all.

📺: #GBvsCHI on FOX
📱: Stream on #NFLPlus https://t.co/G4uoYVOqQn pic.twitter.com/8nUkRzpptt

— NFL (@NFL) September 10, 2023
Scout Team
Film Room
Izien went undrafted this year, earned a starting position in camp, and then made the play of the game.
Christian Izien with his first highlight play, RIPPING the ball out of KJ Osbourne's hands for a TD saving interception. pic.twitter.com/nA35xEyTsC

— Josh Hill (@jdavhill) September 10, 2023
Northern Exposure
NFL News & Notes
DE Aaron Donald of the Rams was fined for an illegal hit on Seahawks QB Geno Smith during his "Oh my God" moment.
Texans WR John Metchie III has been battling leukemia since last summer, but he will finally make his NFL debut this Sunday.
Fans at a Wisconsin bar were left stunned when the Bills beat the Jets on an overtime punt return. The bar promised to pick up every patron's tab if the Jets lost.
Rodgers believes he can return this season if the Jets make the playoffs after innovative surgery for his torn Achilles tendon.
The Seahawks and Lions defied a recent NFL trend that says running backs aren't worthy of first-round draft picks. Detroit selected Jahmyr Gibbs at No. 12 overall, and then Seattle chose Rashaad Penny, whom the Lions immediately tried to acquire in trade.
Publix, who make the best chicken tenders on the freaking planet, debuted four NFL-themed subs this week.
Three Yards & a Cloud of Dust
Moore has never caught a touchdown when facing Buccaneers cornerbacks Carlton Davis III and Jamel Dean in coverage. Davis will not play on Sunday.
Mayfield is seeking to join Ryan Fitzpatrick (2017), Rob Johnson (2002), and Shaun King (1999) as the only Buccaneers quarterbacks to win their first two starts with the team. I can't believe Tom Brady is not on that list.
Jaylon Johnson allowed just 13 yards in 27 coverage snaps last week.
2024 Draft Watch
The Bears would have the Nos. 5 and 12 picks in the 2024 draft if the season ended today.
From the Podium
"I've [called defensive plays] for 12 years total. It's really more about the operation of the game management side of it. When the offense is up, it'll be normal business and then throwing challenge flags, being right there with Luke [Getsy] and the offense. When the defense is up, I'll be giving the calls. And then when we're off the field, to make corrections pretty quick, guys on the sideline are going to help me do that with the players. Really from there, it's about setting up the next series for those guys and communicating that." – Eberflus
"Nothing changes at all. Everybody's just doing their job. We play all as one and coach Flus [has] been calling plays for a long time; this is his defense. So it's going to be a smooth process. We all feel good. We all feel comfortable so we're ready to go." – Jaquan Brisker