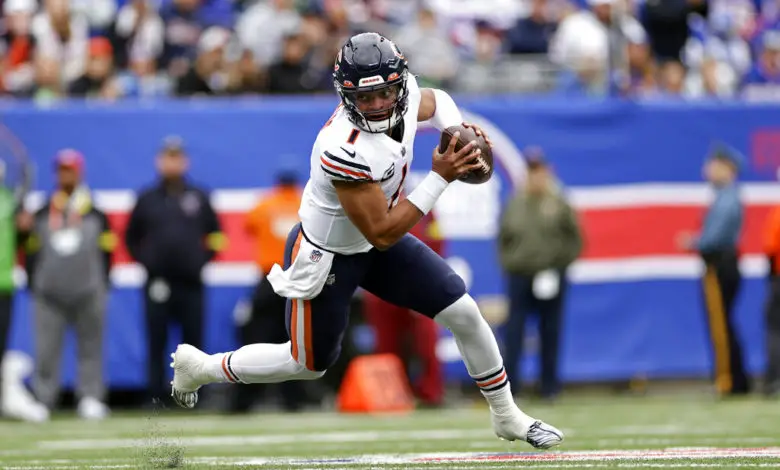 First & Long: Bears' Need for Blue Chip Talent Obvious, Whitehair Injured, NFL Concussion Protocol Under Heavy Scrutiny
I fear the final play of the Giants-Bears game on Sunday will serve as a microcosm of Chicago's season once we reach Week 18. It was wildly entertaining, more than a little absurd, and had little chance of succeeding. Let's emphasize "little chance of succeeding" when describing the 2022-23 Bears. The Bears need to surround Justin Fields with at least a couple of playmakers to win those types of games.
Lateral after lateral on the Bears' final play of the game. pic.twitter.com/U7MQCGhuGr

— NFL (@NFL) October 2, 2022
Chicago's season has followed script so far, at least as far as play and results. The Bears are inconsistent on offense, lack weapons, need a lot of defensive help, and can only win when the opposition beats themselves. If you were looking for bright spots, it's basically running backs Khalil Herbert and David Montgomery, safety Jaquan Brisker, and punter Trenton Gill. I'd be remiss if I didn't mention placekicker Michael Badgley, who connected on all four of his field goal attempts on Sunday, including a long of 40 yards.
I hope they gave him a game ball. Badgley was reverted to the Bears' practice squad on Monday and subsequently cut because Cairo Santos will return after a one-week absence. That's not much of a reward for a heroic performance on a very windy day.
The team's offensive line had a much worse afternoon.
"I talked to the players about the consistency of execution," head coach Eberflus said Monday. "We were executing well at times, but we need to do it more consistently. That was the big message today.
"We had good protection at times. But obviously, it broke down some in the middle at times. One of their inside rushers had a pretty good day. We have to be firm there. I thought we have to run off the ball better, which we know. The guys were told that. And also the runners need to press the line better."
Eberflus was not happy with Chicago's defense, either. After improving their tackling in a Week 3 win against the Texans, Chicago's defensive line and linebackers group took a big step back in New York. Saquon Barkley rushed 146 yards on 31 carries, breaking numerous first and second tackle attempts. Eberflus said the team will work on stopping the run ahead of Sunday's contest in Minneapolis against the Vikings.
It's rare that one performance can make a season feel like it's falling off of the rails the way Sunday's loss did. But, Chicago proved they're just not talented enough to beat the league's weakest teams unless they find some way to steal a win. The interception by Roquan Smith at the end of the Week 3 win was a difference maker. That lateral-heavy flea-flicker at the end of Sunday's loss was not.
Bears News & Notes
There's a Flag…On the Play
Manning Cast! Eli and Peyton Manning light it up while describing this epic tackle by Bobby Wagner, as they usually do.
Bobby Wagner with the tackle of the night 🤣 https://t.co/nbRIqbf4Xw

— NFL Stats (@NFL_Stats) October 4, 2022
Scout Team
Film Room
Somewhere Cody Parkey is smiling.
DOUBLE DOINK 😯

The Minnesota Vikings hold on to beat New Orleans 28-25 as the Saints game-tying 61-yard FG attempt hits the upright and crossbar. #NFL pic.twitter.com/N0fNbwNlPO

— For Future Considerations (@PodcastFFC) October 2, 2022
Northern Exposure
NFL News & Notes
The NFL said its concussion protocols were followed when Miami QB Tua Tagovailoa hit his head a week ago Sunday. On Thursday, the quarterback left the field on a stretcher after a second head hit.
The Dolphins have already ruled Tagovailoa out for this Sunday's game vs. the Jets.
The impact of Tagovailoa's concussion was immediately felt throughout the league.
Tampa Bay tight end Cameron Brate entered concussion protocol on Monday night but was cleared to play in the second half. Studio analyst Tony Dungy blamed the NFL for having a "broken system."
The Falcons placed running back Cordarrelle Patterson on injured reserve with a knee injury, but expect him to return as soon as he is eligible to be reinstated.
Steelers quarterback Kenny Pickett is expected to remain the team's starter after replacing an ineffective Mitchell Trubisky on Sunday.
Baker Mayfield has struggled with the Panthers, but he's still the team's starter, at least for now.
Washington head coach Ron Rivera said he understands the fans' frustrations with the Commanders' 1-3 start.
Lovie Smith and the Texans are still winless, and the head coach said Houston is "not a good football team yet."
Three Yards and a Cloud of Dust
Bucs QB Tom Brady is the first player in NFL history to complete 75.0+ percent of his passes for 350+ yards with no interceptions and still lose the game by double digits.
Tampa Bay attempted just six rushes against the Chiefs on Sunday, the fifth time in NFL history a team attempted six or fewer in a game. Brady was the quarterback in three of those six games.
The Lions are the first NFL team ever to both score 140+ points and allow 140+ points through their first four games of a season.
From the Podium
"[The Giants] were running the boot scheme and they were pulling guys with that. So it makes it hard on the linebackers in terms of their eyes. I think it was a good scheme, but we had to adjust to it. And we needed to do it a little bit quicker. We made that adjustment. We end up stuffing that play going forward, but [Daniel Jones] is a good athlete. He's a lot faster than you think and we know he's fast. He's a good player on the perimeter. That's certainly a weapon that you can use on offense." – Eberflus
"They had over 250 yards rushing. I think we all got to look ourselves in the face there. We can't allow any game like that, regardless of the situation. We just got to really look ourselves in the mirror and realize who we are and what we can be and don't make any excuses why things aren't going well." – Robert Quinn
Running Out the Clock
It's clearly evident that the Bears have a long way to go before they can even think about "taking the NFC North and never giving it back."