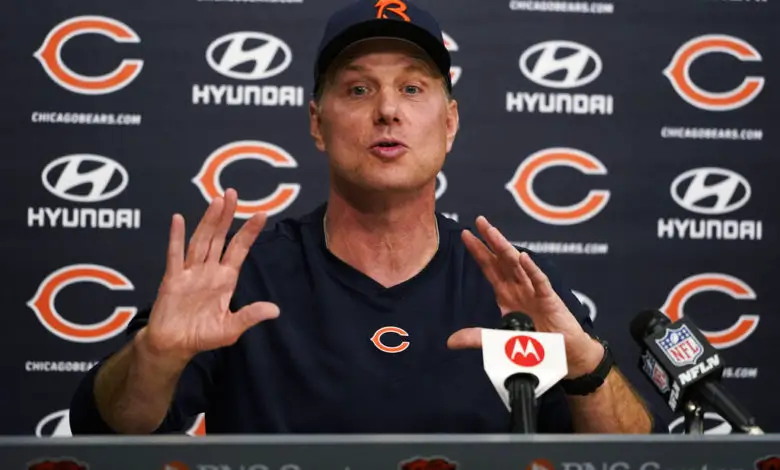 Watch: Matt Eberflus Says Bears Need to Be Better at Stopping the Run
The Bears lost 20-12 to the Giants on Sunday, and despite more offensive woes, head coach Matt Eberflus said his defense needs to do a better job at stopping the run. He's not wrong. Saquon Barkley broke tackles all game long on his way to 146 rushing yards on 31 carries. Robert Quinn had one tackle, and Dominique Robinson and Trevis Gipson had two apiece. Kyler Gordon had a particularly bad day, too.
Barkley's success made New York's play action much more effective, and quarterback Daniel Jones was able to score twice on naked bootlegs.
"They were running the boot schemes and they were pulling guys with that," coach Matt Eberflus said. "It makes it hard on the linebackers in terms of their eyes, so I think it was a good scheme. We had to adjust to it and we needed to do it a little bit quicker. We made that adjustment and ended up stuffing that play going forward.
"[Jones] is a good athlete. He's a lot faster than you think and we know he's fast. He's a good player on the perimeter and that's certainly a weapon you can use on offense."
Eberflus and coordinators Luke Getsy and Alan Williams seemed overmatched by Brian Daboll and his staff. Chicago was 0-for-3 in red zone opportunities and settled for four field goals by Michael Badgley.
"In the first half we needed to do a better job of stopping the run with the quarterback," Eberflus said. "I thought we did a good job of adjusting to that in the second half. Saquon ended up popping some runs on us and they ran the ball too effectively for us to win the game today. So we have to improve that for sure."
The Bears travel to Minnesota to take on the Vikings next Sunday at noon, and Chicago was listed as a seven-point underdog with a 24.6% win probability late Sunday.