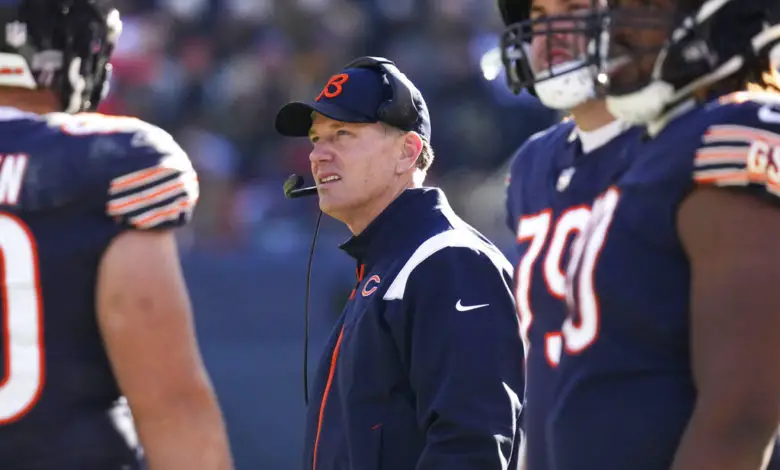 First & Long: Bears Back At It After Bye Week, Claypool Still Struggling With Offense, Eagles First to Clinch Playoff Berth
The Bears had a bye week, so I took an extended break, too. Losing to the Packers always make things less exciting around here, plus I've been covering the MLB Hot Stove over at Cubs Insider. You may not be a Cubs fan, but if you are, it's a bigger shitshow at 1060 W. Addison than it is at 1920 Halas Drive. Ryan Poles is set up nicely to put the Bears back into contention, possibly as soon as next year. I'll reserve my thoughts on Jed Hoyer for tomorrow morning's column at CI.
It was nice to put that 28-19 loss to Green Bay in the rearview mirror for seven days. I did not watch a single football game or read one NFL article all week. I feel born again in that respect. The Bears might not win another game this season, but does it really matter? Justin Fields will continue to develop, as will rookies Jack Sanborn, Jaquan Brisker, Kyler Gordon, Braxton Jones, Dominique Robinson, and Trenton Gill. I suppose if I have one wish for the remainder of the season, it's to find out if Chase Claypool and N'Keal Harry can develop chemistry with Fields.
"Personally, I've been brought here for a reason: pass rush. And I feel like I'm not holding up that end," Robinson said after the loss to the Packers. "So I've got to get better on my end of that. We haven't been getting to the quarterback enough. If we're gonna be honest, as a group."
Poles has a very healthy salary cap situation at his disposal and the Bears need a lot of help at almost every position group. He's also armed with a nice assortment of draft picks, and Chicago could draft as high as number two. That's almost a certainty if they lose out, though they will need some help. Will the rookie GM trade down? That might not be as easy as you hope, especially with the improved play of Jared Goff in Detroit.
That said, Chicago should be looking to draft the best available defensive lineman with his selection. Opposing quarterbacks are rarely pressured when playing the Bears. Chicago's run defense is equally poor. Yes, the Bears need offensive linemen and wide receivers, both imperative to the development of Fields. Unfortunately, the needs of the quarterback may have to take a backseat to the defense for the second straight year. However, the strength of this year's free agent group is at running back and on the offensive line.
It's going to be a little tougher to find an elite wideout this offseason. The avalanche of receiver trades and/or extensions in the spring and summer of 2022 drained the talent from what was shaping up to be an incredible wide receiver class. That's exactly why Poles made separate trades for Harry and Claypool. Nelson Agholor leads this year's crop of wide receivers. That tells you pretty much all you need to know about the strength of that market.
The depth of this offensive line class is impressive, however, and it will be led by Orlando Brown. Kelvin Beachum, Garrett Bradbury, Jack Conklin, and Nate Davis would all look good in navy and orange. Poles has so much cap space (at least $125 million, and probably closer to $135) at his disposal that he will be able to freely pick and choose the players he would like to add.
If the Bears want a linebacker, Roquan Smith will be available. Too soon?
Since Roquan Smith joined the Ravens in Week 9, the defense has allowed the NFL's fewest rush yards per game (55.0), the second-fewest points per game (13.4) and the second-fewest touchdowns (6).

— Sarah Ellison (@sgellison) December 12, 2022
So yeah, the loss to the Packers was irritating at worst, and irrelevant at best. Bears fans have leaped past the Super Bowl and into 2023 mode. I know I'm not the only fan who felt like that loss was the actual end of the season.
By the way, I encourage all fans to head over to Mock Draft Simulator over at Pro Football Network. It's a fun tool to play with and helps even the most casual fan understand the machinations of player evaluation and draft day trades. However, no GM is going to make an obscene amount of trades to end up with two dozen total picks or something like five first-rounders. Before you accept or propose a trade, use the DrafTek Trade Value Chart as a guide.
For example, the No. 2 overall pick is worth 2600 points. The Lions may want that pick, but they're not going to trade No. 5 and No. 11 plus a first-round pick in 2024 to get it, especially to a division opponent. Have fun, but be realistic. The Broncos lost to the Chiefs on Sunday, moving the Seahawks to No. 2 overall. Seattle obtained that pick in the Russell Wilson trade. The Bears are sitting on the third pick as of this evening.
Bears News and Notes
There's a Flag…On the Play
Jay Cutler might have strangled Mike Martz if he thought he could get away with it.
With all due respect to the Mac Jones-Matt Patricia narratives, no quarterback-playcaller feud will match what Jay Cutler felt for Mike Martz. pic.twitter.com/ZVJSkFJi93

— Chris Emma (@CEmma670) December 13, 2022
Scout Team
Film Room
In the not-too-distant future, Hurts vs. Fields will be the NFL's marquee quarterback matchup. It certainly is not Dan Marino against Joe Montana, but the dual-threat battle royale will be just as exciting.
An absolute dime. Jalen Hurts drops it in for the Philadelphia #Eagles touchdown pic.twitter.com/hk9MrKEXED

— Midwest Sports Network (@MWSNsports) December 11, 2022
Northern Exposure
NFL News and Notes
The Cowboys signed free agent wide receiver T.Y. Hilton, thus ending their pursuit of Odell Beckham Jr.
Chiefs TE Travis Kelce surpassed the 1,000-yard barrier for the seventh straight season and became the fifth tight end in NFL history to rack up 10,000 career receiving yards.
The Lions are one of the NFL's hottest teams, improving to 6-7 on their current run that started with a Week 10 31-30 win over the Bears. Goff has played so well that Detroit might be out of the quarterback market in the first round of next year's draft.
Brock Purdy, your 2022 Mr, Irrelevant, led the 49ers to a stunning 35-7 win over Tom Brady and the Buccaneers.
NFL legend Jerry Rice had some strong words for the San Francisco coaching staff after Deebo Samuel left Sunday's game against Tampa Bay with an ankle injury.
Broncos WR Jerry Jeudy is going to have a much higher wallet very soon.
Three Yards and a Cloud of Dust
Hurts is now the top-rated passer in the NFL at 108.4 and the Eagles lead teh NFL with 49 sacks.
Fields has fumbled the ball eight times this season but he has yet to lose any of them. He is 95 yards short of his first 1,000 rushing yard season.
Cardinals head coach Kliff Kingsbury won a challenge on Monday night, his first since 2019.
From the Podium
"Sometimes good football players are overlooked because their arms aren't 32 [inches] or their hands aren't 10 [inches] and you're not running 4.4 and all those things. That doesn't mean you're not gonna be a really good football player. And [Sanborn] transcends that. He may not have the measurables, but he's a good football player, and ultimately that's what you want. Good football players. Not just track athletes." – Alan Williams
"I didn't really get away. I was really immersed in it. We have four weeks left to go. We're going to have plenty of time this offseason to get away from the game. I really try to dedicate all my time in the season to get better and help the Bears win football games. So, it's fine for me. I guess a little bit of time away from the facility was nice, being able to hang out with the family. But I studied up on myself, watched previous games that I've played, and watched other teams around the league." – Mustipher
Running Out the Clock
I promise we'll be back to daily content for the rest of teh season and beyond. Everybody deserves some tine off now and then.