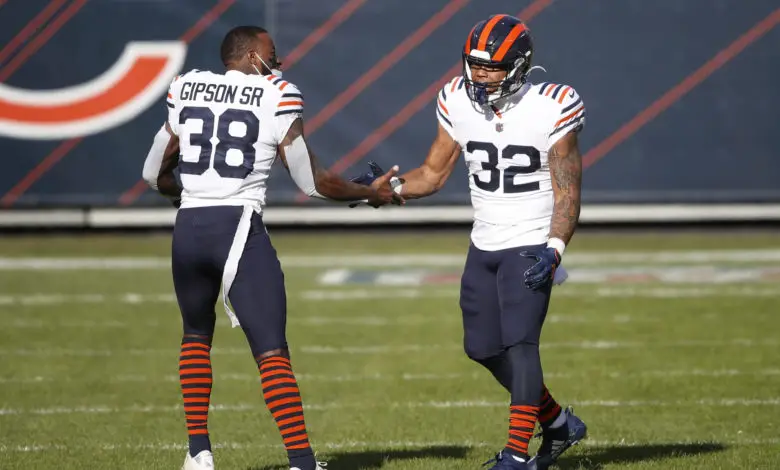 First and Long: Bears Should Take Page From Ernst & Young Playbook, Younger Players Leading Chicago, NFL to Honor Health Care Workers
The Bears are a tough team to figure out. They've got a number of skilled players most NFL teams would want and on top of it, almost all are young and improving ($). David Montgomery could be an elite running back if head coach Matt Nagy would use him more. Cole Kmet has shown he has the potential to be one of the game's best tight ends. Darnell Mooney and Allen Robinson give the Bears one of the best wide receiver tandems in the league. To the dismay of so many of his haters, Mitch Trubisky continues to improve with each start.
No matter what you think of him, Mitch was money on Sunday. Accordingly, he moved up several slots in our QB power rankings.https://t.co/LgiHcLzdZq

— Bears Talk (@NBCSBears) December 17, 2020
And that's just the offense. On the defensive side of the ball, the Bears boast two of the game's best linebackers in Khalil Mack and Roquan Smith. Danny Trevathan and Robert Quinn are excellent complementary pieces. Akiem Hicks plays defensive tackle at an all-pro level, and their defensive backfield, which includes Kyle Fuller, Eddie Jackson, Jaylon Johnson, and Tashaun Gipson, has been a strength for most of the season.
Kicker Cairo Santos has been a pleasant surprise, and Cordarrelle Patterson has been great returning kicks. Sure the Bears lack depth behind their starters, and their offensive line needs an overhaul, but if you add a big-time tackle and an equally good guard, plus maybe a better punt returner, Chicago should be able to compete with anybody.
It's fair then to ask why they are such a middling team and it's also fair to say the answer is coaching. The depth and O-Line issues fall on GM Ryan Pace, but the rest lands squarely on the shoulders of Nagy. When a talented team lacks synergy and focus, commits too many penalties, breaks down in key moments, and fails to make the proper second-half adjustments, there can only be one reason.
No one knows for sure if the McCaskeys are going to make wholesale changes at the end of this season, and frankly, that decision should have already been made, if not yet announced. Barring a miracle of sorts, Chicago could finish just short of making the playoffs. Because they've already managed to win a few too many games that they should have lost, they sit in draft purgatory, likely choosing somewhere between picks 14-18 depending on how many games they win in the final three weeks.
On top of that, they face the very real prospect that they will lose Trubisky, Robinson, and Patterson to free agency in the offseason. Santos is also a free agent heading into the 2021 season, and improving but still-under-the-radar offensive lineman and defacto center Sam Mustipher is also in his walk year. I would think roster continuity is as important as having the right man coaching them. There's always churn, more in football than other sports, but Chicago really needs to lock up their good, young players.
Since the Bears are basically run by accountant Ted Phillips, perhaps the former Ernst & Young executive can apply some corporate tactics to improve production among his coaching staff:
Understand each week's objective and properly deploy a plan to leverage that.
Communicate openly.
Make better use of technology.
Encourage competition.
Stop swimming upstream, or, put a better way, stop overthinking first half shortcomings and turning them into second-half disasters. Adjustments should not be gameplan overhauls.
That's your basic accounting platform for building team synergy. It's frightening that a team run by a Notre Dame business and accounting grad consistently fails in each of those key areas.
Bears News & Notes
There's a Flag…On the Play
Bears DL Mario Edwards Jr. was arrested and charged with misdemeanor assault. North Carolina court documents, obtained by TMZ, say the woman in question accused Edwards of hitting her eye and dragging her out of his hotel room after she began recording him during an argument. The woman claimed to be pregnant at the time of the attack and required hospitalization.
Bears' Mario Edwards Jr. accused of misdemeanor assault in October incident with woman in North Carolina.

The team issued this statement: "We take any allegations of this nature very seriously, both internally and with the NFL."https://t.co/a67VKx7WHW

— Chicago Tribune Sports (@ChicagoSports) December 15, 2020
Northern Exposure
Packers QB Aaron Rodgers said that winning a third league MVP Award "would mean a lot."
Lions center Frank Ragnow did not allow a sack or pressure against the Packers on Sunday while playing with a fractured throat. He missed one play after the injury occurred, then finished the game.
With three games remaining in the regular season, WR Justin Jefferson is just five catches from setting a new Vikings record for receptions by a rookie. Randy Moss is the current team leader with 69 catches in 1998.
Three Yards and a Cloud of Dust
Trubisky is the top-rated signal caller in team history among those with 20 or more starts. His 87.0 QB rating leads Jay Cutler (85.2), Erik Kramer (80.7), Jim McMahon (80.4), and Jim Miller (76.7). His biggest fault, that he was drafted No. 2 overall and cost Pace four draft picks, isn't even his own. We'd look at Mitch the Kid a whole lot differently had he been selected in the 2nd or 3rd round.
Lions QB Matthew Stafford has a passer rating of 98.4 this season when under pressure, which is best in the league.
The Patriots have 7 losses in a season for the 1st time since 2002, and will not win the AFC East for the first time in 12 years. They have been division champions in 17 of the last 19 seasons.
Around the League
On Wednesday, NFL Commissioner Roger Goodell confirmed a report that the league plans to celebrate vaccinated health care workers at Super Bowl LV in Tampa, Florida.
Though the two sides haven't agreed to add a 17th game to next year's schedule, the league and the NFLPA have decided on how the scheduling would work if/when the extra game is approved.
Rams defensive coordinator is on the radar of several teams that may be potentially looking for a new head coach after this season.
Raiders head coach Jon Gruden believes that Chargers rookie quarterback Justin Herbert is a superstar in the making.
Former Ravens running back Lorenzo Taliaferro has died at age 28, the York-Poquoson Sheriff's Office in Virginia announced Wednesday night. A cause of death was not disclosed.
Fumblerooski
"If you try to fail, and succeed, which have you done?" – George Carlin (Could also be the title of this year's Bears highlight reel)
Sources tell me that during today's league meeting, the idea of shortening the preseason from four games to two was raised — with Roger Goodell indicating he favored it. A group of owners disagreed.https://t.co/dfkHgMlgGf

— Seth Wickersham (@SethWickersham) December 16, 2020
At the Podium
"This is just kind of some of the things I've been asking for. I feel like they are strengths of mine and also strengths of this offense. I just thought it was a good idea to get Cole [Kmet] more involved, to get David [Montgomery] more involved, to get A-Rob [Allen Robinson] more involved." – Mitch Trubisky
"I always want to look back and say that I gave it my best. … It is fun seeing the fruits of your labor." – Allen Robinson
"[This season] has been a growing process for sure, from the first day of camp to now. I feel like each week, I'm just getting better and better." – Cole Kmet
Today's Halftime Entertainment
Such A Night by Dr. John – Going forward, I am only going to use live-recorded songs in this section in order to separate it from my column at Cubs Insider.