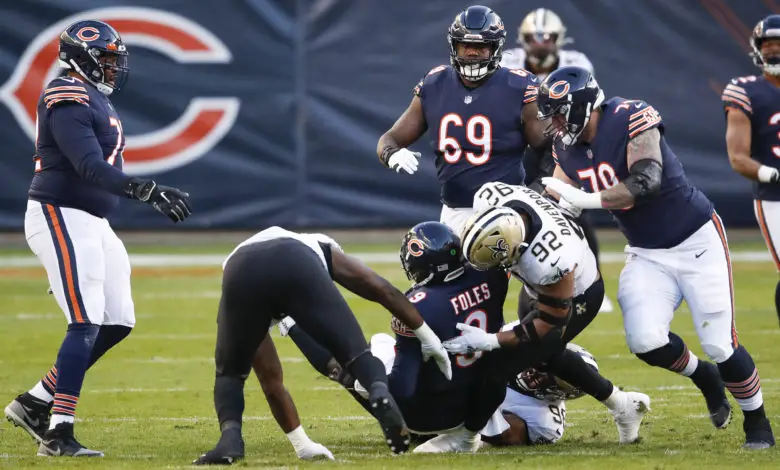 First and Long: Bears Plod to OT Loss, Wims Takes Shot at Saints CB, Brees Passes Brady (For Now) in Career TD Passes
The Bears plodded their way to a 26-23 overtime loss to the Saints on Sunday and lost a chance to seize first place in the NFC North from the Packers, who lost a key division tilt to the Vikings at Lambeau Field. I may be a little generous in using the term "plodding," because the Bears have all the forward mobility of George Foreman when he fought against Shannon Briggs in 1997. The champ was 48 at the time.
At least Foreman fought a clean fight. You can't say the same about Bears WR Javon Wims.
Javon Wims took a shot at C.J. Gardner-Johnson 😳https://t.co/JfNGPH0jvS

— NFL Stats (@NFL_Stats) November 1, 2020
Wims is a third-year receiver who was taken in the seventh round of the 2018 draft out of Georgia. He's been consistently third or fourth on Chicago's wide receiver depth chart for each of the last two seasons. Before his ejection Sunday, Wims had one catch for nine yards.
An investigation will need to be launched if Matt Nagy doesn't immediately cut Wims. Then again, where the heck was Nagy from the Bears' last drive of the first half until the fourth quarter started? The Bears looked like a team without a head coach for those 20 or so minutes.
The Monsters of the Midway also look like a team that needs a lot of help on the O-line. Nick Foles was sacked five times yesterday, including one in overtime when the Bears needed just a field goal to win. Foles also threw an interception as Chicago managed 329 yards of total offense, compared to 394 for the Saints. The Bears QB finished 28-of-41 for 272 yards.
There were a couple of positives, though. David Montgomery had his best game of the season, gaining 89 yards on 21 carries while continuing to show a penchant for breaking tackles. Kicker Cairo Santos had another outstanding game, making all three of his field goal attempts, including a 51-yarder that sent the game into overtime. Santos is now 14-of-16 on the season.
The Bears (5-3) will travel to Tennessee next Sunday to take on the Titans (5-2). Both teams carry two-game losing streaks into the game.
Bears News & Notes
There's a Flag…On the Play
Bears head coach Matt Nagy: "I am really, really bothered by that third quarter incident. That bothers me. I'm being completely honest with you guys — it bothers me."

— Kevin Fishbain (@kfishbain) November 2, 2020
Sibling Rivalries
Four scoreless trips into Vikings territory without a score cost the 5-2 Packers dearly, as Green Bay lost 28-22 to Minnesota. Though Davante Adams caught three TD passes, no other Packers receiver had more than one catch. The Vikings used a strong running game to control the clock and the loss was the first against an  NFC North rival since Green Bay head coach Matt LaFleur took over last season. With the win, Minnesota improved to 2-5, though they still sit in last place in the division.
Lions QB Matthew Stafford lost a fumble and threw an interception that was returned for a touchdown on consecutive plays in the second half; DT Danny Shelton and CB Justin Coleman committed drive-extending penalties that led to Colts touchdowns; Detroit had no answer for QB Philip Rivers or the Colts menacing defense in a 41-21 loss.
Pick Six
Fumblerooski
Without Brady, the Patriots are 2-5 and looking like a lock for a top 10 draft pick. Meanwhile, the Buccaneers can improve to 6-2 with a win over the Giants tonight.
When you realized your system was the QB… pic.twitter.com/vvNCbmaoLt

— NFL Memes (@NFL_Memes) November 1, 2020
At the Podium
"You got to let it hurt sometimes. You've got to let it hurt. You don't work all week to come out on a Sunday and not perform the way you want to perform." – Akiem Hicks
"We're in the fire right now. We're going through it. We're going to keep getting better." – Nick Foles
"That's what bothers me and what pisses me off is that there is still that [pre-snap] issue going on. And excuse my French. We're reading it from a wrist band, so, you know, I'm struggling with that right now. It's getting [Foles and the offense] into a hole so that has to change." – Matt Nagy
Halftime Entertainment
Tubthumper by Chumbawamba – Though blindsided, Saints safety C.J. Gardner-Johnson barely moved when Wims socked him. Gardner-Johnson responded on Instagram: "That man punch like a female."