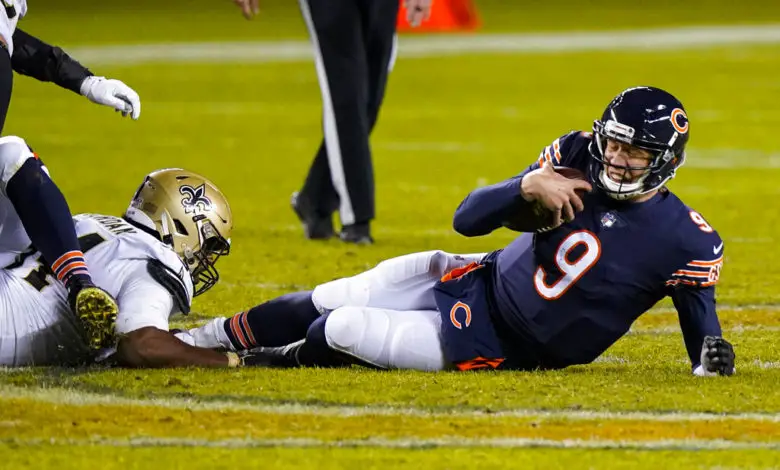 Chicago Bears Score and Recap (Week 8): Bears 23, Saints 26 – Inconsistent Play Continues to Haunt Bears
The Chicago Bears are a model of inconsistency. They played a near-flawless first half right up until the final drive of the 2nd quarter by the Saints. They then fell flat in the 3rd quarter, allowing the Saints to come back and eventually win on a field goal in overtime.
The teams exchanged field goals on their opening drives, setting the tone for the close game that would unfold. Nick Foles started the 2nd quarter with a stellar drive highlighted by a 50-yard reception by rookie wideout Darnell Mooney. Foles then connected with Allen Robinson for a beautiful 24-yard touchdown.
After kicking a field goal to take a two-score lead, the Bears gave the ball back to Drew Brees with 1:34 on the clock. The Saints converted a 4th and 1, then, following a pass interference call on Kyle Fuller, Brees connected with Jared Cook for a 16-yard touchdown with eight seconds left in the half to cut the Bears lead to 13-10.
An inept third quarter by the Bears led to two field goals by the Saints, who also scored a touchdown to start the 4th quarter after forcing a turnover on downs.
The Bears managed to tie the game with a 4th quarter touchdown by Darnell Mooney and a late field goal by Cairo Santos. But two sacks killed their only drive in overtime and the Saints kicked a field goal on their second possession of the extra period to win the game. (Box score)
Why the Bears Lost
Following a mostly solid first half, the Bears fell apart on the final drive of the 2nd quarter and could not get it back together. Their four possessions in the 3rd quarter resulted in two punts, an interception, and a turnover on downs. That ineptitude led to 13 points for the Saints.
Key Moment
After a 17-yard completion to Robinson on the Bears' first drive of overtime, Foles took a devastating sack on 3rd and 10 that killed the drive. The Bears never got the ball back and the Saints converted the winning field goal.
Stats that Matter
Bottom Line
The Bears very well could've won this game had a few plays gone their way. However, they cannot continue to get outplayed in the 3rd quarter and expect to win many more games. The defensive line didn't pressure Brees enough and only had one sack. This loss will leave a bitter taste in the mouth of Bears fans, but will it do the same for Matt Nagy?
Next Up
The Bears travel to Tennessee to take on the Titans on Sunday, November 8 at 12:00pm CST in a game that can be seen on Fox.