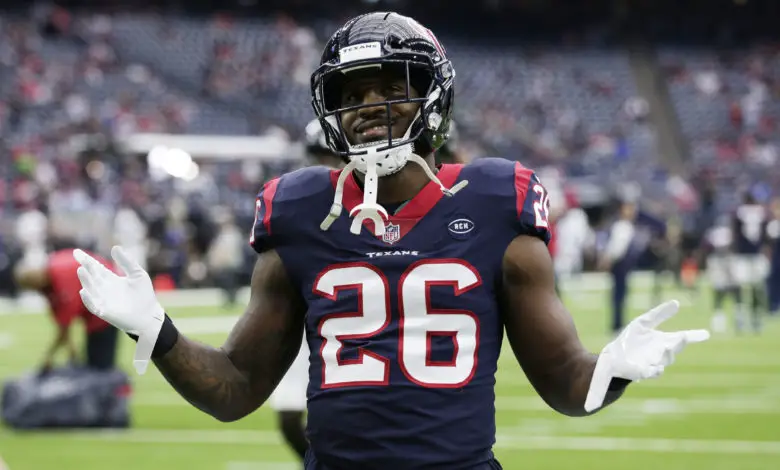 Veteran Running Back Lamar Miller 'Getting Close' to Joining Bears Backfield
The Chicago Bears signed veteran running back Lamar Miller to the practice squad on October 5 after he was cut by the New England Patriots. Miller missed all of 2019 due to a torn ACL and has been working to get back into game shape.
The thought was that he would give the team depth at a position that had just lost a big contributor in Tarik Cohen to a season-ending ACL tear of his own. The lack of production coming from the current Bears' backfield has many pondering whether Miller could get some in-game carries soon.
Matt Nagy was asked on Wednesday how Miller was looking in practices and whether he thought the former Pro Bowl rusher could getting playing opportunities.
"I do think he's getting close and I love that part about him," Nagy said. "He's done everything really well as far as in meetings and at practice."
So, you're saying there's a chance?
David Montgomery hasn't looked particularly good lately, with a tendency to move laterally before committing to vertical running lanes. Perhaps that's because he's trying to find a hole before hitting it, or maybe he's just become used to there not being a hole at all because the Bears' offensive line has been hampered with injuries and uncertainty this season.
Likewise, Cordarrelle Patterson's productivity this season has fallen off of his career numbers. And when he does get the ball it's in predictable situations that opposing defenses have been all over.
There's no guarantee that Miller can help the Bears' anemic running attack, even if he proves himself healthy and ready to go. But if they can't get something going soon, it's not entirely unreasonable to assume that we could see Miller make an appearance in the coming weeks.
Here's a video of Matt Nagy's entire press conference on Wednesday. His complete response to the question about Miller can be heard starting at the 7:35 mark.