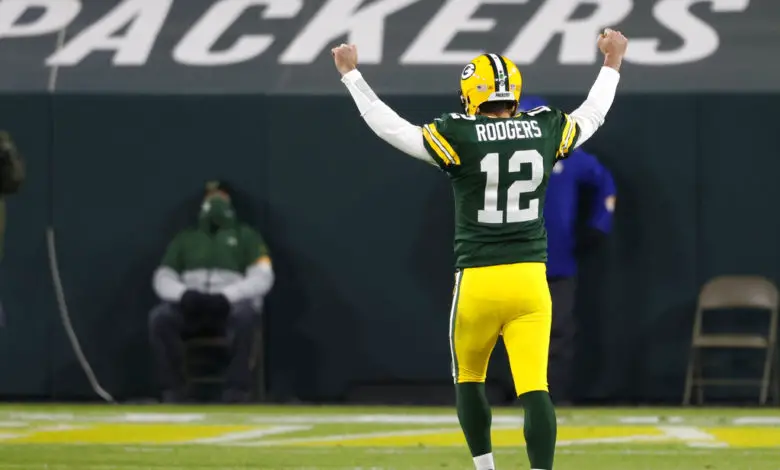 First and Long: Bears Looking for Statement Win Over Packers, Dozens of Playoff Scenarios at Stake, Former Bear DB Accused of Murder
On December 29, 2013, Aaron Rodgers connected with Randall Cobb on a 4th-and-eight, 48-yard touchdown pass with 38 seconds left in the game to give the Packers a 33-28 win over the Bears and the NFC Central title, knocking Chicago out of the postseason.
Bears fans, you've been here, and today represents a chance for revenge and redemption. May the odds forever be in your favor.
So much is on the line in Week 17.

11 reasons why you NEED to tune in this Sunday. (by @Caesars_Rewards) pic.twitter.com/apeNaIrqO8

— NFL (@NFL) January 1, 2021
The Bears are going to have to overcome a very hungry Green Bay squad that's playing for the top seed in the NFC. Chicago can't expect any help from the Rams, who are playing their game against the Cardinals with a  number of injuries, including starting QB Jared Goff. His replacement, John Wolford, has yet to throw an NFL pass. Perhaps Wolford will be the reincarnation of Kurt Warner.
To say the table is stacked against the Bears in their quest to get into the postseason is an understatement. The Packers lead the series 100-95-6 and are 3-0 in the league's oldest rivalry since Matt LaFleur took over in 2019.
Rodgers is 19-5 against the Bears in his career, 20-5 if you include the 2010 NFC championship game. One of the losses was the 2013 game when Shea McClellin broke his collarbone, knocking the signal-caller out of the game. Rodgers has a 103.5 passer rating against the Bears in those 25 games.
Though Mitchell Trubisky is enjoying a fantastic run since recapturing the starting gig from Nick Foles, he has demonstrated a disturbing trend with deep passes. This season, Mitch the Kid is just 4-of-29 when attempting passes of 20 or more yards, a QBR of 24.1, which is 38th in the league. If the Bears have any hope of winning today they are going to need to rely David Montgomery, dominate time of possession, and will need a Herculean effort by their defense.
It's not all bad, though. Since offensive coordinator Bill Lazor took over play-calling duties, the Bears have averaged 33 points per game. If the defense can force a few turnovers, Chicago has a realistic shot to win this game. They'll have to do it without the aid of their starting corners: both Jaylon Johnson and Buster Skrine have been ruled out for today's game.
I expect the Bears pass rush to be at their very best today,  especially with Green Bay LT David Bakhtiari out. Chicago will need huge games from Khalil Mack, Akiem Hicks, and Robert Quinn. But with holes in the secondary, Rodgers and Davante Adams could have career games. I think the game will be close, but I expect Green Bay to spoil the party with a 36-31 win.
Bears News & Notes
There's a Flag…On the Play
Even Packers fans know this as dumb as it sounds.
Fun with numbers: If we take away the 80-yard run against the Texans, David Montgomery's YPC goes from 4.4 to 4.1 on the season.

— Peter Bukowski (@Peter_Bukowski) January 2, 2021
Three Yards and a Cloud of Dust
Bears WR Allen Robinson has been targeted 145 times this season, with just one drop.
Since returning as the starter in Week 12 against the Packers, Trubisky is 91-of-134 for 978 yards, with eight touchdowns, three interceptions, and a passer rating of 99.7. He's averaging 7.3 yards per attempt in that time.
Rodgers leads the league with 44 TD passes and a 119.4 passer rating. He has six more TD passes than any other QB despite ranking 12th in total passing attempts.
Northern Exposure
The Lions are reportedly trying to poach Seahawks GM John Schneider. Schneider remains under contract for one more season in Seattle, but head coach Pete Carroll has full control of personnel moves, so under NFL rules, a potential job in Detroit would be considered a promotion.
The Vikings 2020 draft class, led by WR Justin Jefferson, provides a great deal of optimism for the team's future.
Though he has been ruled out for the season with a torn ACL, Bakhtiari wants Green Bay to "beat the piss" out of Chicago.
Around the League
The Giants have a chance to win the NFC East with a 6-10 record, but have no reason to apologize if they pull it off.
The Colts could finish the season with 11 wins and miss the playoffs. Maybe they should petition the NFL to move them to the NFC East.
The Jets plan to fire head coach Adam Gase after today's game against the Patriots, per Ian Rapoport and Tom Pelissero of NFL Network.
There are three head coaching and six GM vacancies entering play today, with more expected tomorrow morning.
Northwestern University head coach Pat Fitzgerald is expected to be recruited for job openings with the Texans, Falcons, and Lions. Fitzgerald has previously stated that the only NFL job he would consider would be with the Bears.
The Northwestern legend is expected to be judicious about any interviews he agrees to, but unlike in years past it is less than certain that he will quickly dismiss them and move on with the business of preparing for the 2021 Big Ten season.
The Rams believe they are prepared to beat Arizona even with Goff unable to play.
Cardinals WR Larry Fitzgerald is unlikely to play against the Rams this afternoon.
Former Broncos RB and NFL legend Floyd Little passed away at the age of 78 on Friday. Little rushed for more than 6,000 yards and scored 43 touchdowns for Denver.
Randall Cunningham is back in pro football, this time as team chaplain for the Raiders.
CBS announcer Tony Romo will be absent from the broadcast booth today after being sidelined by COVD-19 protocols.
Fumblerooski
Your Week 17 cheat sheet.
#Bears playoff possibility cheat sheet for Sunday — from OUT to the No. 6 seed facing the Packers at Lambeau, per ESPN's Playoff Machine.

Four games to watch — Packers-Bears, Cardinals-Rams, Saints-Panthers and Seahawks-49ers: pic.twitter.com/qai7k3JORU

— Mark Potash (@MarkPotash) January 3, 2021
At the Podium
"We built up to this part of the season where we have a chance to win and get in. To have it be against one of the best teams in the NFL…for the path that we have been on the last four games, three games with the wins, it would be special for us to win on Sunday." – Matt Nagy
"This is essentially the Wild Card game for us. So I'm assuming all of us in our facility are definitely going to go in with … 'Let's beat the piss out of the Bears because we'll get the 1-seed.' Then, the following week we can practice, heal up and watch the games to see who will come up to Lambeau Field." – David Bakhtiari
"Any time you're playing Chicago, there's always that little extra that's built in the fabric of the organizations from the history of playing so many damned games against each other and the mutual feelings that both fan bases have for each other and the grinding games that we've had over the years." – Aaron Rodgers
Today's Halftime Entertainment
Help on the Way/Slipknot/Franklin's Tower by the Grateful Dead – Some help from the Rams would be nice, but a win against the Packers would be just a little more satisfying.