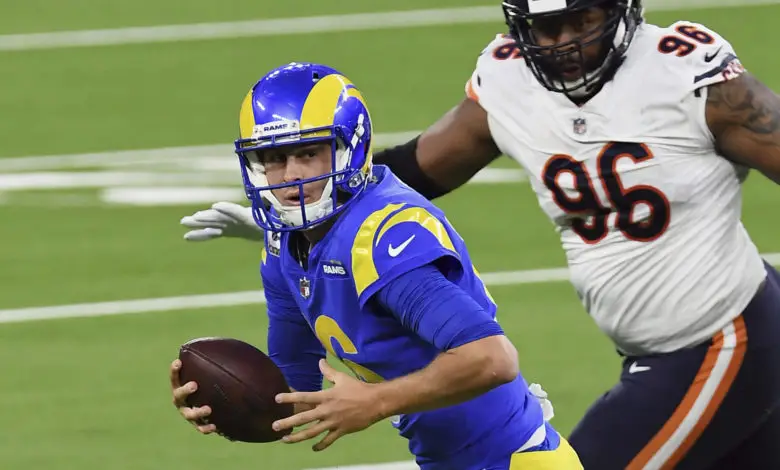 Can Rams Return Old Favor, Help Bears in Playoff Quest?
Even if the Chicago Bears can't beat the Green Bay Packers this Sunday, they can still make the playoffs if the LA Rams beat the Arizona Cardinals. I think I can provide a fairly good scouting report on the game because I have been a Rams fan for 30 years.
We'll start with the good news first, because well, there's not a lot. The Rams need to win to ensure their own playoff berth, thus they will go all-out. Aaron Donald still anchors an unbelievable defense that is keeping Los Angeles in games. Finally, coach Sean McVay has yet to lose to his friend, Cardinals head coach Kliff Kingsbury, in three previous matchups.
The Rams offense, on the other hand, has completely unraveled the last few weeks. Inconsistent quarterback Jared Goff played poorly and now is out with a broken thumb, so backup John Wolford will make his NFL debut in a must-win contest. Wideout Cooper Kupp, a key weapon, is on the COVID list and two of three running backs are hurt.
Things don't look great with the Bears as underdogs and the Rams undermanned, but the past offers hope. In the 2000 season, the defending champion St. Louis Rams were on the playoff bubble after an injury to hall-of-fame quarterback Kurt Warner led to a 10-6 record. A final game win against the Saints kept their hopes alive, but they needed help.
The Detroit Lions were in with a win over the last-place Bears in the Silverdome. The odds seemed long with Cade McNown in at QB for Shane Matthews, who broke his thumb, yet the underdogs hung in the game. R.W. McQuarters ran back a Stoney Case — in because starter Charlie Batch had left after a Brian Urlacher hit — interception for a touchdown and a 20-17 4th quarter Bears lead.
Detroit rallied to tie it before a fumble led to a last-minute drive which gave Chicago kicker Paul Edinger a 54-yard field goal attempt to win it. I bet you can guess what happened next.
I think it's the perfect time for the Rams to return the favor, don't you? I mean, Wolford can't be worse than McNown, right? Right?