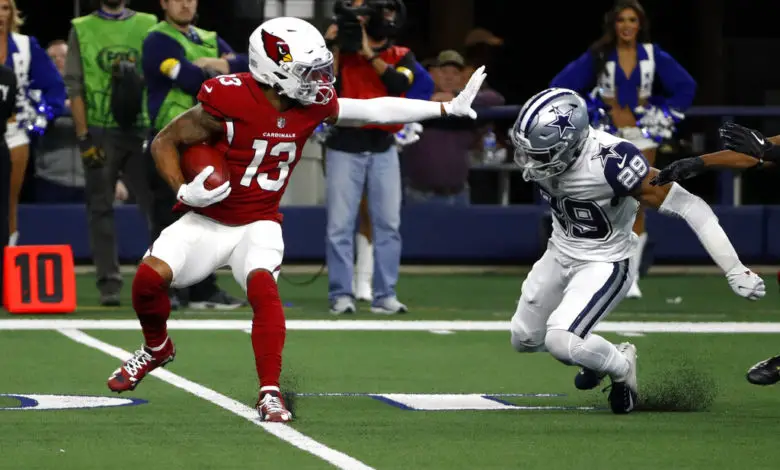 Deep and Talented Wide Receiver Draft May Impact Free Agency
One of the Bears' key areas of need this offseason is wide receiver, and starter Darnell Mooney is Chicago's only impact player at that position. GM Ryan Poles opted against placing a franchise tag on Allen Robinson, which leaves Nsimba Webster, Isaiah Coulter, and Dazz Newsome as the team's only backups to Mooney among their 51 contracted players. Suffice to say, Chicago will be aggressive in that market, either through the draft or free agency and probably for both. That bodes well for Poles, as a deep and talented wide receiver draft may impact free agency to his benefit.
If you look at the Pro Football Focus big board, 16 of the top 100 draft-eligible players are wide receivers, including 6-7 first-round options. The Bears do not have a pick on Day 1 of this year's draft, but they should be able to find first-round talent at No. 39 overall, or, even if they trade down to acquire more picks. Receivers that could fall to the second and third rounds include Jahan Dotson (Penn State), George Pickens (Alabama), Jalen Tolbert (So. Alabama), Christian Watson (NDSU), and John Metchie III (Alabama). In fact, a scenario exists, though unlikely, where Poles could take receivers with his top two picks.
If you're looking for an abbreviated scouting report on each of the NCAA standouts, let me kindly assist.
Dotson -The 5'11, 184 pound senior is one of the most difficult receivers to cover in the draft. Dropped only two of 93 catchable targets last year.
Pickens – A junior-year entry coming off of an AXCL injury, Pickens had WR1 potential after an outstanding freshman campaign but never built upon it.
Tolbert – The 23-year-old junior had a disappointing combine, but was one of the best big-play threats in college football. His 16 deep receptions were fifth-best in 2021.
Watson – By all accounts, the 6'5″ senior has the best combine of all receivers in this year's class, but struggles with dropped passes. He miffed 16 of 120 catchable targets last year.
Metchie III – Arguably the most-polished route-runner among his peers, the 6-foot junior plays a lot like Mooney. Metchie nabbed 96 passes for 1,142 yards and eight scores before tearing his ACL in the SEC championship game.
The impact of the deep draft will affect free agency considerably. Davante Adams has been franchise tagged by the Packers, as has Chris Godwin of the Buccaneers, and Mike Williams signed a three-year extension with the Chargers the other day. That means the top five free agents available are Robinson, Michael Gallup, JuJu Smith-Schuster, Christian Kirk, and DJ Chark, Jr. You could take a shot at Odell Beckham Jr., but he's injured and prefers to resign with the Rams, or Antonio Brown, who is probably not going to be signed by anybody.
If Robinson wasn't worth a franchise tag, and he's at the top of the free agency board, it stands to reason that a bargain or two might fall into Chicago's lap. It's reasonable to believe that Gallup will be a hot name despite recovering from ACL surgery, and Smith-Schuster is getting a little buzz, too. Kirk has been linked to the Bears by a number of analysts, and he could be a fit for the Bears. His expected contract is 3/$39 million with $22 million guaranteed.
More recent rumors have the Bears trying to poach WR Marquez Valdes-Scantling from the Packers. Offensive coordinator Luke Getsy is said to be enamored with Green Bay's WR3, and when healthy, he's capable of stretching the field. Per PFF, "Valdes-Scantling has excelled as a size/speed downfield mismatch in his four-year career, and that's his best bet to produce going forward. He's not polished in other parts of his game, but his career 17.5 yards per reception mark shows that he's capable of flipping the field in a hurry." He'd certainly give Justin Fields the big target the Bears are lacking now that Robinson has been cast aside.
Marquez Valdes-Scantling used the referee as a moving screen on this 78-yard TD.pic.twitter.com/Hmdmcu4fb7

— Ari Meirov (@MySportsUpdate) November 15, 2020
Because he was injured for part of last season, Valdes-Scantling should be right in Chicago's budgetary range. A projected contract for the 6'5″ pass-catcher is $20 million over two years with $11 million guaranteed. He's been clocked at 4.37 in the 40-yard, but some drop issues and injuries have limited his production. He's also probably more of a complementary piece than an option at WR1.
The deep receiver draft also means that Poles will probably look at free agency to rebuild his offensive line. The executive wants to see his line get a little leaner and meaner this year, and he's counting on Teven Jenkins and Larry Borom to build on mediocre (at best) rookie seasons. James Daniels could be resigned, but if not, options in Chicago's price range include guards Laken Tomlinson and Connor Williams, or tackles Duane Brown and Morgan Moses. Center Ben Jones is very intriguing on a projected 3/$20 million deal.
Terron Armstead would be a great, if not expensive signing if Poles wants to play the long game and stretch his rebuild over two years. The Bears are projected to have nearly $100 million in cap space next year, pending any signings, this year, of course. That may be a big factor in the general manager's desire to shop the second tier of free agency this year.
The new season kicks off this Tuesday at 4 PM ET, so expect a flurry of signings. The legal tampering window begins Sunday, so expect even more rumors. By late next week, we should have an idea of Poles' vision for his first-year roster, and his draft needs will be a little clearer.